Equal Pay Day 2019: Join aSweatLife Around the Country on This Big Day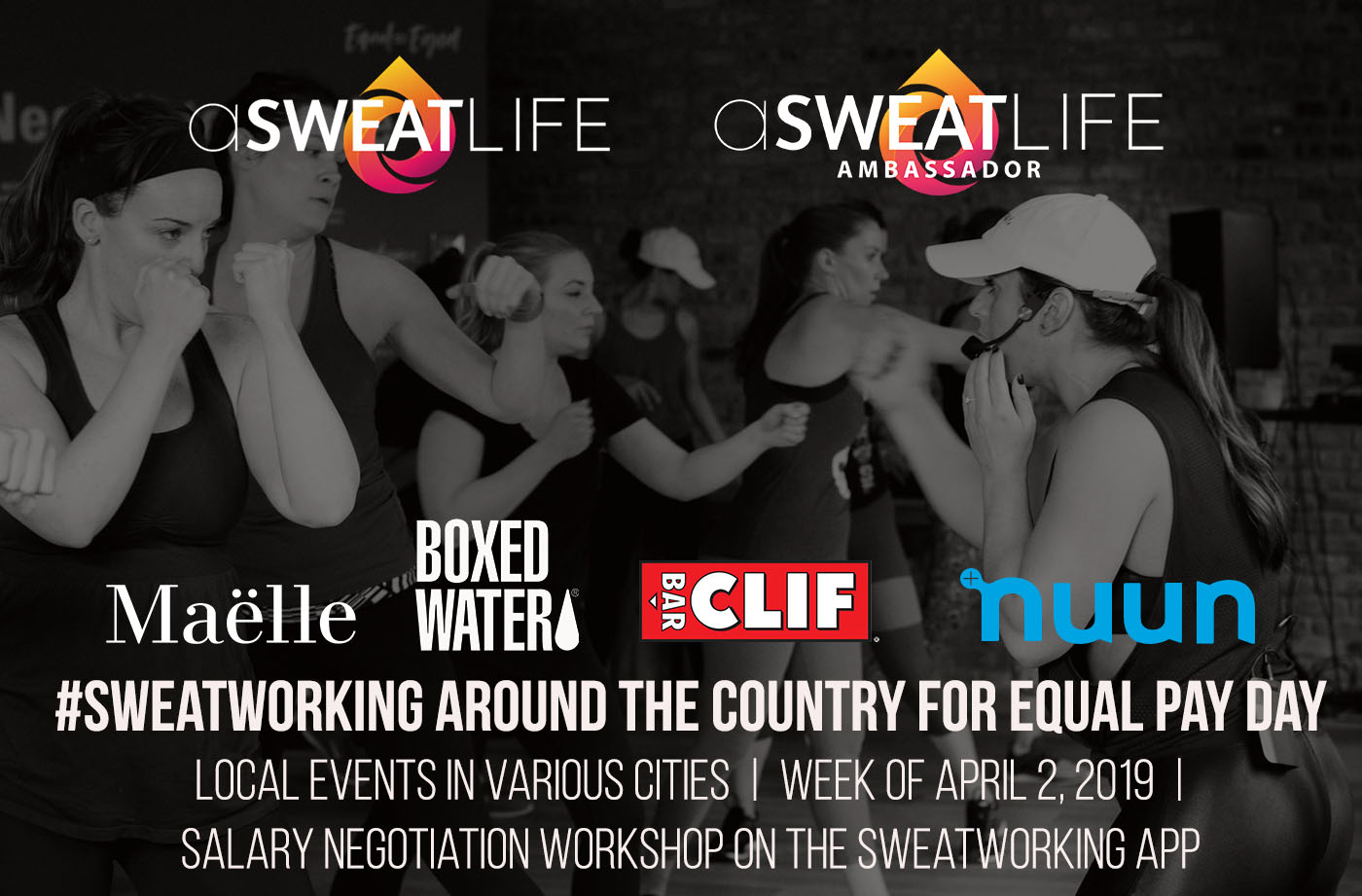 Every time we host a #Sweatworking event, the energy in the room is palpable. The aSweatLife crew knows how to shout, cheer, encourage each other, and spread the good vibes among one another like no other group can.
It begs the question, what else can we do with all that energy we create? With everything we do at aSweatLife, in fact, we aim to take whatever accomplishments that happen on the gym floor out into the real world and make an even bigger impact on our lives. So it only made sense to test the theory at one of our actual events. Two years ago, we teamed up with our friends at LUNA to create a big #Sweatworking event on Equal Pay Day – the date that symbolizes how far into the year women must work to earn what men earned in the previous year.
A somber day, to be sure, but we flipped it on its head by highlighting what some incredible, badass females are doing within the aSweatLife network and in Chicago's wellness community. We kicked off the evening with a workout and a yoga flow and then heard from our speakers of the night.
We fell in love with the energy of the room, the positivity that come from joining together and working out for an even bigger cause, and we couldn't wait to do it even bigger in 2018.
Last year, we turned the idea of one big event into one full day of experiences including a morning meditation and bullet journaling, networking lunch, a salary negotiation workshop, an evening boxing workout, and a panel discussion with incredible female speakers who shared what it took to blaze a trail to the top, and how they're giving it back today
All this brings us to 2019, where we asked ourselves, "Where can we take the momentum now?"
The answer was clear: #Sweatworking around Equal Pay Day needs to be shared with more cities, more communities, more incredible women (and men!) in the aSweatLife network. On top of events in more cities, which you can read all about below, we also created a digital version of the salary negotiation workshop in partnership with the AAUW – accessible right here.
Events around the country
Here's what you can expect from aSweatLife Ambassadors around the country during the week of April 2 – Equal Pay Day 2019.
Charleston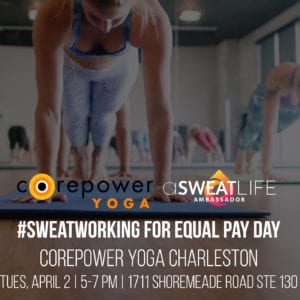 Book your spot at Corepower Yoga Charleston's Sculpt class for Equal Pay Day.
When: Tuesday, April 2 from 5-7 pm
Where: Corepower Yoga Charleston, 1711 Shoremeade Road, Suite 130
As the first Corepower Yoga location opens its doors to the public in downtown Charleston, South Carolina, #Sweatworking attendees will be able to join a free Sculpt class led by Ambassador, life coach and studio manager Jackie Skinner. After class, stay for snacks and mingling with other attendees, get to know the studio, and hear from Jackie about what it took to ditch her fears and launch a business of her very own.
Chicago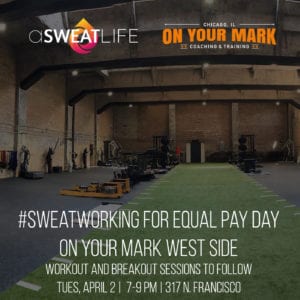 Get your tickets to #Sweatworking for Equal Pay Day at On Your Mark West Side.
When: Tuesday, April 2 from 7-9 pm
Where: On Your Mark West Side, 317 N. Francisco Ave
Meet Team aSweatLife in Chicago at On Your Mark's newest West Side location for a strength workout that will having you feeling uplifted, strong and capable with other badass athletes by your side. Nike Master Trainer Emily Hutchins will coach us through the workout, and then you'll refuel with light bites and treats from Fare. From there we'll break into small groups for mini mentoring sessions with other trailblazers in their own industries. You'll walk away with new connections and career advice, and even better – you'll go home having made new friends.
More about our workshop leaders: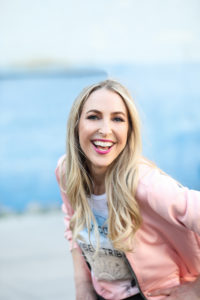 Dawn Jackson Blatner, RD: Dawn Jackson Blatner is a registered dietitian nutritionist and certified specialist in sports dietetics. Dawn is in her 10th season as the nutritionist for the Chicago Cubs. She is a nutrition expert on the advisory board of SHAPE Magazine and is a celebrity diet consultant for PEOPLE Magazine. Dawn is the author of two books: The Flexitarian Diet, ranked a top plant-based diet by US News & World Report and her newest book is called The Superfood Swap. Dawn recently starred in (and won!) the hit primetime reality television show on ABC called, My Diet Is Better Than Yours and is the host of a lifestyle television show called SEE Chicago.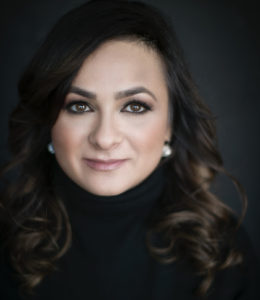 Mimi Bosika: Mimi Bosika co-founded Delos Therapy seven years ago after completing her MBA at University of Chicago's Booth School of Business. Thanks to the company's innovative technique for muscle health, Mimi hopes to grow Delos Therapy on a global scale. Her experience prior to Delos Therapy was heavily focused on management and operations at an industrial supply firm, followed by sales and management in the high-end fitness industry. Mimi was also a competitive table tennis player and won several US Open junior titles with the guidance of her father who was the 1996 US Olympic coach.
Mimi's educational background, work experience, and personal journey as an elite athlete have contributed to the way she approaches setting and achieving goals and also the way she leads and mentors others.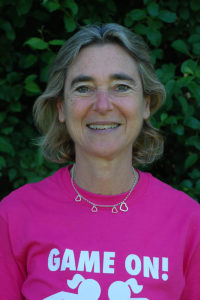 Barb Lazarus: Barb Lazarus is the founder and co-owner of Game On! Sports 4 Girls, the premier multi-sport program committed to the empowerment of girls. For 13 years, Barb and her Game On! team have dedicated themselves to developing programming that instills in every Game On! Girl a deep sense of what it means to feel confident, proud and "GirlStrong" both on and off the sports fields. Barb has overseen Game On!'s expansion from a single summer camp in Lake Forest to locations in three states running summer camps, school year classes, day-off-school events, community-based clinics, Girl Scout events, and other creative projects. A nationally recognized advocate for girls in sport, Barb was awarded the Toyota & espnW Everyday Hero Award in 2013, and on behalf of Game On! accepted the 2018 U.S. Olympic Committee's Rings of Gold Program.
Prior to starting Game On!, Barb worked as an Assistant U.S. Attorney in Chicago (prosecuting on behalf of Uncle Sam) before entering the public relations realm as the Public Affairs Specialist/Press Secretary for the Department of Justice for the Northern District of Illinois. After eight respected years at the U.S. Attorney's Office, Barb founded a media relations business before pursuing her dream of passing on the gift of sports through Game On! Barb and her husband Marty are passionate about sports, fitness and hiking and are the proud parents of two beautiful sons.
Denver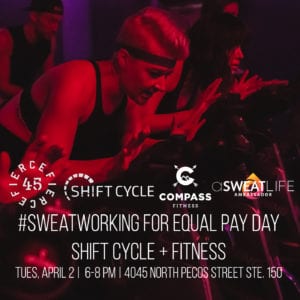 Get your tickets to #Sweatworking for Equal Pay Day at Shift Cycle + Fitness.
When: Tuesday, April 2 from 6-8 pm
Where: Shift Cycle + Fitness, 4045 N. Pecos St., Suite 150
Shift Cycle Sunnyside will be hosting a 45-minute sweat session, before we enage in a panel discussion and goal setting workshop to round out the night. In honor of Equal Pay Day, our conversation and goal setting will be focused on BEING BOLD in the workplace as females. Through a panel discussion led by female, fitness entrepreneurs in Denver, including Fierce45 founder Torrey Newman, Compass Fitness founder and lead instructor Jillian Keaveny, Shift Cycle founder and master instructor Whitney Herman and CFO of Sweat Cosmetics Emily Hines – you'll be inspired by their stories, followed by a workshop about BOLD REQUESTS: How To Ask for What You Want with goal coach and leadership consultant, Jacki Carr. After the workout, panel and workshop; you'll have the chance to mix and mingle with some of Denver's most inspiring females.
What to expect at Denver's #Sweatworking for Equal Pay Day:
6 – 6:45 pm: Shift Cycle class, led by boss babe founder and master instructor, Whitney Herman. *Limited spots available for the workout portion of the event – so purchase your ticket soon!
7 – 8 pm: Panel discussion about "BEING BOLD" with power house females from the Denver fitness community, followed by the hands-on workshop with Jacki Carr, BOLD REQUESTS: How To Ask For What You Want.
Houston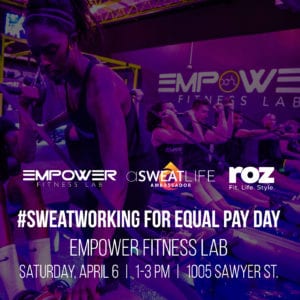 Get your tickets to #Sweatworking for Equal Pay Day at Empower Fitness Lab right here.
When: Saturday, April 6 from 1-3 pm
Where: Empower Fitness Lab, 1005 Sawyer St.
First we sweat, then we chat business! Come for a 60-Minute HIIT workout led by Roz Jones and panel of guest speakers chatting navigating careers as moms or solopreneurs, contract/wage negotiation, and tips to confidently pursue your passion while empowering other women to do the same.
Los Angeles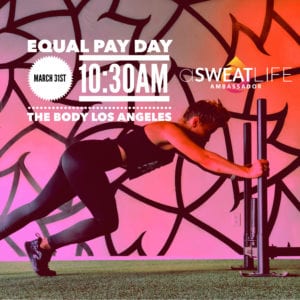 Get your tickets to #Sweatworking for Equal Pay Day in Los Angeles here.
When: Sunday, March 31 at 10:30 am
Where: The Body Los Angeles, 6015 Santa Monica Boulevard, #201
We are proud and excited to host the first ever LA based #Sweatworking event! We are even more proud that this inaugural event will be held in recognition of Equal Pay Day – a day dedicated to raising awareness about the gender pay gap.
We'll meet you at The Body Los Angeles to start our morning off with an energetic workout and restorative yoga session. Then, we'll refuel with snacks and beverages before hearing from an awesome panel of women who will speak about their career experiences and how we can make sure that we ask for what we're worth in the workforce. Our friends from Maxine's Heavenly Cookies, Grass Fed Coffee, SZENT, Just What I Kneaded, gimMe, Myro Deodorant, Shampoo Workshop, Banza, ROAR Organic, Jade Leaf Matcha, TCHO, Perfect Snacks, Barùkas, RXBAR and Next Health will all be there with goodies to take home.
Afterwards, you're welcome to stick around to hang with us, and learn more about aSweatLife, our parters, and our panelists, or head out and enjoy the rest of your Sunday knowing that you had an awesome workout and made a bunch of new friends.
Here's what you can expect at the event:
30 minutes of HIIT taught by The Body Los Angeles trainer, Amy Potter.
30 minutes of Yoga/Mobility taught by Hot 8 Yoga instructor (200 RYT) and personal trainer, Camai Brandenberg.
30 minutes – Women Career Panel: "Knowing Your Worth & Showing Your Value"
New York City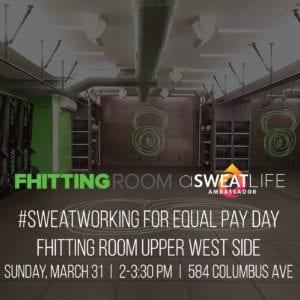 Get your tickets to #Sweatworking for Equal Pay Day at Fhitting Room Upper West Side here.
When: Sunday, March 31 from 2-3:30 pm
Where: Fhitting Room Upper West Side, 584 Columbus Ave
Join aSweatLife to kick off a week of national #Sweatworking events at Fhitting Room's Upper West Side location, with limited space available for this workout + networking combo for sweaty girl (and guy!) gangs all over the city.
After Fhit Pros Tara Nicolas and Chris SantaMaria challenge us in the studio, we'll fuel up on snacks, hear from a panel of badass women including Fhitting Room founder, Kari Saitowitz, and network with fellow sweatmates.
Fhitting Room is a High Intensity Interval Training (HIIT) studio delivering a total body workout that's a step above the rest. They've upgraded the group workout experience with better trainers and better programming to deliver better results. Each 50-minute workout is composed of a warm-up, strength work and a circuit. The class finishes with a FHIX – or Functional High Intensity Mix – to burn you out before the cool down. Classes are led by not one but two trainers, which means more attention to form, amazing energy, and more motivation to crush it.
On the SweatWorking App
In partnership with the AAUW, we created this salary negotiation workshop on the SweatWorking App, along with on-demand workout experiences, totally free to you.