Podcast Remix: Sarah Spain Stands for Doing The Work and Against Harassment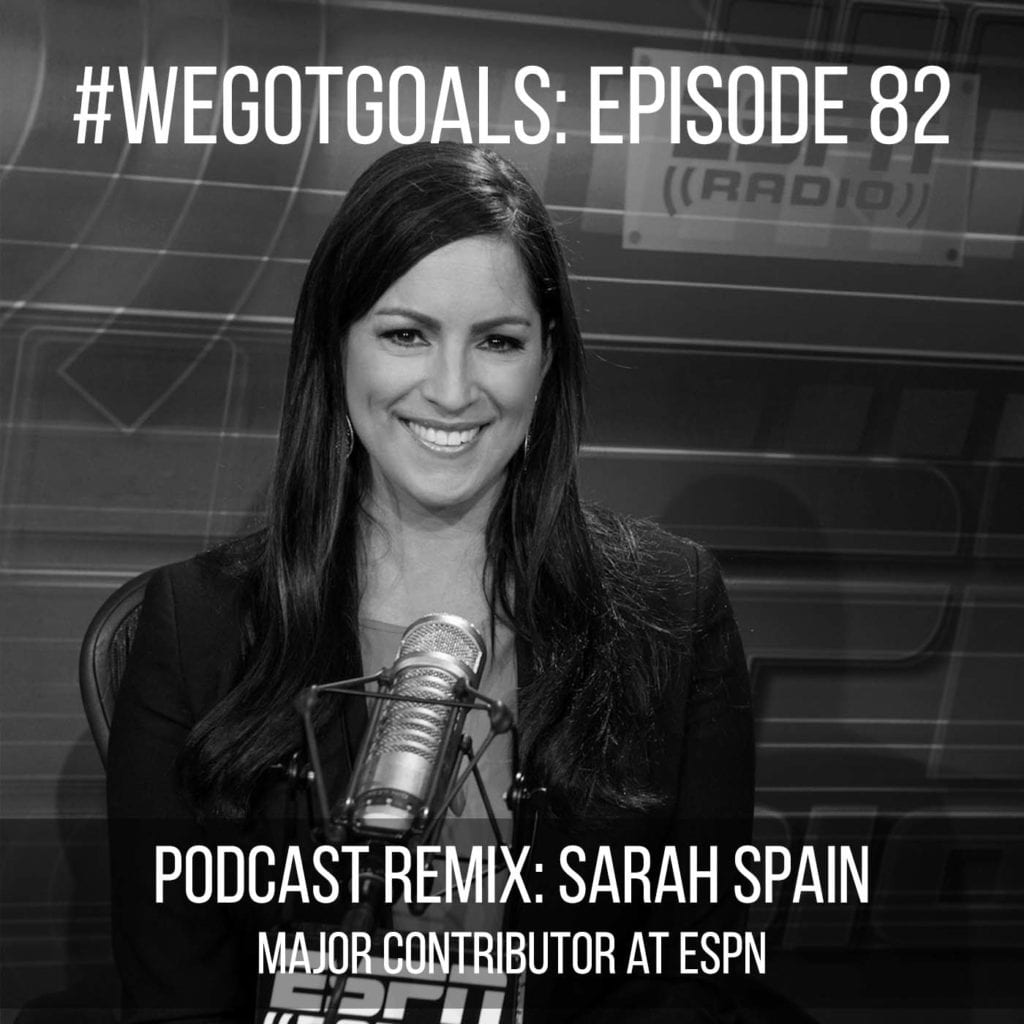 We're highlighting episodes of our podcast #WeGotGoals this month that taught us something or stayed with us for one reason or another.
I spent my life watching women break into sports — but so has anyone born after 1972 when Title IX passed. In 1995 at 10-years-old, I saw the first women's hockey team in my puck-worshiping Minnesota town and vividly remember the town's debate around girls playing the sport. In 1997, women played basketball professionally with the creation of the WNBA. And with this, women fought be a part of sports media — a fight to get coverage and a fight to get airtime as female sports reporters.
It never really felt like my fight until I started to meet the women who earned their places within sports — either competing or reporting on them.
One woman of particular impact is Sarah Spain who we spoke with on episode 11 o. She's effortlessly hilarious, dazzlingly professional, a natural athlete, a human sports statistics bible, and she's not afraid to take a stand. And damn it if she didn't make me care a little bit about sports.
When Cindy Kuzma interviewed Spain for #WeGotGoals, the pair discussed life at ESPN, how Spain, a heptathlete at Cornell, used the drive from competition on the track to be the best into her professional life. She positioned herself within a world that respects a meritocracy — believing that if you set your sights on something and are the best at it, that hard work and talent is rewarded.
And though Spain boasts of thick skin and the ability to put her head down to do the work, she's seen her share of harassment — both online and in the workplace. Spain teamed up with Julie DiCaro and Just Not Sports to create a PSA about the kind of online harassment they face online, #MoreThanMean, which is as tough to watch as I'm sure it is to live through.
And the timing of this episode is interesting — June of 2017 — just before #MeToo got women talking (again) in October of 2017.
This episode of #WeGotGoals offers a glimpse at a real example of a women working in the media who hadn't reported a specific sexual harassment incident because she feared reputational harm, not being considered for a job, or — worst of all — being blacklisted for rejecting the advances of a man in power.
"I don't want that to be the first thing when you Google search me to be that I got X fired or Y fired — and that sucks," Spain said.
She has since detailed an incident that's all of those things on her podcast, That's What She Said.