Holiday with aSweatLife – 10 Days of Gifting and IRL Pop-Up Shopping Experience
When Team aSweatLife sat down to visualize our ideal holiday season, we quickly realized that we wanted to do something major, something crazy different than what we've ever done before. One gift guide no longer felt like enough, so we upped that number to ten (keep an eye out for them starting 11/12). And sure, we love the convenience of online shopping in our PJs (especially after a Thanksgiving food-hangover, which is definitely a real thing), but one of our core tenets is #everythingisbetterwithfriends — especially all of our favorite holiday activities, including shopping.
So, here's what we came up with. Can we get a jingle bell roll, please?
For the first time in gift guide history, we'll showcase some of our favorite brands straight out of our Holiday Gift Guide in a Gifting Suite Pop-up at the Hall at the Robey Chicago in Bucktown on November 17.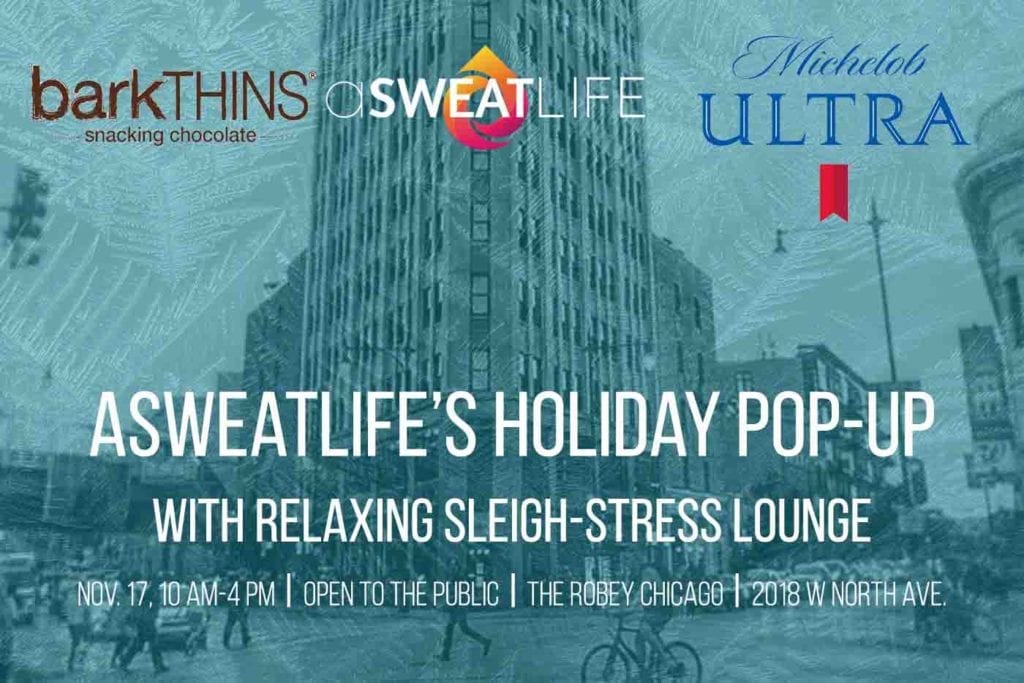 Instead of shopping online alone or running in and out of stores like a mad person on a mission, you'll enjoy a curated shopping experience with the brands we love. We've worked hand-in-hand with some of our favorites to make this more than just a shopping trip — instead, it'll be totally hands-on and interactive. You'll get to experience the look, touch, and feel of some of the products and brands we love so you can decide how best they fit within your holiday shopping. And if you're struck with the gifting spirit, you can even do some shopping on-site.
And we know how stressful the holidays can be, especially when you start making that list and checking it (and your checking account) twice. That's why we wanted this pop-up to include the Sleigh Stress Lounge, your very own holiday haven that we're creating in the middle of the city. More on that below, but trust us — you're gonna wanna put your feet up and stay awhile.
This pop-up is fully open to the public November 17 from 10 am until 4 pm. We know it's a crazy time of year, so we made it long enough that you can pop in for just a few minutes when you have time, or you can wander the pop-up at your leisure and chill with friends in our Sleigh Stress Lounge. 
And helping you toast to a weekend well lived will be Michelob ULTRA – and if you're on the nice list, your first drink is on us. Spoiler: you're all on the nice list. 
Plan to be there? You don't need tickets, but we want to be sure we're ready with the right amount of snacks, so add your name to the list here.
What's shop-able at the pop-up?
(We'll keep updating this page as it gets closer to the event with any new additions, so stay tuned!)
Before Outdoor Voices opens its Chicago storefront, you'll be able to shop the brand, so look up your favorite fleece or kit, and get excited to try on every.single.thing (trust us, we've been there). Holly and Tanager will be there with the must-have work bag we'll be featuring in our upcoming gift guides (yes, plural) and more.
No one wants to shop on an empty stomach, right? Us neither. For your snack and caffeination enjoyment, you'll meet Bulletproof, Four Sigmatic, Kitchfix, and Pre beef will be on site with samples (!!!) and shop-able gifts (we're already planning to place an order of Pre's grass-fed steaks to our dads and Paleo pals).
For the craftiest gifts, plan on meet author of the book Twinkle Twinkle Social Media Star, Kate Kennedy, and its illustrator, Torie Conn Illustrations. They'll have adorable gifts you'll want to give, including the book (a hilarious Internet fairy tale perfect for your wanna-be influencer friends).  And in case you're concerned about wrapping (raises hand), Paper Source will be in the house with DIY wrapping and gift tags, as well as more from the store. Your presents will look so impressive in that Insta.
This list keeps growing, so expect more as the pop-up gets closer — keep an eye on your inbox and our social media channels for updates!  
What's happening in the Sleigh Stress Lounge:
We're taking the stress out of the holidays and giving you the perfect excuse for a friend excursion that everyone will be excited about with the Sleigh Stress Lounge. Trust us, you'll want to stick around for these activities for a little pre-storative holiday self-care. We'll be transforming the Cabana Club into the Sleigh Stress Lounge where you can relax and use services related to recovery, beauty, and relaxation.
Expect complimentary Aura readings from Alma of Chill Chicago (bring cash to tip – 'tis the season), as well as five minute meditations, tarot, and moon readings. Warm up (no really, you'll be VERY WARM) in higherDOSE infrared thermal wraps — bring an extra change of clothes just in case you get a little sweaty. Register for a 30-minute infrared thermal wrap session here.
We're also offering your favorite recovery services, including Normatec boots, localized cryotherapy services from RevitaLab, and Bulletproof's Oxygen Bar so you remember to pause and take a deep breathe during the holidays.
What about workouts?
And because fitness runs through our veins, we worked with studios across Bucktown and Wicker Park to help you make a day of it! Pop in to the pop-up before or after workouts at any of these spots (sounds like the perfect time to grab a friend and sweat together, if you ask us):
Shred415 Wicker Park: Try your first class for free 11/17/2018, or, if you're already a Shredder, you can get 10% off a class pack. To redeem, email [email protected] and tell them aSweatLife sent you.
Zen Yoga Garage: Roll out your mat behind this iconic Wicker Park Garage door and get 50% off classes 11/17/18 at Zen Yoga Garage. Email [email protected] to redeem.
MaZi Dance Fitness: Get your Ballerina Bum on or get to WERQ at this dance studio where fun is as important as your heart rate. Use the code "ASWEAT" for a $15 drop-in from 11/15/2018 until 11/20/2018. Register here!
Core Power Yoga Bucktown: Sculpt? C1/C2? Whatever your favorite class style is, get into CPY and get 20% off of 10 class packages. Technically, you can use these whenever, but we'd recommend a Saturday morning class, followed by your best-life breakfast and a trip to the holiday pop-up at the Robey Hotel. Ready to redeem? Email [email protected]com.
Training Revolution: This hard-HIITing gym is offering 1/2 off an unlimited month with the code "asweatlife50" here.
Spynergy Wicker Park: Try your first class for free 11/17/2018 or purchase a five or 10 Ride package for 10 percent off if you are already a Spyn Star. To redeem email [email protected] and let them know aSweatLife sent you!
Title Boxing Club Wicker Park is offering a free first class and 20% off 10- or 20-packs of classes for the entire weekend of aSweatLife's pop-up (11/16-11/18). To redeem either text 773-661-6746 or email [email protected].com to get set up!
The holiday season books up quickly, we know — but this is one thing you're going to want to mark on your calendars, like, now. It's the perfect blend of everything aSweatLife stands for: quality time with friends, bringing online experiences to real life, introducing you to the brands we stand behind, and of course, fitness. We'll see you on November 17!
Tell us you're coming below (remember, we've got to have enough snacks):