The #SweatworkingCrawl at Midtown Athletic Club with Michelob ULTRA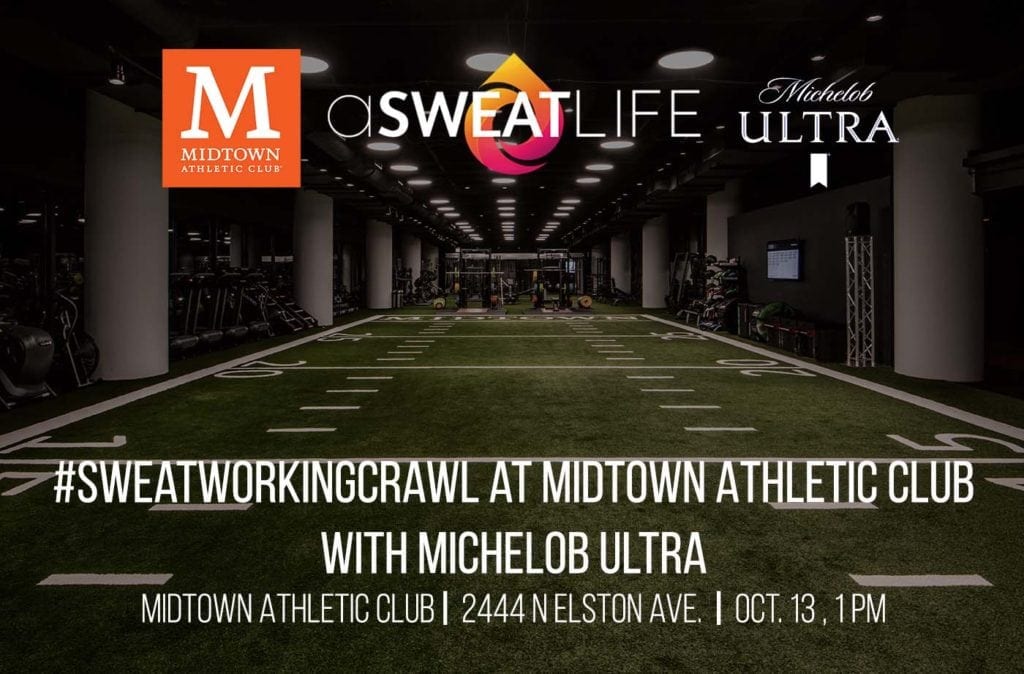 Every time we walk into Midtown Athletic Club, it takes a second to get our bearings because there's so much to take in. Multiple fitness studios within a gigantic club. World-class tennis. Indoor and outdoor pools. A farm-to-table restaurant and juice bar. Plus, an immaculately designed hotel with spaces fit for meetings and events.
And in every nook and cranny of the club, there's a story and meaning behind the design of Midtown Athletic Club's $90 million expansion and renovation. The flooring in the Yoga studio? Uniquely fashioned from the end pieces of wood. The large multi-purpose fitness studio named The Theater? It has no mirrors; instead, nightclub lighting and sound. The restaurant at the heart of the club? Named Chromium as a nod to the club's family history and entrepreneurial spirit – before opening Midtown Athletic Club, co-founder Kevie Schwartz invented chromium plating.
We're popping up there October 13
To experience Midtown Athletic Club fully, one must do more than one workout. That's why it's the perfect spot for a #SweatworkingCrawl. The club's membership has been at capacity since summer, so this is an exclusive chance to take a look and fall in love with what's behind the tennis courts.
Already a Midtown member? Contact your membership team for an exclusive opportunity to join us!
Here's the lowdown on the workouts we'll take on:
VIBE in the RIDE studio: "Please don't stop the music!" Get your legs, heart, and fist pumping to this energizing, party-like ride.
Battle on The Field: #strongertogether. Join the squad as you pursue fitness goals you can't achieve alone. Our tool of choice is battle ropes but come prepared to grab medicine balls, sand bells, and more to get you the results you're looking for.
BAGSxBODY in EverybodyFights: BAGSxBODY by EverybodyFights provides a full-body strength and conditioning workout, incorporating various bodyweight exercises within boxing rounds to create a high-intensity boxing fitness experience.
Here's what to expect after the workout:
We'll stay at Midtown for a happy hour powered by Michelob ULTRA. You'll cheers to an afternoon well spent with your first Michelob ULTRA on us! We'll have snacks and the pampering you deserve.
By the end of the workout, you'll be ready for your Saturday night, so if you want to stay and get ready for your evening at the club, the locker rooms are available to you (and they're out of this world). You could also book a luxurious treatment at The Spa, including salon services like blowouts and make-up application. View The Spa menu and prices here.
Here's everything you need to know for the day:
Where: Midtown Athletic Club, 2444 N Elston Ave
When should I arrive and what time does the workout start? The workout will kick off at 1 pm, but we'll be there to check you in between 12:15 pm and 1 pm.
What do I need to wear? Your favorite fitness attire and shoes to carry you through the workout!
What else should I bring? Your ID for your Michelob ULTRA (first one's on us!) and any clothes you want to change in to after the workout if you're taking advantage of Midtown's glorious locker rooms.
Where do I buy tickets? Right here!