Sept. 18: #Sweatworking with CAC Powered by Advocate Health Care at Gallagher Way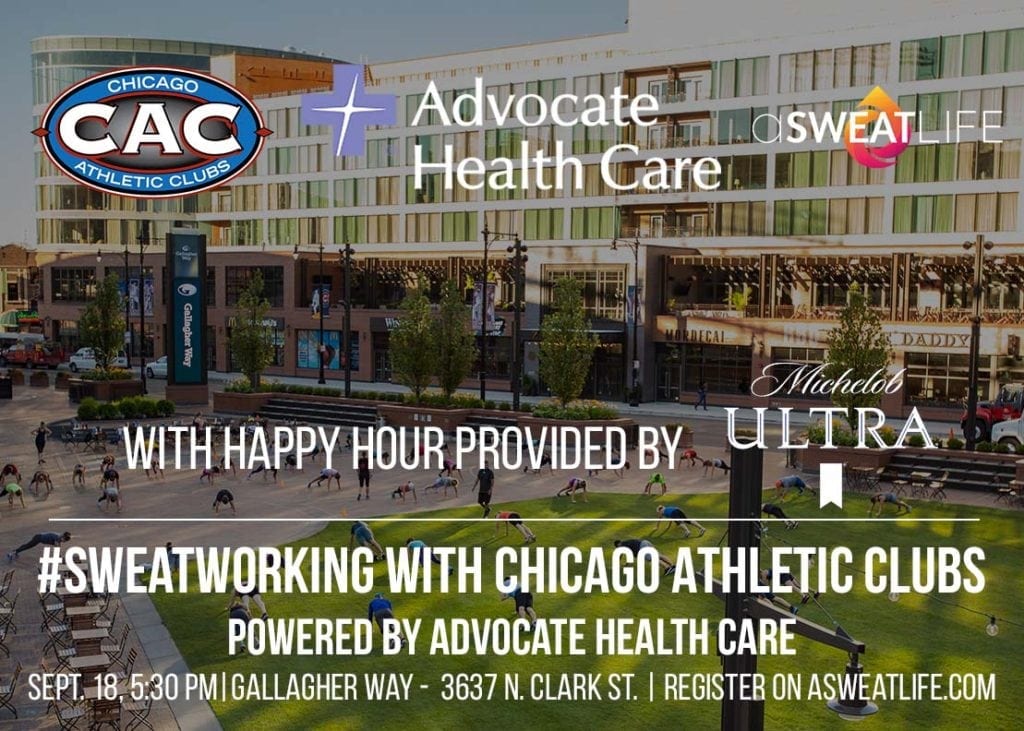 (Sign up for your complimentary spot here)
We refuse to let summer leave us, but if it has to go, we're going to send it out with a bang. September 18, in partnership with Chicago Athletic Clubs and powered by Advocate Health Care, we're going to give outdoor workouts the sendoff they deserve.
We're taking on an evening to sweat at Gallagher Way – a workout at Wrigley Field's neighborhood park. Here's the best part: it's a totally free event with three distinct parts meant to celebrate wellness.
And if you love this, but you can't make it, you can still benefit from the ongoing partnership between Chicago Athletic Clubs and Gallagher Way thru September 29. Throughout the summer the neighborhood sweat their faces off on the field with complimentary fitness offerings including HIIT, Yoga, Strength, Pilates and a run club.
You'll start by hearing from Dr. Philip Skiba, who uses math to help athletes reach their peak performance and helped Nike in its pursuit to break the two-hour barrier for marathoners in the Breaking2 project. Plan to geek out.
Here's what you can expect:
5:00-5:30 pm: Check-in at Gallagher Way
5:30-6:00 pm:Wellness Panel featuring Dr. Philip Skiba, Advocate Health Care Sports Medicine Director who worked on Nike's Breaking2 project
6:00-7:30 pm: Workouts powered by CAC, including Les Mills BODYATTACK (6-6:45pm) and Live Music Yoga (6:45-7:30pm).
7:30-8:00 pm: We'll mix, mingle and hang out at this gorgeous park in the heart of Wrigleyville – with just a few days to say goodbye to summer
Want the details?
What? Expect a night of wellness with workouts and inspiration
Where? Gallagher Way, 3635 N Clark Street
When? September 18, starting at 5:30 pm
Why? This is a chance to try something new, to meet new people, to hear from great minds and to try #Sweatworking for the very first time!
How do I sign up? Right here – thanks for asking!