10 Watermelon Skin Care Products to Keep Your Skin Fresh and Cool This Summer
Watermelon is one of the most hydrating—and delicious!—fruits you can eat during the summer. It's not surprising that it's popping up in all kinds of skin care products, from face masks to serums to moisturizers. Watermelons are about 92 percent water, plus they're loaded with good-for-your skin vitamins including vitamin A, B6, and C, as well as antioxidants, which protect your complexion from damaging free radicals.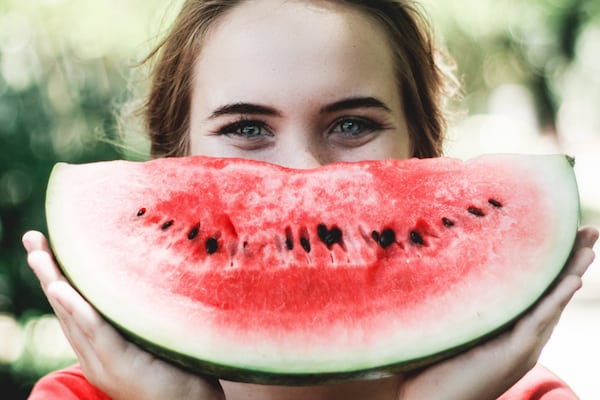 Ready to add watermelon to your skin care routine? Here are our favorite watermelon-infused skin care products to keep your skin fresh this summer—and beyond.
Glow Recipe Watermelon Glow Sleeping Mask ($45, sephora.com)
It's no surprise that this overnight face mask sold out within minutes when it originally went on sale. Packed with watermelon, hyaluronic acid (another superstar skin hydrator), and exfoliating alpha hydroxy acids, this K-beauty sleeping mask has a lightweight gel formula that clarifies your skin overnight to boost your glow.
Milk Makeup Watermelon Brightening Serum ($36, sephora.com)
For the lazy among us, serum might be a step you tend to skip in your routine—but this stick version makes it easy for anyone. All you have to do is swipe this brightening serum with watermelon fruit extract (for hydration), Swiss garden cress (for brightening), and Matrixyl (for tightenting) across your face and you're good to go.
Sephora Collection After-Sun Mask – Watermelon ($5, sephora.com)
You know that spending a day in the sun can leave your skin red and irritated, even if you've been diligent with sun protection. Enter this super-soothing after-sun sheet mask that was made for sunburnt skin. Thanks to cooling and refreshing watermelon extract, it calms sun-ravaged skin in just a few minutes.  
Grown Alchemist Lip Balm ($23, amazon.com)
Your lips can become seriously parched in the summer months, which is why a quality lip balm is a must-have item in your purse. This one is formulated with watermelon extract to improve dryness, as well as smoothing shea butter and jojoba oil.
PCA Skin Hydrating Toner ($40, dermstore.com)
Using a toner is a great way to prep your skin for serums and moisturizers (it removes dirt and oil your cleanser may have missed)—but it has its own benefits too. This toner features fruit extracts (watermelon, apple, and lentil fruit) to protect against free radicals and evening primrose oil to ease irritation.
Drunk Elephant B-Hydra Intensive Hydration Gel ($52, sephora.com)
Keep dryness at bay with this serum, which is basically like a tall glass of water for your complexion. With watermelon rind, apple, and lentil, this serum offers a whopping 24 hours of hydration, and it also brightens and evens skin tone.
Bliss What A Melon Overnight Mask ($16, ulta.com)
Feeling stressed by all those weddings you have to attend this summer? All that stress can show up on your face. Give your skin the boost it needs with this stress-relieving overnight mask with watermelon extract. It sloughs away dulling dead skin cells, balances moisture levels, and adds vibrancy to tired skin.
UMA Oils Ultimate Brightening Rose Toner ($65, amazon.com)
Here's another toner option to get your skin back on track this summer. Rose removes impurities, watermelon tones, papaya unclogs pores, sandalwood gives you a glow, and frankincense shrinks the look of fine lines and discoloration.
Origins Make A Difference Plus + Rejuvenating Treatment ($46, sephora.com)
Those with very dry skin, listen up: This ultra-rich moisturizing treatment is for you. It's got a host of ingredients that offer major hydration, including a watermelon and lychee complex and rose of Jericho. Plus, it's oil-free, so you don't have to worry about looking greasy this summer.
Elemental Herbology Watermelon and Cucumber Body Moisturizer ($43.20, dermstore.com)
Your body deserves to get in on the watermelon fun too! This body lotion is packed with nourishing, soothing ingredients like watermelon seed extract, cucumber extract, and aloe. In essence, it's a perfect pick post-beach trip.
Let us know!
Did this post help you get closer to achieving one of your goals?