The August #SweatworkingCrawl Ends in a Cannonball at FFC West Loop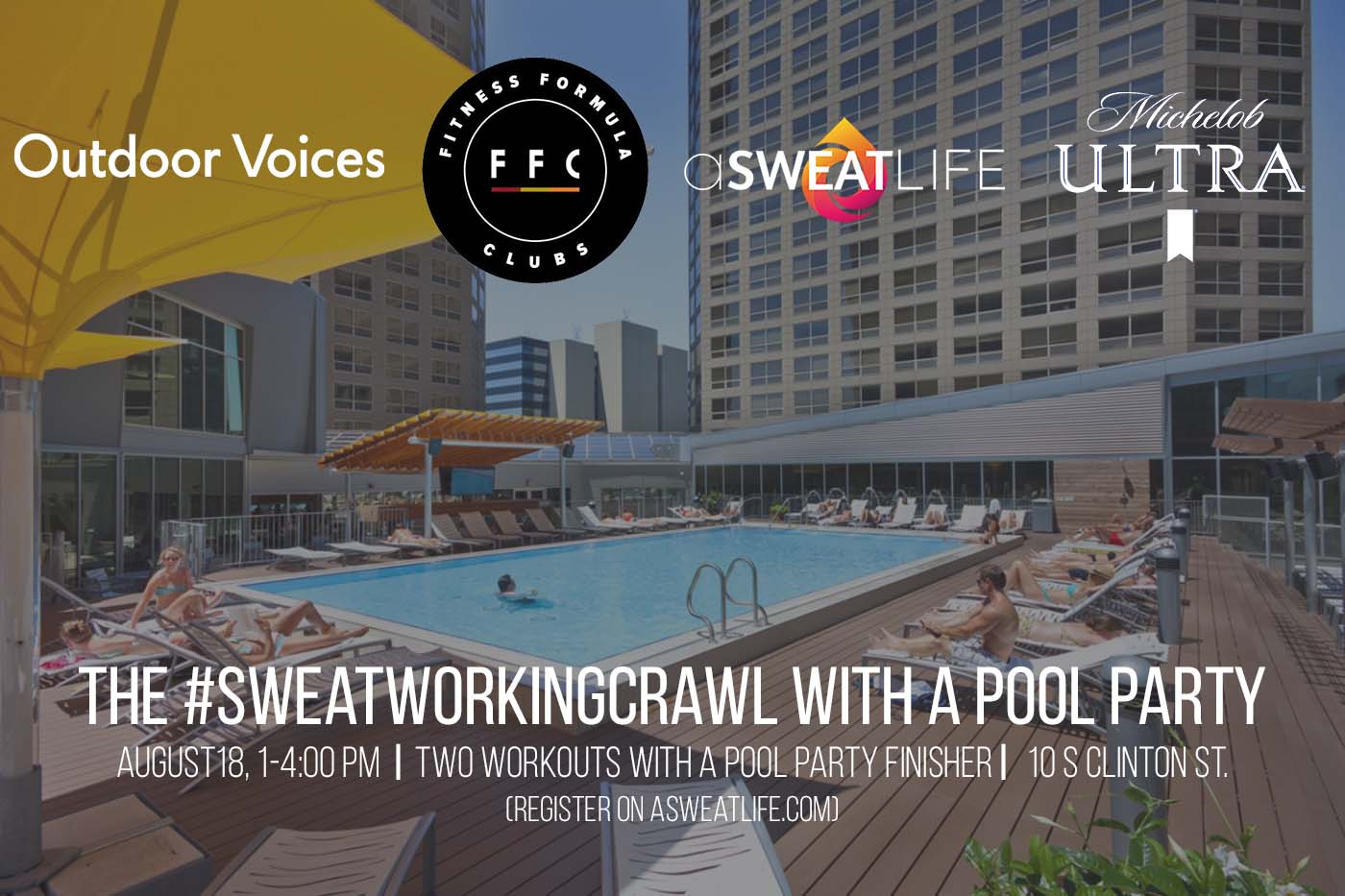 We get a lot of joy out of finding a new spin on how we try new workouts and meet new people. 
Saturday, August 18 we're teaming up with FFC West Loop for a quintessential Summer #SweatworkingCrawl. All summer (and a little bit of fall) Michelob ULTRA will be coming along on the #SweatworkingCrawl ride with us, partnering on the perfect summer after-parties: Michelob ULTRA happy hours in the neighborhoods we sweat our way through.
We'll meet at FFC West Loop on August 18 at 12:45pm. From there, we'll rotate through two 30-minute workouts in this big beautiful club and you'll finish on its rooftop pool deck. Plan to make friends and to work out with your crew.
Your two workouts are Spinning Interval and The EDGE featuring MYZONE.
Spinning Interval is designed to enhance your performance and competition level. Interval training is used to abruptly increase and decrease your heart rate through the manipulation of the intensity of the activity level during class.
In The EDGE featuring MYZONE, take your workouts to the next level with MYZONE. This heart rate driven format will guide you through specific zones to achieve optimal results. Two minutes in the yellow/red zone (80% – 90%+) will push you to increased athletic performance by working anaerobically, then quickly transition into a one minute less intense workload by lowering your heart rate to a zone of blue/green (50% – 70% +). Watch the MYZONE screen relay your efforts in real time and experience life on The EDGE.
Along the #SweatworkingCrawl way, there will be opportunities to participate in a social media challenge that will have one individual winner – but our favorite part of the challenge is that the winner's entire team will also take home some extra goodies!
At the end of the crawl, we'll move on to the Michelob ULTRA happy hour, when everyone who wants on will get one Michelob ULTRA on us.
And Outdoor Voices is sliding in with some extra special goodies that will keep you Doing Things all summer long.
If you're new to the idea of a #SweatworkingCrawl, have no fear. In between each 30-minute workout you'll have plenty of time to catch your breathe and to snap photos.
When: Saturday, August 18. Plan to arrive by 12:45pm so we can sort you into teams, and we'll start the Crawl promptly at 1pm.
What: During this #SweatworkingCrawl at FFC West Loop, we'll take on two 30-minute workouts: Spinning Interval and The EDGE featuring MYZONE. You'll get time in between the two workouts to catch your breath, take photos, and recover! Afterwards, we'll hit the roof for a pool party to celebrate summer properly.
Where: FFC West Loop, located in the Presidential Towers at 10 S. Clinton Street, Chicago, IL 60606.
FAQ: 
Q: Can beginners join?
A: This is great for beginners! You'll be among friends – we know that about 60% of the group (on the low end) will be brand new to the workout, so you'll get to try a few new workouts with people who are experiencing new things with you! Take it at your own pace and you're SURE to get hi-fives along the way.
Q: How much total exercise will I do?
A: You'll do two 30-minute workouts.
Q: What's the deal with the pool party?
A: FFC in the West Loop is inviting us to stay and hang out on its beautiful rooftop with a pool after all of the fitnessing we'll do! The rooftop has a bar where you'll get your first Michelob ULTRA on us.
Q: What if I don't want to put a swimsuit on?
A: Don't! Just hang on the rooftop pool deck and enjoy snacks and beverages like Michelob ULTRA
Q: What if I don't want to drink at the pool party?
A: Don't! We want YOU to have the best time ever and how you choose to do that is up to you.
Let us know!
Did this post help you get closer to achieving one of your goals?