#TrainersConnect July 17 Heads to Midtown Athletic Club for a Combo Workout and Leadership Workshop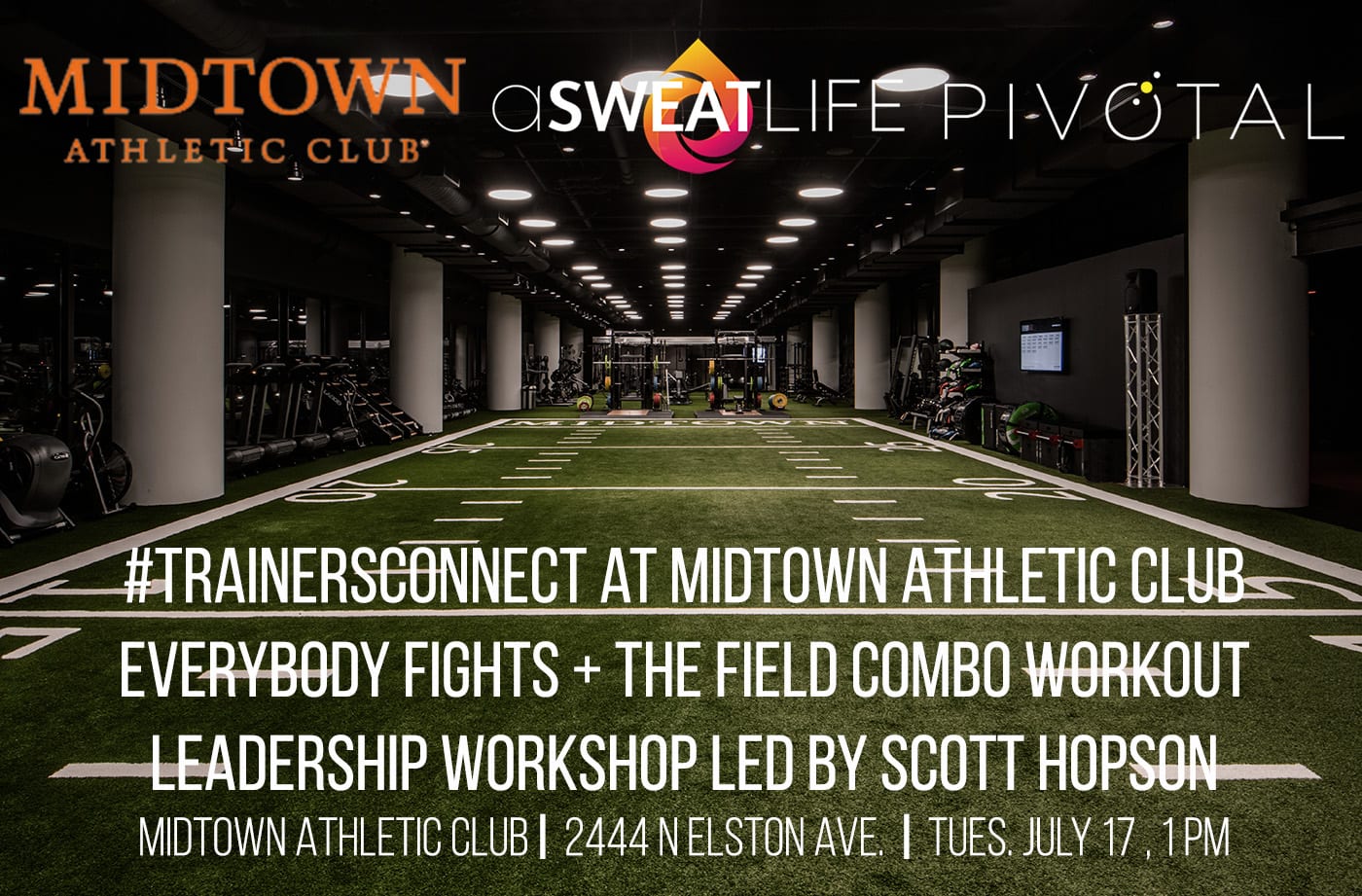 (Get your ticket to #TrainersConnect right here)
When Midtown Athletic Club re-opened its doors in August 2017 (check) after a hefty remodeling, to say the least, we couldn't wait to explore what a fitness enthusiast might find inside this state-of-the-art health club.
Although we've taken a few peeks behind Midtown's doors and learned a few jaw-dropping facts about the intricacies of the place (like the fact that there are zero mirrors in any of the fitness spaces), we have yet to work out there.
That's about to change. On July 17, we're taking over Midtown Athletic Club for the first time with #TrainersConnect – a fitness and workshop event geared towards trainers, instructors, and teachers in Chicago.
Here's what you can expect from the workouts on July 17.
Take a tour of MAC and you'll see – there's almost TOO much to try. We paired it down to two workouts back-to-back that we'll divide in half to try.
One group will begin on The Field taking on a 30-minute version of one of Midtown Athletic Club's signature classes utilizing this functional space designed for athletic training. Get ready for teamwork, get ready to be challenged, and get ready to have some fun with this blank canvas of a workout because on The Field, anything goes.
The other group will begin in the EverybodyFights® (EBF) classroom. You'll sail through a 30-minute BAGSxBODY class by EBF – a full-body strength and conditioning workout, incorporating various bodyweight exercises within boxing rounds to create a high-intensity boxing fitness experience.
Here's what you can expect from the workshop with Scott Hopson.
After the groups switch, we'll come back together as one group to sample smoothies from the cafe at MAC and hear from the club's in-house industry expert, Scott Hopson. He'll lead our #TrainersConnect crew in a workshop focused on mastering communication to foster long-lasting relationships.
Hopson is an internationally recognized leader in human performance, coaching and education. He is co-founder of Pivotal, a global development company empowering people to fulfill their greatest potential, and PTA Global – the leader in professional fitness development. In a career spanning 20+ years, Hopson has delivered 5000+ live events, impacting over 100,000 coaches, clients and athletes, in more than a 100-countries world-wide. He is an Education Director for the Gray Institute, a global educator for EXOS, and Advisory Board Member for Power Plate.
Needless to say, we're lucky to be hearing from Hopson on July 17 and this is a workshop you do not want to miss, no matter which teaching background you come from or who your clients are now. In the workshop, Hopson will discuss how instructors can use behavioral psychology to develop skill sets in whole person coaching. He'll send us home with tools to help us reach clients where they are and help them accomplish the goals they walk in the door to achieve.
Oh – and you'll want to get there early to find your way around. You can bet you'll get lost at least once or twice, but we're pretty sure you won't be mad about it. Grab your #TrainersConnect ticket right here!
Details of #TrainersConnect at Midtown Athletic Club:
Where: Midtown Athletic Club, 2444 N Elston Ave
When: Tuesday, July 17
What time: 1-3:15 pm (workout from 1-2:15 pm, workshop from 2:30-3:15 pm)
Where do I buy tickets? Just below, thanks for asking!