The #SweatworkingCrawl Is Back – Join us in River North July 15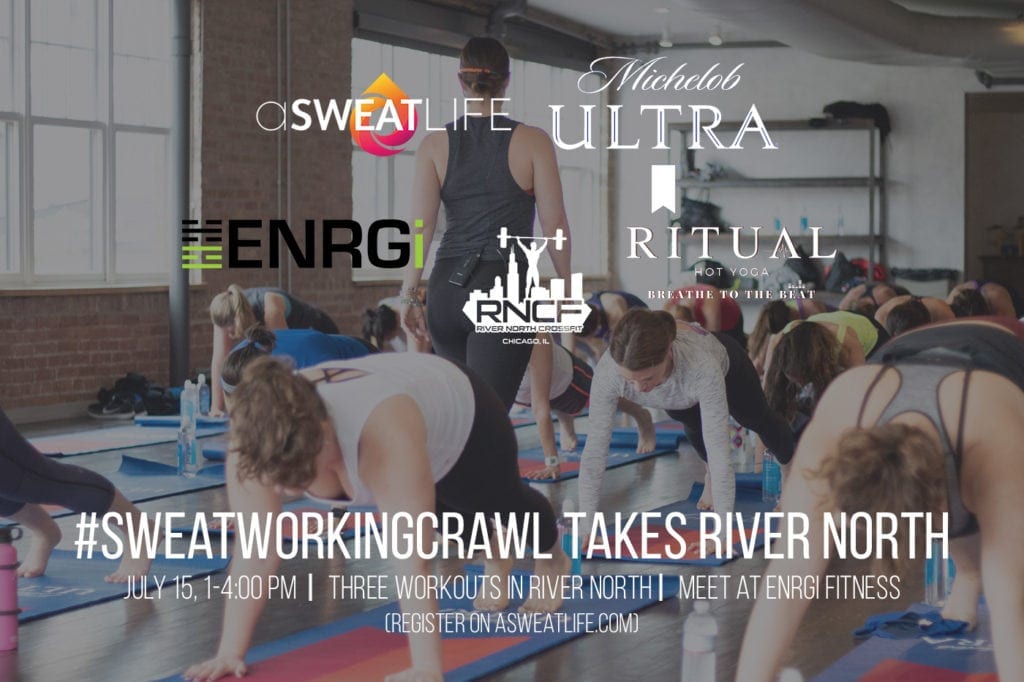 If you joined us for the #SweatworkingCrawl series last summer or during #SweatworkingWeek, you know that we get a lot of joy out of finding a new spin on how we try new workouts and meet new people.
Sunday, July 15 we're teaming up with ENRGi Fitness, Ritual Hot Yoga, and River North CrossFit for the first official #SweatworkingCrawl of summer. All summer (and a little bit of fall) Michelob ULTRA will be coming along on the ride with us, partnering on the perfect summer after-parties: Michelob ULTRA happy hours in the neighborhoods we sweat our way through.
You'll meet at ENRGi Fitness to check in and get put on a team. Don't worry, you can join a team with your friends and if you're rocking this crawl alone, you'll leave with new friends. From there, you'll rotate through three 30-minute workouts at each of these studios in the crawl. You and your crew will jog from workout to workout for non-stop action from start to finish.
At ENRGi, you'll take your workout to the rooftop – just getting there (up seven flights of stairs) is the warm-up. Once you get there, expect a heart-racing workout that uses heavy weights and big movements while taking in an even bigger view.
At River North CrossFit you'll focus more on your cardio – working with the gym's rowers, med balls and more to work your core and get your heart rate way up.
At Ritual Hot Yoga, class is usually 50 minutes of fast-paced hot yoga that links the breath to the beat of the music. You'll do just 30 minutes, but you'll still get a taste of this class where the flows are fast and the music is loud.
Along the way, there will be opportunities to participate in a social media challenge that will have one individual winner – but our favorite part of the challenge is that the winner's entire team will also take home some extra goodies!
At the end of the crawl, we'll move on to the Michelob ULTRA happy hour, where everyone will get one Michelob ULTRA on us.
If you're new to the idea of a #SweatworkingCrawl, have no fear. Between each 30-minute workout, you'll have plenty of time to walk or jog and to snap photos if you'd like.
This summer crawl is going to bring the heat — will we see you there?