"Pre-Storing" Your Life: How to Plan Ahead for Busy Seasons without Getting Burned Out
I knew exactly what I was in for coming into #SweatworkingWeek Summer 2018. At least two 4:30am wake-up calls, five nights of #SweatworkingCrawls, two days of loading and unloading a UHaul full of gym equipment, a full-day fitness festival with 500 people coming through, and general social exhaustion caused by six days of extraversion.
And yet, despite knowing exactly how tired I would be at that time next week, I found myself spending the Friday night before drinking craft beers at Bangers & Lace, followed by late night karaoke at Shoe's. And because that wasn't enough for one weekend, Saturday night was dedicated to the Taylor Swift concert (in a box with booze flowing, because apparently we were feelin' 22). Sunday, instead of taking the day to rest, I went to the suburbs for a four-year-old's dance recital (I know, I know, not technically exhausting, but driving to the suburbs is always more taxing than you expect it to be).
The motto: do as I say, not as I do. Given the chance for a do-over, I'd spend Friday through Sunday before #SweatworkingWeek doing only "pre-storing" activities. Pre-storing is a term made up by Maggie and me to describe all the ways we were going to take care of ourselves before a known busy week (instead of waiting until after the week was over to do alllll the self-care).
When you know you have a busy season of life coming up, whether it's a week of work events or a summer of traveling for weddings, try these tried-and-true methods of pre-storing to prepare for the hectic chaos ahead.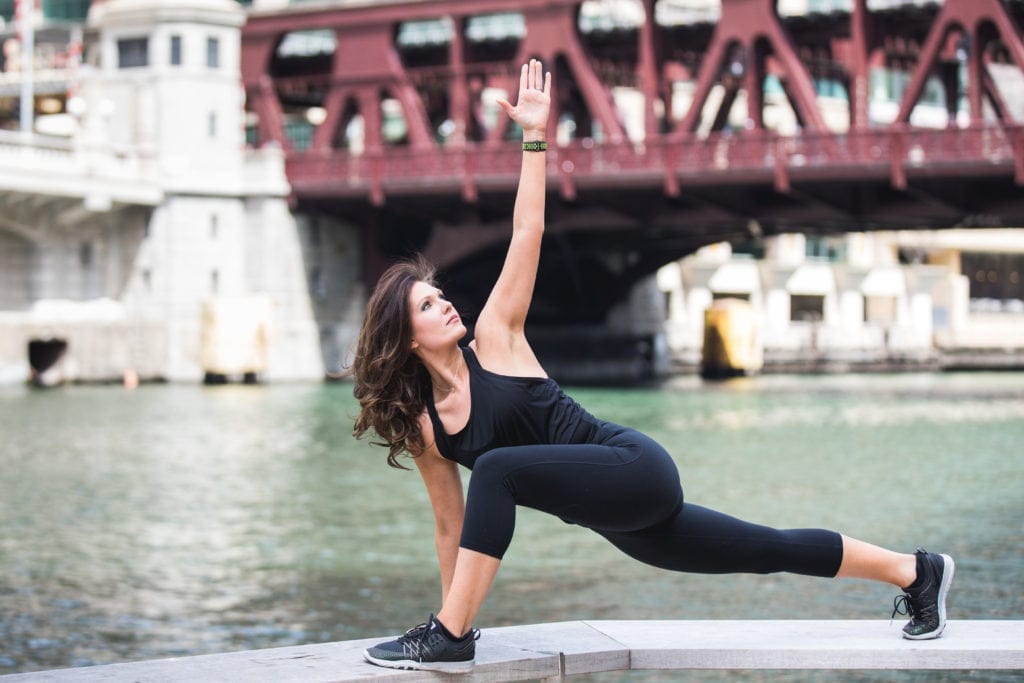 Meal-prep for future you
I know, meal-prepping is not that sexy. But the truth is, meal-prepping before a busy season accomplishes three huge things:
Meal-prepping saves you major bucks since you're not eating out every meal while you're on the go.
Related to the above, you KNOW what you're getting in terms of nutrition when it comes from your own hands — no guessing on ingredients, portion sizes, or random additives.
Meal-prepping means you make one less decision during a week your brain is already operating a max capacity. True story: decision fatigue once nearly led me to order a veggie burger from a pizza place because I had absolutely no idea what I wanted to eat and where I wanted to get it from. Save yourself a choice and know you've got a nutritious option for at least one meal a day (if not all three).
Our favorite meal-prep recipes? We've got Thai, Tex-Mex, and Paleo ideas to get you started.
If you have to get up early, adjust your bedtime a few days before
Trust me, I've tried randomly going to bed at 8pm the night before a big event — and inevitably, I end up tossing, turning, and wondering how many hours it is until I have to get up. Relaxing, right?
Instead, next time I have a major event, I'm going to adjust my bedtime a few days before — just as if I were going on an international, time-zone-crossing trip. Among the most useful tips:
Adjust your bedtime by no more than 15 minutes a night gradually.
Need extra help those first couple of nights? Melatonin is a natural sleep supplement that can promote drowsiness.
Stay strong — no sleeping in, no naps during the way — to ensure that you're tired at night when it's time for bed.
And this probably goes without saying, but try as best as your can to get a full eight hours (or more) in the nights leading up to a big week.
Enjoy activities that make you feel centered and full before the chaos hits
For me, I focused on getting in good workouts and seeing my friends before #SweatworkingWeek, since I knew any workout I squeezed in was likely to be a bonus and/or I'd be too tired to work out most days. Plus, I tend to get lackadaisical about returning text messages when I'm stressed, so I wanted to make sure I spent quality time with my friends before the busy week.
For you, these types of fulfilling activities might be going to a few yoga classes, meditating and being present for a few minutes each day, or taking a few hours to cook one of your favorite, more-than-five-steps dinner recipes.
Be like a marathoner: hydrate before race day
One of the tips I consistently heard when marathon training was NOT to leave your hydration until the morning of the race (probably something to do with bathroom breaks during the race, but that's another story).
Instead, the pros advocate paying extra attention to hydration the week before the race, making sure to hit the recommended amount of water per day (your body weight in ounces, more or less).
Dehydration can be a silent killer during a hectic time; besides the physical symptoms, you'll feel fatigued, drained of energy, confused, irritable, and you might have trouble with short-term memory or completing simple tasks.
Ideally, of course, you'll stay hydrated on the actual big day or during the busy season as well. Carrying a large water bottle and keeping it filled will help with that, as will "pairing" drinking water with certain actions, like drinking a glass of water every time you check Facebook. But, pre-hydrating will help cover your bases just in case.
Take advantage of small opportunities to unplug
Okay, so this is not *technically* pre-storing because it takes place during your busy season, but I think it's important enough to be worth mentioning.
A lot of my time during #SweatworkingWeek was spent reading test emails, monitoring my inbox, or just generally staring at a screen. While it wasn't realistic to spend a significant amount of time unplugged and away from WiFi, I found a few small opportunities to do so each day.
Unplugging comes with a ton of benefits, even for a short time frame. Unplugging helps you recharge, improves your sleep quality (crucial in a week where the quantity wasn't so great), reduces stress, and improves social bheavior.
Take five or ten minutes during a busy week to put your screen down and focus on being present. I did so in these ways during #SweatworkingWeek:
I made it a personal mission not to be on my phone for the first ten minutes I was awake each morning (a banner Apple is taking up with the new iOS 12).
As I walked the 15 minutes to our first event each morning, I listened to a podcast I enjoyed while keeping my phone in my pocket and my sound turned off.
Any time I was in transit (cab, walking, bus, whatever) I either repeated my podcast routine or called my dad to connect over the phone, since we couldn't talk as much as we usually do over the course of a week.
When I got home at night, unless there was something urgent I had to get done right away, I put my phone down for a solid 20 minutes to unwind and chat with my (poor, neglected) boyfriend.
Take care of "life administration" details the week before.
When you're working 12-hour days, the last thing you want to do is come home and find you're out of clean underwear.
Set aside some time the week before your busy season starts to take care of basic life maintenance details: laundry, kitchen clean-up, dry-cleaning, random appointments, full grocery shopping trip, etc. These are the things that you kind of have to do as an adult to keep your life wheels turning; they may not be as fun or exciting as a pre-storing face mask in a bathtub, but your future self will be majorly glad she doesn't have to think about them during the crazy busy season.
As an addendum to this, it never hurts to explicitly ask for help from others, whether it's your partner, your roommate, or your friends. Let them know you have a crazy day/week/month ahead, and ask for any specific help you need to make your life a little less stressful, with the promise of paying it forward in the future. We could all stand to have a little more help in our lives, and you're not doing yourself any favors by playing the hero and insisting you can do it all by yourself.
What other pre-storing routines do you have before a big week?