How to Brave Group Fitness Classes If You're An Introvert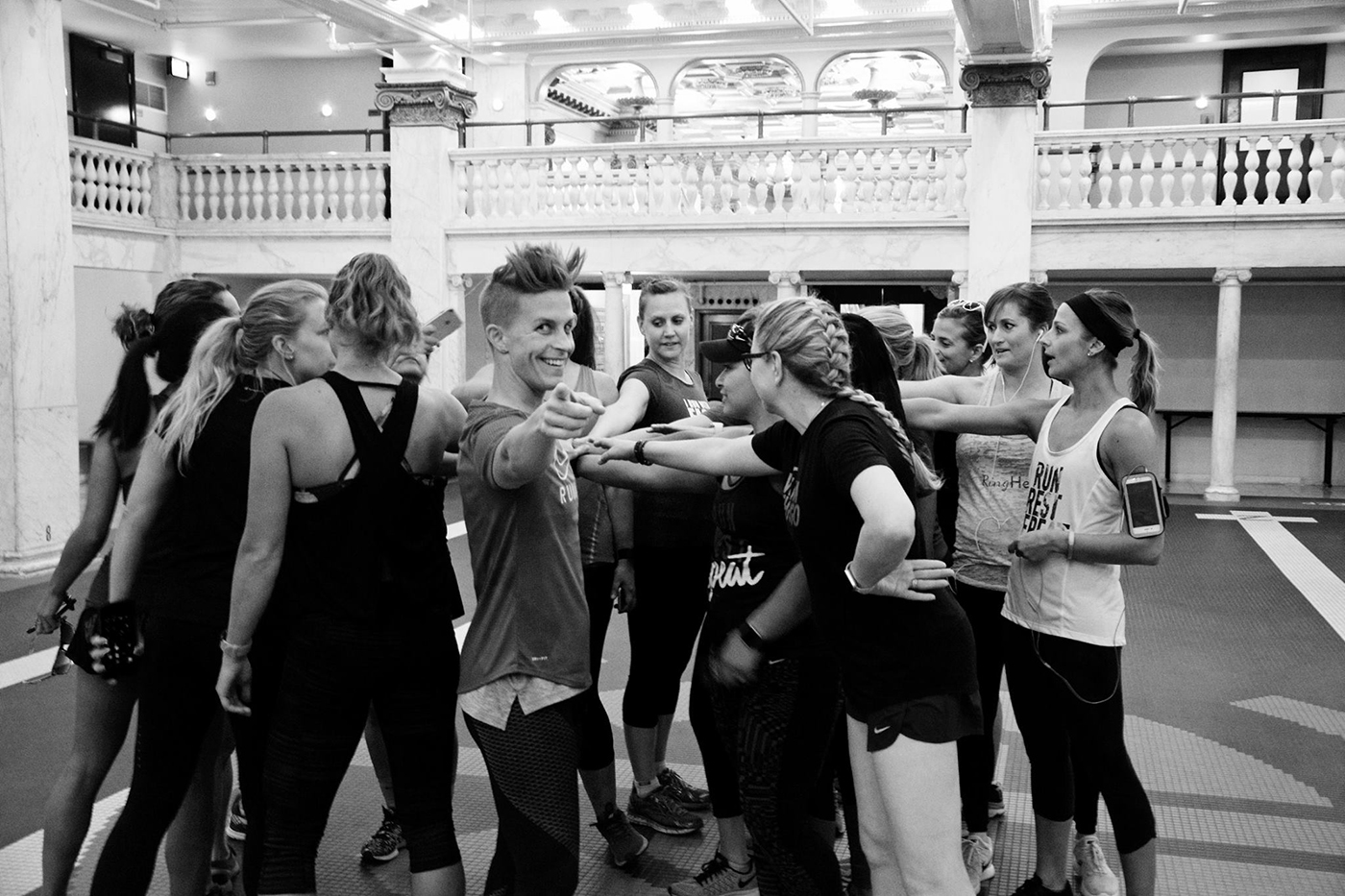 Accountability, motivation, coaching, structure and community – these are just a few of the benefits of group fitness classes, according to Active. And as someone who's old enough to remember when Nike Chicago had a tiny studio on Armitage Avenue, I've experienced every one of those benefits through hundreds of group fitness classes taken around the city.
But sometimes, I feel like I'm hiding a dirty little secret that makes me at risk for being a huge asshole (especially during 6 am workouts). That secret? I'm a confirmed introvert, who sometimes just wants to get in and out of a workout quickly without talking to anyone.
I know, that's kind of sacrilege for someone who works for a company with the motto "everything is better with friends." And let me be clear: I love working out with friends, even when it's a 6:45 am conditioning class or someone asks me to go to hot yoga (Ha. Ha. Hahahahaha).
However, the definition of an introvert (according to Psychology Today) isn't someone who hates socializing (a common myth). Instead, it's a person who feels drained by social encounters and gets their energy levels back up by being alone (whereas for an extrovert, it's vice versa). I still like hanging out with friends, socializing like the youths do, but afterwards I need time to recharge my social batteries.
That's a long-winded way of saying that sometimes, group fitness classes can be a little intimidating for an introvert. But introverts don't have to be confined to solo workouts and miss out on the benefits of group fitness. Here's how to brave group fitness classes, even as a serious introvert.
Have an extrovert mantra
Before I head into a class where I know the front desk workers, trainers and attendees are pretty chatty, I have a mantra ready to go, so I can call it to mind when asked to high-five a stranger.
That mantra is: "Don't be a dick."
(I am a writer, after all.)
In all honesty, thinking this phrase to myself helps me remember that the person on the other end of that high-five is trying to be nice and make a genuine human connection. My mantra cues me to smile a little bit (buh-bye, RBF), act engaged and make eye contact with the people around me.
Your mantra may be more eloquent. Whether it's "everything is better with friends," "fake it til you make it," or "I do hard things" (a Cindy Kuzma original that I have fallen in love with), a mantra like this will cue you towards a certain behavior, even if it might feel a little unnatural at first.
Find the right trainer for you
Ever seen that episode of "How I Met Your Mother" about the "Woo Girls"? It's a delightful bit, and you can watch it here.
I think about Woo Girls in certain exercise classes – they tend to be spin classes when the instructor acts as a combination DJ and cheerleading coach, at a boutique studio with celebrity instructors or at the famously friendly November Project. While tons of cheering and a heightened sense of camaraderie is motivational for many people in a group fitness class, I have come to discover it's just not my chosen scene.
Instead, I've sought out instructors and studios that have more of a "Let's get down to business" vibe. That's not to say they're not friendly or the instructors aren't motivational; their styles are just more focused on individual feedback and encouragement rather than a "we're all in this together" mindset.
Find the right exercise class for you
Along those same lines, an introvert might gravitate towards group classes that still have an individual component to them. Yoga, Pilates and spin classes are a few great options for introverts, since you get the combination of a group setting and a knowledgeable instructor with the space of your own mat/reformer/bike.
On the flip side, classes where you complete circuits in groups or do a lot of partner work may not be an introvert's speed, unless your social energy level is high at the moment.
Set aside time to recharge after class
If I've had a full week of after-work activities, tons of meetings and workout dates with friends, I know that I need at least one day on the weekend to stay completely solo. I call them "Kristen Days" and I guard them fiercely. Having a Kristen Day gives me time to recharge my batteries so I can be a friendly, social human later on. Whether I need to get caught up on life admin or just melt into my couch with a Kardashians marathon, I love having that time to myself with no schedule, nowhere to be and no accountability to anyone except the delivery guy.
If taking a group fitness class sounds socially draining to you, block off some extra time on your calendar that day to regroup. Even if your workout is right before work, take an extra five minutes to walk around the block one more time or sit quietly with your earbuds in listening to the Headspace app to get a quick recharge in.
Still not loving group fitness? That's totally fine
Maybe, when all is said and done and you've tried what feels like every instructor and studio in the city, you still prefer solo runs or making up your own workout in the gym. Or, maybe working out with a personal trainer will give you just the right amount of accountability and motivation without pushing you into that group setting.
The point is this: the best kind of exercise is the kind YOU want to do and will enjoy. Stick with those guidelines and you'll be the happiest introvert around.