Getting Speedy: Preparing for the Shamrock Shuffle in the Nike Epic React
(Disclaimer: Nike provided Nike Epic React Flyknit and apparel to experience the shoe throughout training for the Shamrock Shuffle.  As always, we only talk about the things, brands and experiences we are passionate about and all opinions are our own.)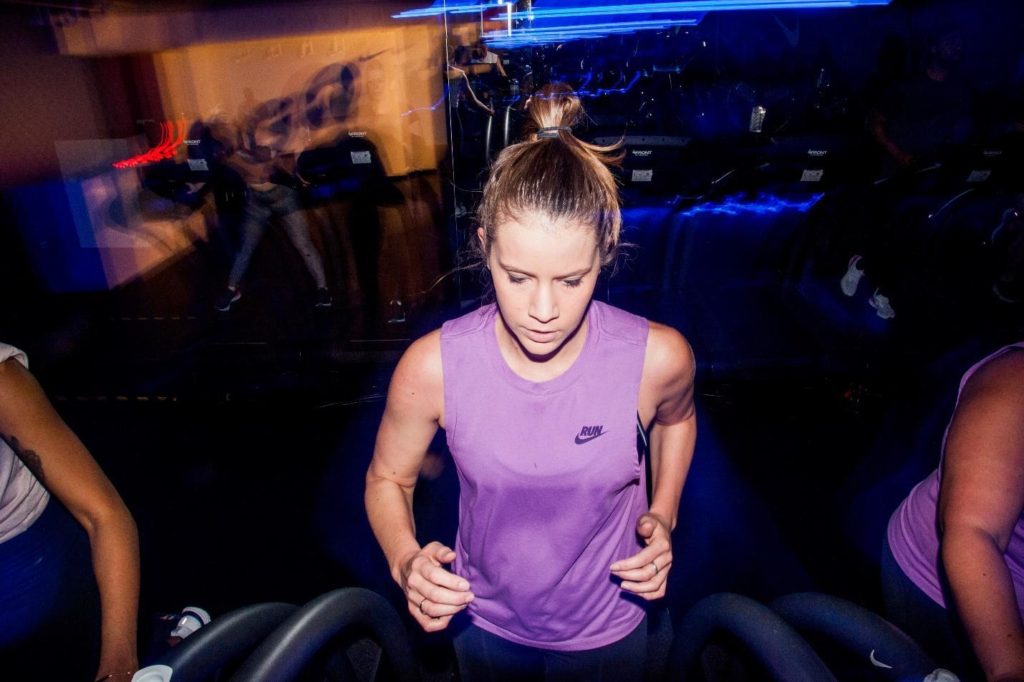 When it comes to the Shamrock Shuffle, I almost always (read: always) undertrain for it. Who wants to lace up and train in the cold, grey Chicago weather?
Over the course of the five weeks leading up to the Shamrock Shuffle, Nike invited a group of runners to train together while trialing the new Nike Epic React running shoe. With a set program and the accountability of coaches and ten other runners, I knew this year was going to be different. Nike provided us with a balanced training program – one that included speed work and weight training along with increasing mileage.
Nike's balanced approach to training paired perfectly with Nike's Epic React, a shoe which strikes a balance between durability, softness and weight – which, if you've ever bought running shoes before, you'll know is not an easy task.
The Shoe
When I first stepped into a running store in Palos Heights in 2010, I was surprised by the intricacies that go into finding the perfect pair of shoes.  After trial and error, and lots of gait testing, I bought my very first pair of true running shoes that day (and several $14 pairs of fancy athletic socks to boot). I felt like Harry Potter when he was matched with his wand at Ollivander's – the wand chooses the wizard; the shoe chooses the runner. …Or something like that.  I subsequently purchased five or six of the exact same shoe over the next three years. When you find a match — especially with a running shoe — it's hard to let go.
That said, there's always been compromise along the way. My first (and second, third and fourth) running shoes were extremely supportive and durable — and, admittedly, heavy. The cushioning and materials required for support and structure created a shoe that took a lot of effort to move in – effort that was certainly felt in the double-digit miles that long training days demanded.
Then, between 2014 and 2016, I was sucker to the minimalist running shoe movement. My demand for softness and lightness heightened, but I found myself needing new pairs constantly and on the brink of injuries without the support and structure I had grown accustomed to.
During our training for the Shamrock Shuffle, we trained in Nike Epic React Flyknit shoes. And… wow. I love them; I mean it. Compared to other running shoes, I have never felt anything like it – they are clouds on my feet while being just as supportive and structured as my very first pair of running shoes. The Flyknit upper made the shoe lightweight; the cushioning (which was created after 400 trial and error attempts!) is soft, responsive and durable.
Jesse Olsen, a product line manager at Nike, sums it up best by calling the Epic React a "holistic solution for runners." The shoe is well-rounded and lasts – when tested, elite runners preferred the Epic React shoes with 300+ miles on them to those that were fresh out-of-the-box.
It would be easy to praise the shoe on its aesthetics and initial impressions alone, but Nike made us put the shoes through the ringer. For five weeks, we worked with David Carson and Emily Hutchins on strength and speed training at On Your Mark and finished rigorous treadmill workouts at Nike's House of Go pop-up.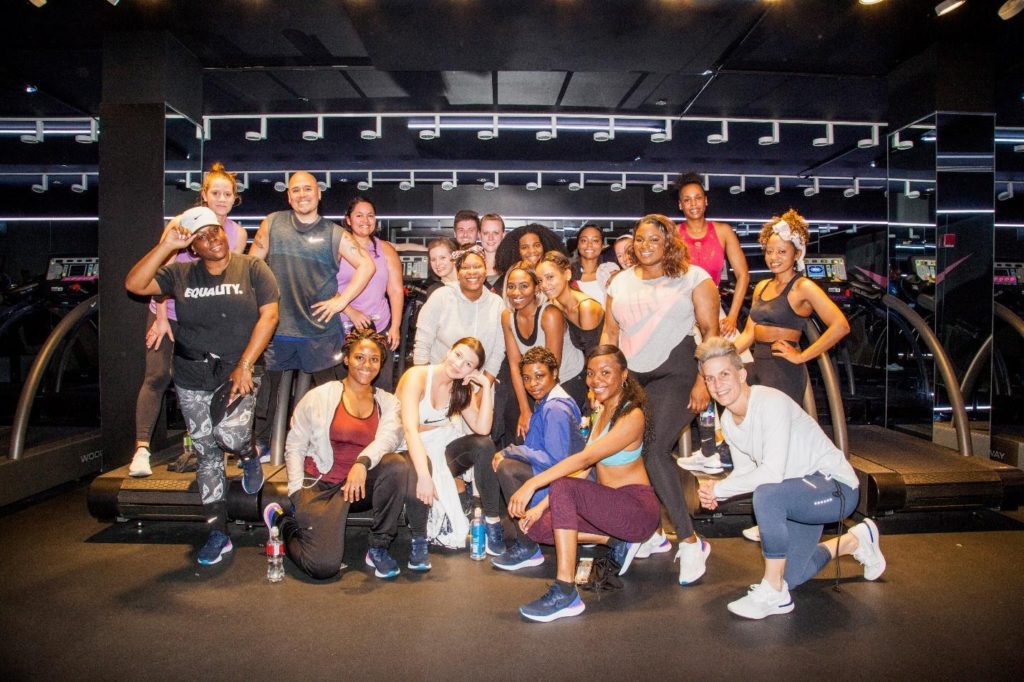 If you want to put a running shoe to the test, hop on a Woodway treadmill (you know, those fancy self-propelled ones) and try to keep up with coach Emily's speed workouts without flying off the back of it.
The Training
Listen, I'll be the first to admit it: even though I've been running for years, I always shirk most of my speed training duties when I'm training for a race (sorry not sorry). Unfortunately (or fortunately), this training didn't leave much room for shirking – when we got together as a group on Wednesdays and Saturdays, it was almost all speed training. Speed training is tough stuff. And when the going gets tough, the tough remind themselves of Pinterest-worthy mantras to keep on going.
Breathe in through the nose, and out through the mouth.
I can hear Emily's voice reminding us to breathe as we bump up our speed to 90% of our ability. It's hard; I can hold onto my fastest mile at this pace, and not much else. After two minutes, I welcome the relief of slowing my legs back down to 70% until the next round.
Pick miles up and put 'em down.
This is one of my mantras when I'm struggling to get through a particularly tough stretch of running. At the House of Go, there were no shortage of these moments. Can I do one more 2-minute round at over 9 mph? I can try.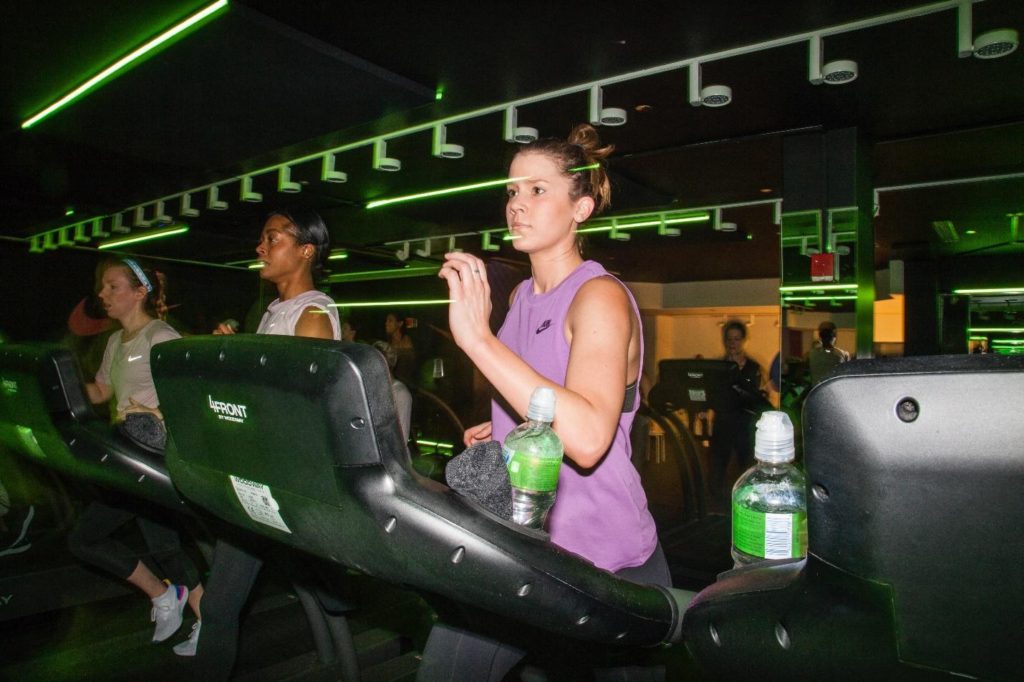 Make it feel easy
I can feel my body start to tense up under the stress of training at higher speeds. I consciously remind myself to calm down. Emily reminds us to relax our hands, our shoulders, and breathe. She's always reminding us to breathe.
Give yourself a break
Speed work is hard, and strength and recovery are key if you want to be successful. David coached us through warm-ups, strength training exercises, and cool downs to round out our speed training. It's easy to skip speed workouts during training; it's even easier to overlook the importance of strength and stretching workouts. Training for a race is more than just lacing up and running some miles; if you want to do it right, you're going to need a more balanced approach.
The Results
Alright. I'll confess. I didn't make race day. Here's a final lesson in balance: we will always keep seeking it – whether that's in our running shoes, in our training, or in our lives. In order to keep my life balanced, I had to say "no" to one of my favorite Chicago races this year.
But, I did get it done (on my own time). On March 25th, I ran a few hours after the Shamrock Shuffle had officially ended; I trekked through five miles of a windy lakefront path in the bitter cold, alone and rocking a flash of green.
And you know what? After just five weeks of training, I felt really strong. I felt fast! Like, holy hell, I ran those five miles at one of my fastest paces since 2015! Maybe there is something to this speed training nonsense – it must be worth the effort after all.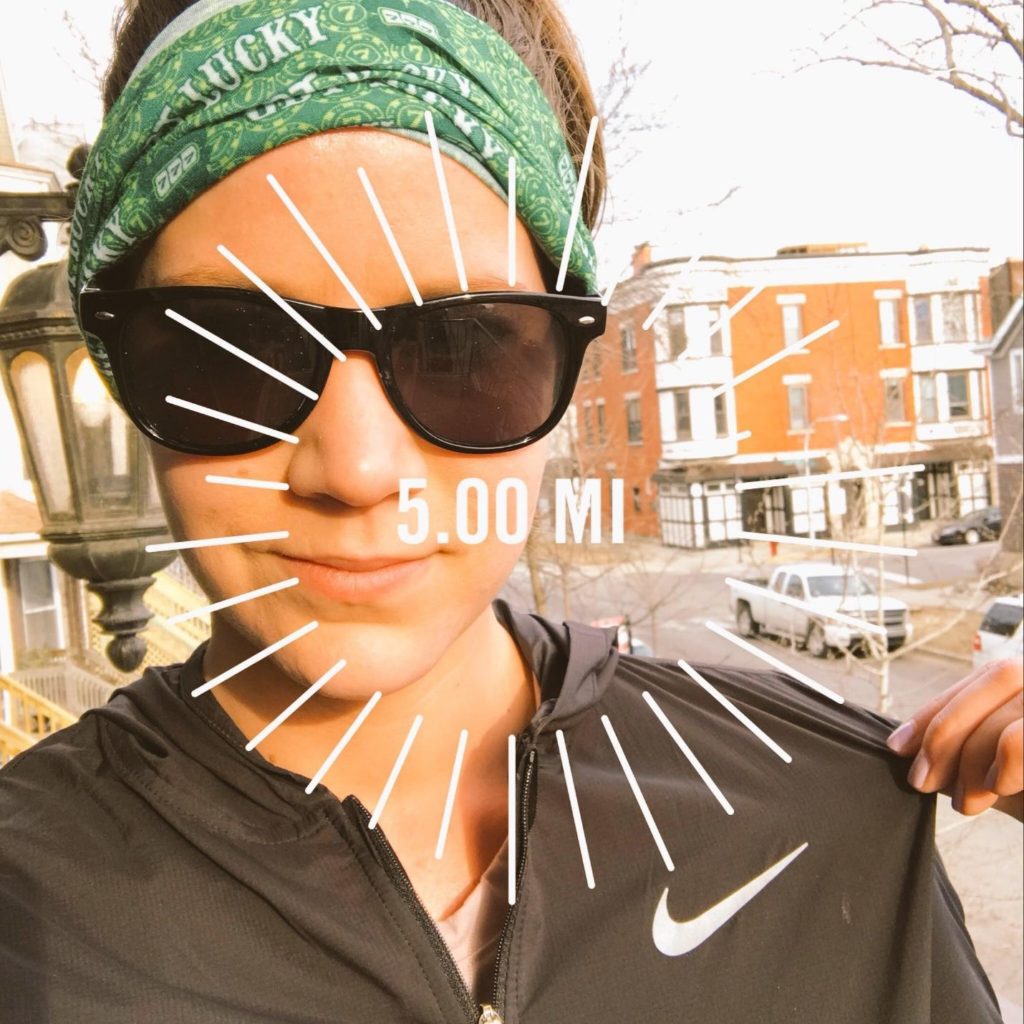 I'm going to continue to push myself in speed training (likely using The Fastest Mile Challenge on the Sweatworking App) and see how far it can take me. I'm eyeing a half marathon PR at the end of April.
So what about the Nike Epic React Flyknit?
After five weeks of training and 50+ miles, these shoes are making it to the top of my "shoes worth replacing again and again" list.
The only thing I have to worry about keeping them looking fresh and clean.