The 4 Things You've Got to Know About Nike's Latest Running Shoe
(Disclaimer: Nike covered the cost of our team to attend the Nike Epic React Flyknit launch. As always, we only share the products and experiences we truly love and want to share with you.)
"One size fits all" isn't typically a feature you want associated with your running shoe. After all, we runners typically think we have incredibly unique feet, special problems and exact specifications for the shoes we spend hours and hours in each week. I mean, how many times have you said something like "I'm an overpronator with weird hip alignment and a wonky left pinky toe" when shopping for a new shoe?
But with their latest running shoe, Nike thinks it's got something that will appeal to all runners in the Nike Epic React Flyknit.
In a press release, Nike stated:
Runners asked for one shoe that could do it all: offer more cushion from the impact of each stride, give them the energy return needed to stay fresh late in a run, feel light underfoot and also be able to withstand wear and tear of impact and elements run after run. Nike innovators, chemists, engineers and designers came together to deliver a solution in the form of a foam, called Nike React.
Got that? Sounds great, but it's never really been possible before. After all, something that's soft doesn't really allow you to bounce back after impact, and a lightweight shoe tends to get worn out way quicker than a more stable, heavier shoe. 
But hey, don't tell Nike something's not possible. They'll just spend hours developing the right solution, and then organize a huge media event in a New York warehouse, stock it with foam pits and trampolines, then fly in Olympic athletes to make sure you really, really know that they figured it out.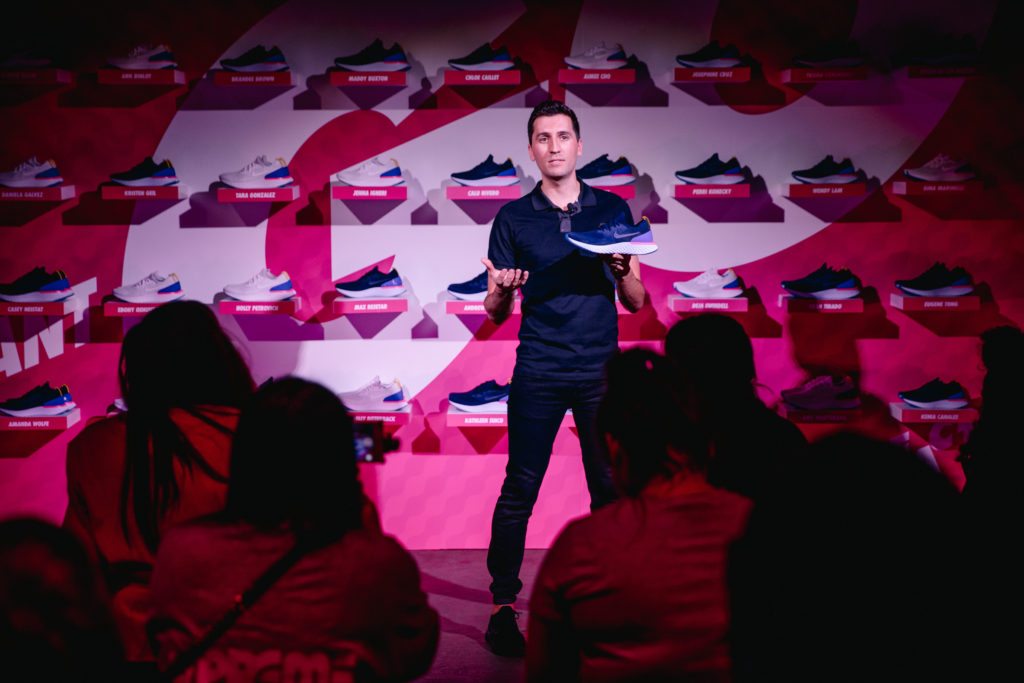 Besides that, here's what you need to know about Nike's latest running shoe innovation.
1. It actually started with a basketball shoe
Nike React foam cushioning first debuted in June 2017, as the star component of the Nike React Hyperdunk 2017 Flyknit. In order to compete on the court, players needed a shoe that allowed them to shift directions and speeds without tripping them up. Plus, the shoe had to be springy enough to facilitate highlight reel dunks.
It was a tall order, to say the least, and not one Nike took lightly. After experimenting with over 400 different combinations, designers settled on Nike React foam, thanks in part to its durability and its high energy return (quick note: energy return refers to how much your foot or the shoe's cushioning bounces back after the impact of the energy you put into that step. It's kind of like when you're jumping on a trampoline and you measure how strongly you bounce into the surface versus how high you get in the air afterwards).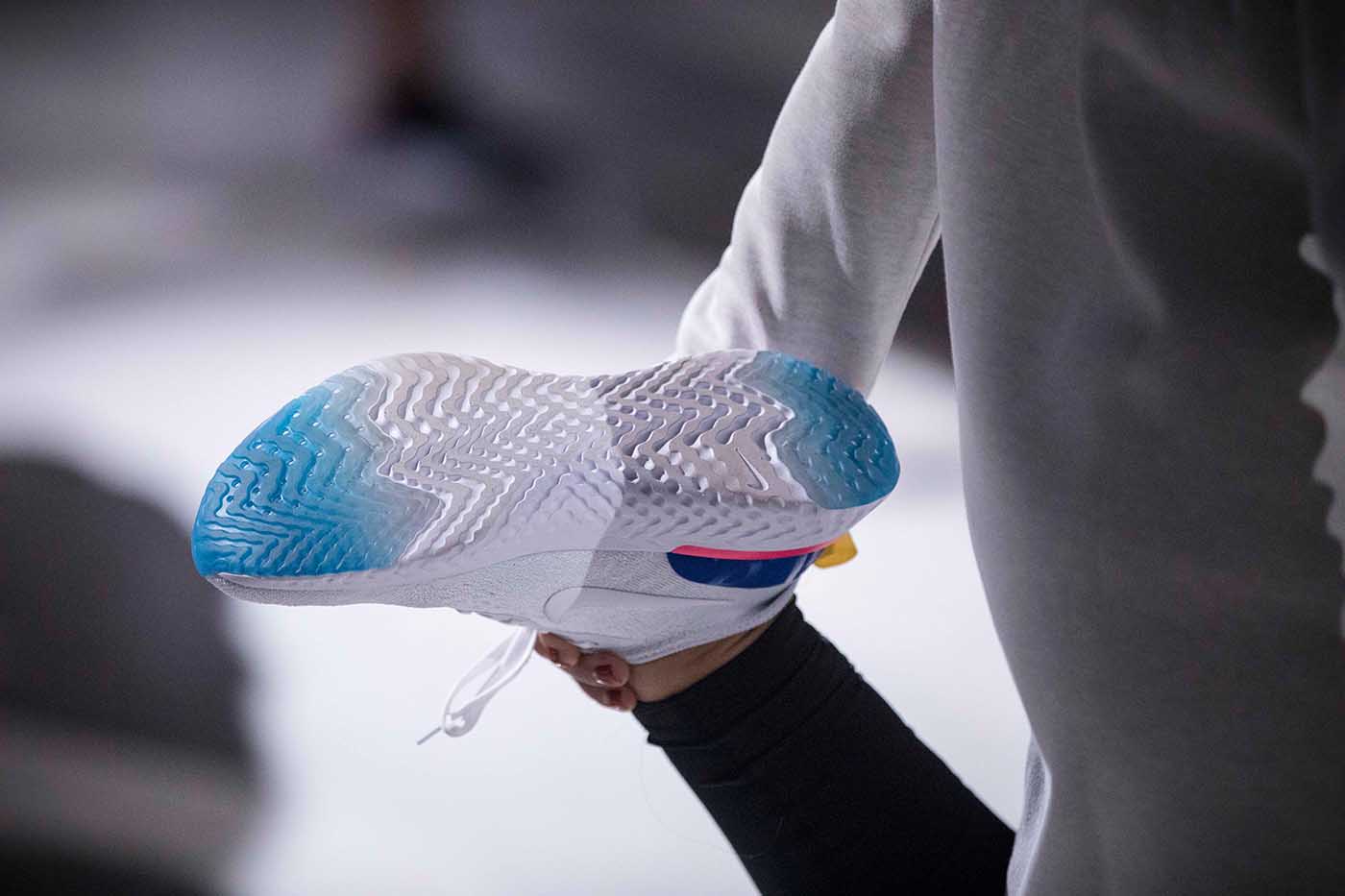 And while you might not think so at first, it turns out that basketball players and runners have similar demands for their shoes: light but durable, cushioned yet supportive. So it was a logical next step for Nike's wizards to transform Nike React into an innovative running shoe.
2. It'll outlast your other running shoes
For both casual runners and annual marathoners, a common running shoe gripe is that you've got to replace them regularly or risk getting injured. Some runners retire shoes after a certain amount of mileage, others after six months of use, still others after a training cycle for a goal race. Either way, it's a major pain point for runners — after all, it's tough to stomach spending $100+ on shoes when you tend to get less than a year's use out of them.
The Nike Epic React Flyknit, on the other hand, was built with longevity in mind. It's got the lightness of a racing shoe, but a bit of rubber under the forefront and the heel adds traction while enhancing the shoe's durability. The Nike React technology lasts longer than any other type of Nike foam, meaning it may finally be possible for marathoners to keep one pair of shoes for an entire training cycle — race day included.
3. The cushioning is great — but you won't sink into it
Put those science hats back on to read this next sentence: a material that's hard gives the most energy return, but soft materials absorb more energy. That's great when your comfiest pillow absorbs your head at the end of a long day — less so when you want your shoe to cushion your foot, but still bounce back off the pavement late in a run.
The new Nike React technology gives the best of both worlds to runners who want cushioning AND energy return. Typically, runners have had to choose between cushioning and responsiveness. In this new shoe, Nike has combined cushioning and energy return so that running in the Epic React Flyknit feels like running on a cloud, without that sensation of your foot sinking further into the shoe (and weighing you down).
4. Light, responsive, cushioned and durable
Fine, you caught me — that's four things in one.
But if I eventually forget the specifications of Nike's latest foam technology and how many years of tooling and retooling it took, I'll always remember these four guiding qualities that they used to make the product.
After all, it's hard to forget competing with an Olympic athlete in games based on these characteristics.
At the unveiling event in New York, Nike brought in elite athletes like Olympic gold medalist Laurie Hernandez and WNBA Chicago Sky player Stefanie Dolson to compete alongside media members in four competitions designed to illustrate the four main characteristics of the shoe. And trust me, it is quite something to watch Laurie Hernandez effortlessly bounce her way down a trampoline, reaching twice her five-foot height.
I mean, I look pretty athletic here too, right?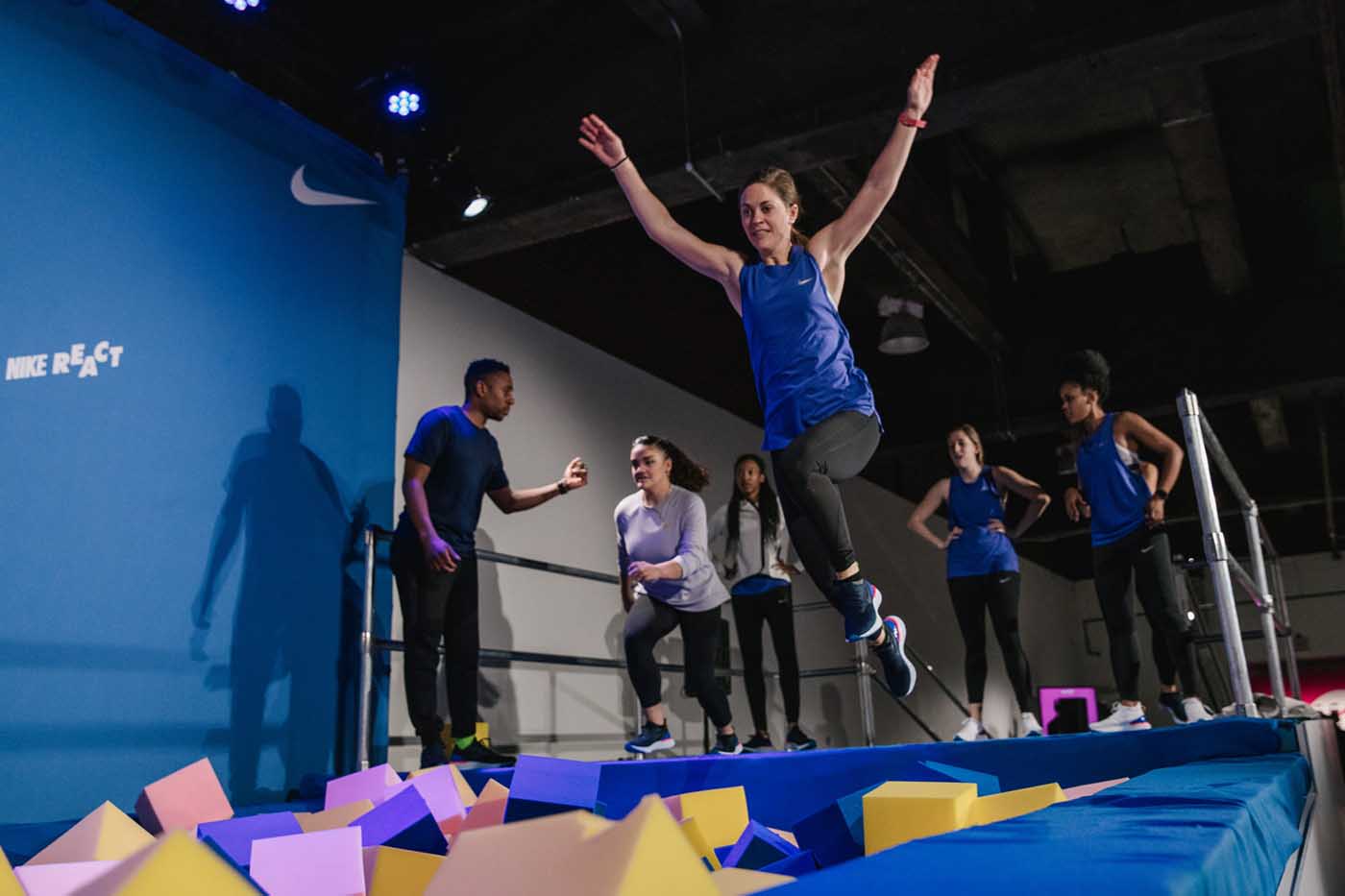 … right.
Ready to try out the springy shoe for yourself? The Nike Epic React Flyknit drops on February 22 — just in time to start training for that fall marathon you've got your eye on.
Let us know!
Did this post help you get closer to achieving one of your goals?