2/25 #SweatworkingCrawl: Cycle X, Pure Barre and Bare Feet Loft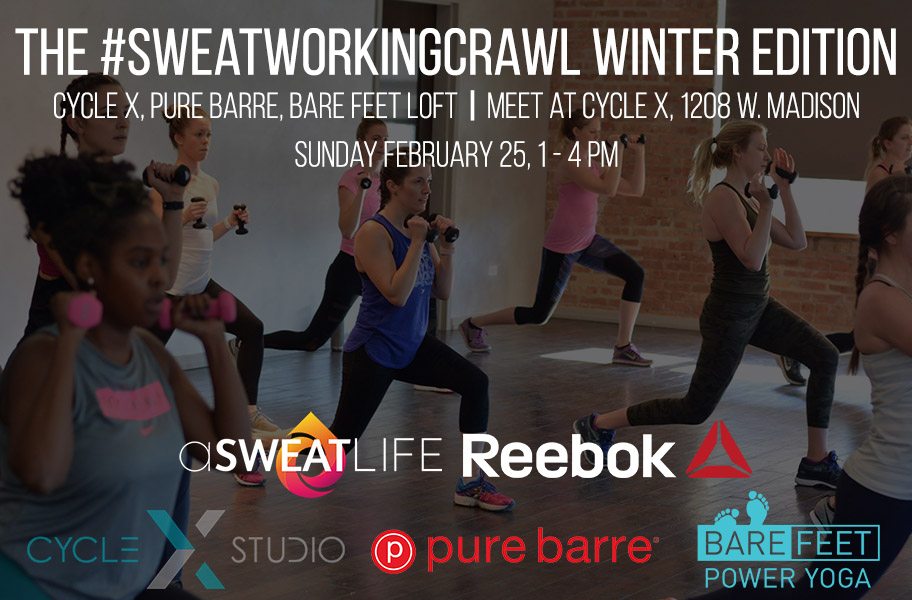 (Get your tickets to the Crawl here)
Since July 2017 aSweatLife and Reebok have hosted #SweatworkingCrawls around the city of Chicago, bringing you three or more ways to sweat in one jam-packed afternoon. On February 25, we're taking advantage of three studios within cold-weather sprint distance of one another so we can make a #SweatworkingCrawl happen in the middle of winter.
The best part? None of the gyms require you to wear your own shoes, so wear your snow boots, grab your winter coats and come out to join us for the February #SweatworkingCrawl at Cycle X, Pure Barre West Loop and Bare Feet Power Yoga's loft studio space.
What are you in for with the Reebok #SweatworkingCrawl?
At 1 pm, we'll all meet at Cycle X. From there, you'll be divided into three groups. You'll stay with your group to rotate through the three studios.
At Cycle X, you'll take a ride in the lights and music-driven indoor cycling class with intimate stadium seating that will make you want to amp up your power song after song. You'll be given shoes to wear for your 30-minute ride and you can leave everything at Cycle X when you arrive there to check in. Get ready for a sweaty half hour to kick off, keep you going with or wrap up your Crawl experience.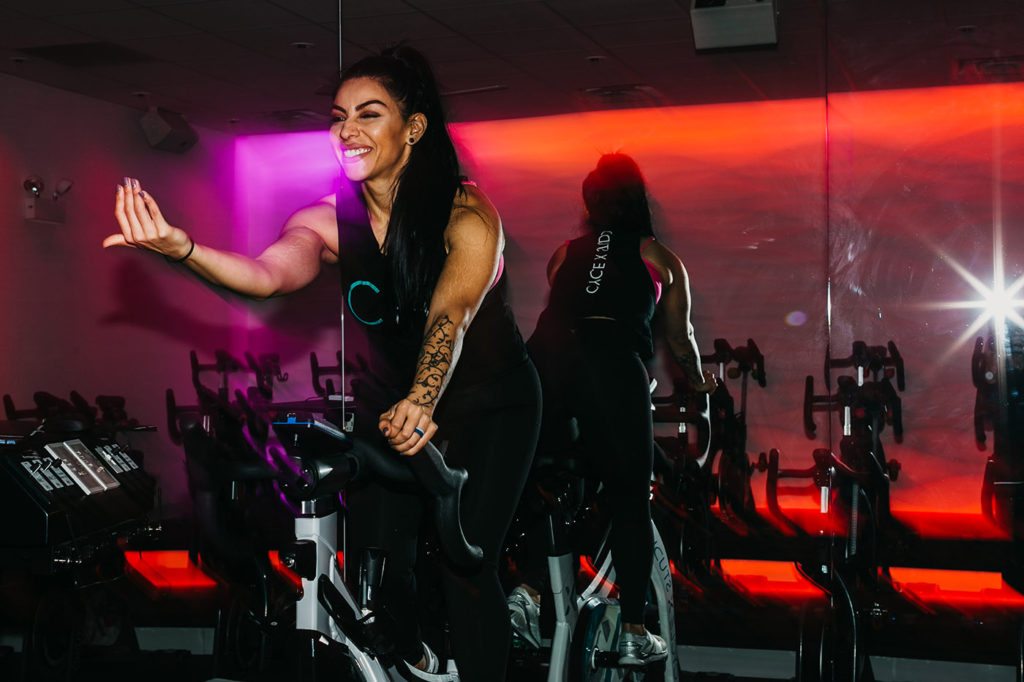 At Pure Barre, just next door to Cycle X, you'll lift, tone and burn every muscle group in your body. You'll do a lot of pulsing, a lot of holding and even more shaking. If this is your first barre class, Susan Rothman, Pure Barre West Loop's owner, is the perfect person to take your cues from, as she's super keen on technique and fine tuning your barre form.
At Bare Feet Power Yoga's loft space, you'll take the stairs up to the fourth floor of the building just one block down from Pure Barre and Cycle X. When you arrive at the loft, you'll be greeted with warm lighting, the smell of essential oils and one of Bare Feet's senior teachers, Julianne, who will lead you through some light yoga and a meditation. Your meditation will be geared to whatever will help you most depending on where you are along the #SweatworkingCrawl journey.
Along the way, there will be opportunities to participate in a social media challenge that will have one individual winner – but our favorite part of the challenge is that the winner's entire team will also take home some extra goodies!
At the end of the crawl, we'll gather one more time for snacks and great company at Cycle X, announce the winners of our social media competition and head over to The Madison for a happy hour where your bill will be discounted 10 percent.
If you're new to the idea of a #SweatworkingCrawl, have no fear. In between each 30-minute workout you'll have plenty of time to walk or jog in between studios and to snap photos.
Ready to sign up? Grab your ticket right here.
We can't wait to crawl along down Madison street with you!
Here's what you need to know to take on the Reebok #SweatWorkingCrawl:
When is it? Sunday, February 25 1-4 pm
Where do we meet? Cycle X, 1208 W. Madison St
How long will each workout be? Each workout will be 30 minutes long and you'll have 15 minutes to transition between workouts, so you'll have plenty of time to put your coat and boots on to walk outside.
What do I need to bring? Wear any workout gear you feel comfortable in, and please bring a mat for yoga and a pair of socks for barre.
What if this is my first #SweatworkingCrawl? We're excited to have you! Even if you come alone, we'll make sure you have a buddy to move from workout to workout with. Each workout will be scalable so you can take it all at your own pace and have fun trying each new thing.