#TrainersConnect Gets a Dose of Sweat and Inspiration January 31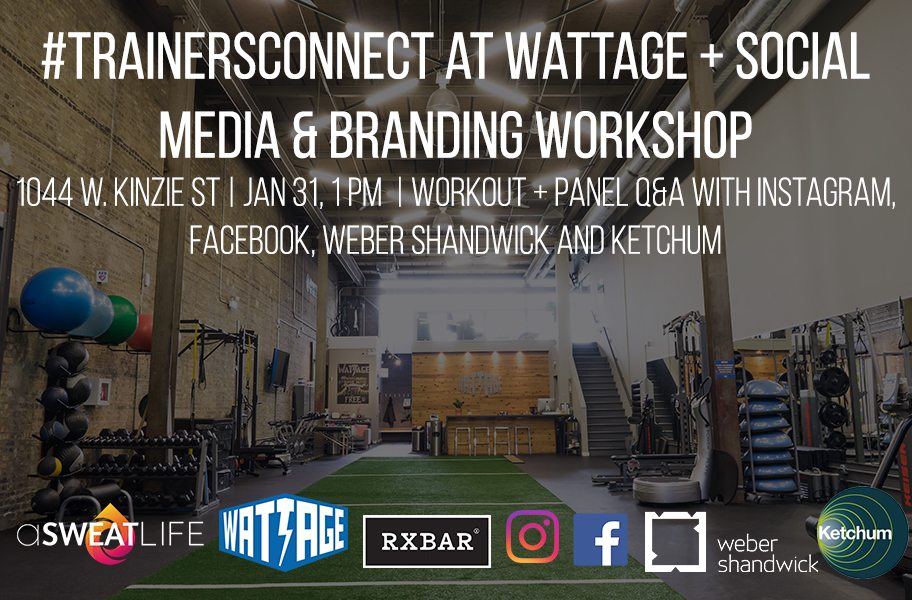 (Get your ticket to #TrainersConnect. Your $5 goes directly to the Chicago Food Depository)
We're kicking off our 2018 #TrainersConnect series with a bang – or rather, a bolt – at Wattage on Wednesday, January 31 at 1 pm.
We're more than excited to announce this #TrainersConnect opportunity because we're bringing you more than just an afternoon of sweat and high fives. If there's one thing we've learned from working (and workout out with) trainers in Chicago over the last year, it's that we not only crave community, we crave continuing education. In 2018 we're bringing you more of that, starting with a social media and marketing panel facilitated by aSweatLife with special guests from two PR and social media agencies – Weber Shandwick and Ketchum – and strategists from Facebook and Instagram.
If you've ever thought to yourself, "How do I use social media tools most effectively to build my own brand?" or even, "What is my brand?" you won't want to miss out on this discussion.
First, we'll take on a workout led by Aaron Manheimer, founder and head trainer at Wattage. You can expect a killer workout using every square inch of the facility. After the workout, we'll gather together for the panel. Come equipped with questions you want to ask, there will be time to ask!
From our partners at Ketchum, the agency's PR team leads will explain the foundations of traditional public relations tactics and why it's important for you to consider them as you build your own brand.
Our partners at Weber Shandwick will be there to talk about what influencer PR looks like from a social media and digital perspective, how a brand leverages those influencers to build their campaigns and how you can translate that to build your own business – and how to choose the right partners for you.
Facebook and Instagram will leave you with best practices for your own content strategy (yes, you need one, too!) and hey, if you have the question, "What's a content strategy and do I need one?" they can answer that too.
Our friends at RX Bar will also be there with some of their favorite flavors of bars for you to enjoy and take home, as well as with branded swag.
We hope you can join for us for a workout and workshop that will send you into the rest of your week energized and with tips to strategize your business endeavors! Grab your ticket to the workout and workshop right here. The workout portion is sold out, but tickets are still available for the panel from 2-3 pm!
Details for #TrainersConnect
What: Workout + social media and marketing panel discussion with agency partners, Facebook and Instagram
When: Wednesday, January 31 from 1 – 3 pm (Our workout will start promptly at 1 pm and the panel discussion will start at 2 pm)
Where do I get tickets? Right here! The workout portion is sold out, but tickets are still available for the panel from 2-3 pm!