#TrainersConnect: Brooklyn Boulders + Nutrition with National Dairy Council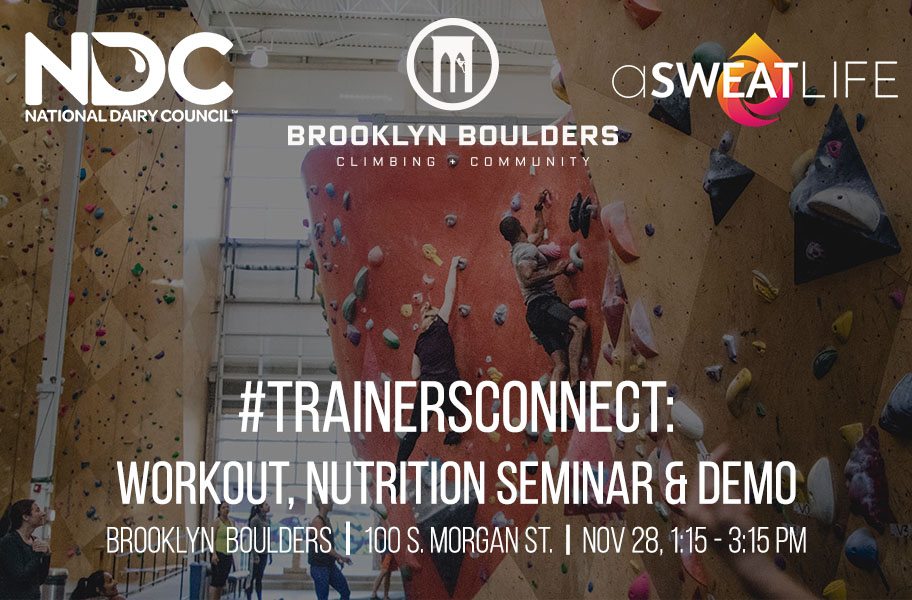 Your $5 ticket to November's #TrainersConnect workout and workshop is right here.
We asked and you responded, trainers. Since December 2016, we've hosted #TrainersConnect to bring you workouts, foster community and allow you to add something new into your fitness routine. But we also know you're hungry for more knowledge as well as new ways to sweat. That's why on November 28, we're taking #TrainersConnect to Brooklyn Boulders for an obstacle course workout coupled with a nutrition seminar.
What's the workshop?
In partnership with the National Dairy Council, Allison Parker, MS, LDN will lead us through a nutrition workshop and demo. She'll talk through a few ways to fuel and refuel key, giving everyone expert-created materials you can share with clients and classes in printed PDF form.
You'll also be fed delicious snacks as part of the workshop (and because who can really learn on an empty stomach, anyway?)
What's the workout?
The Brooklyn Boulders workout portion of this event will be a competitive partner-based workout. You can see how much fun these obstacles are here (and we're positive you'll do better than us).
You'll try your hand at the furniture flash, attempting to move your body fully around a bench without any part of your body touching the ground.
You and your partner will move on to swinging rings, attempting to traverse the space on big, swinging rings.
Finally, you and your partner will take on a bouldering challenge (no harness required) called the V Sum challenge. With a timer running, you'll attempt to take on various routes (V-1, V-2, V-3, etc.,), adding up the total score of routes completed in that set amount of time.
What's the point?
You'll walk away from the day trying something new, meeting a new friend (and furniture climbing buddy) and taking away some nutrition knowledge from an expert that you can share with clients. We hope you'll join us on November 28.
Ready to sign up? Get your ticket right here. And remember, every dollar of tickets sales goes to #TrainersConnect goes toward the Greater Chicago Food Depository.