Chicago Trainers, Push Your Limits With a Dry Triathlon October 24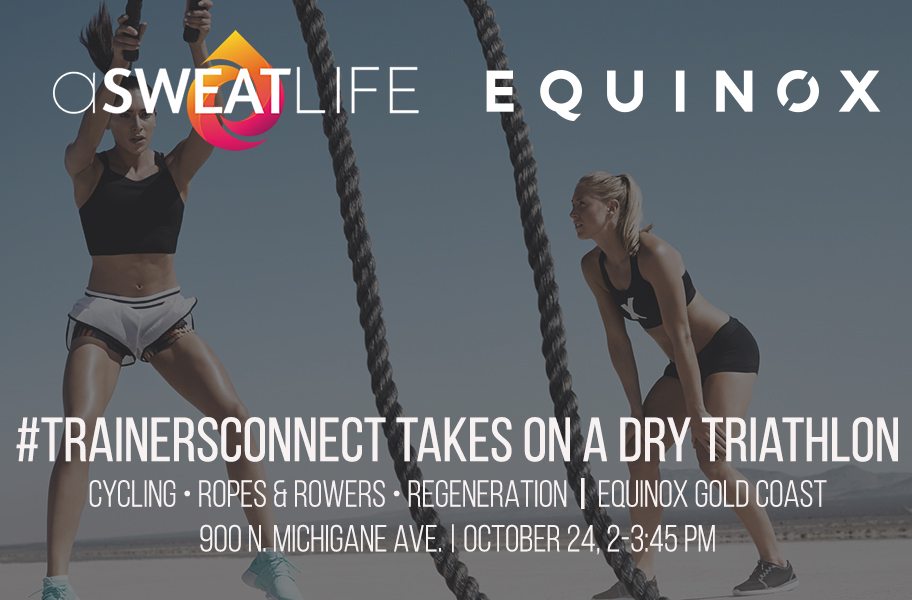 (Don't miss October's #TrainersConnect. Grab a ticket here)
Two years ago, aSweatLife created the #Sweatworking Dry Triathlon with Equinox Gold Coast in Chicago. We ran, cycled and rowed our hearts out in the middle of winter and left feeling insanely accomplished – and with the feeling that we needed to do it again and see if Chicago's trainers could handle it.
October 24, we're heading back to Equinox Gold Coast – right in downtown Chicago – to bring the Dry Triathlon-style workout to trainers and instructors from all around the city. This is where we'll meet for October's #TrainersConnect, from 2-3:45 pm when most trainers aren't busy training other clients or teaching classes.
The competitive environment of a three-stage workout (if you've never taken a Pursuit class at Equinox, just wait and see what we mean) packed with instructors working out next to each other is a combination we can't wait to witness – and we're even more excited to take part in it.
What makes it a Dry-Triathlon? 
We'll take on three classes in one afternoon.
First, the Pursuit – Equinox's signature spinning class designed to make you  working in different ways, fueled by technology. You'll compete with yourself, work with a partner and sweat together towards one common goal as a team.
Second, you'll take on Equinox's class Ropes and Rowers, a circuit-based class using Water Rowers, battle ropes and bodyweight drills.
Third, we'll come together for a portion of Equinox's Rx Series,  the restorative component to the workout. You'll end this mid-day workout feeling exhausted and uplifted, ready to tackle the rest of your week.
Grab your #TrainersConnect ticket here, and remember that all proceeds go straight to the Greater Chicago Food Depository, which feeds hungry Chicagoans who are food insecure. Every dollar donated is equivalent to three meals from the group.
Ready to work, do good and get to know the Chicago instructor community? Sign up here.
Details for the Equinox Gold Coast Dry Triathlon: 
What: A three-part workout (cycling, ropes/rowers, restoration) alongside Chicago instructors
When: Tuesday, October 24 from 2-3:45 pm
Where: Equinox Gold Coast, 900 N. Michigan Ave (the bottom floor)
Where do I sign up? Right here!