10/15: The Reebok #SweatworkingCrawl Takes on River North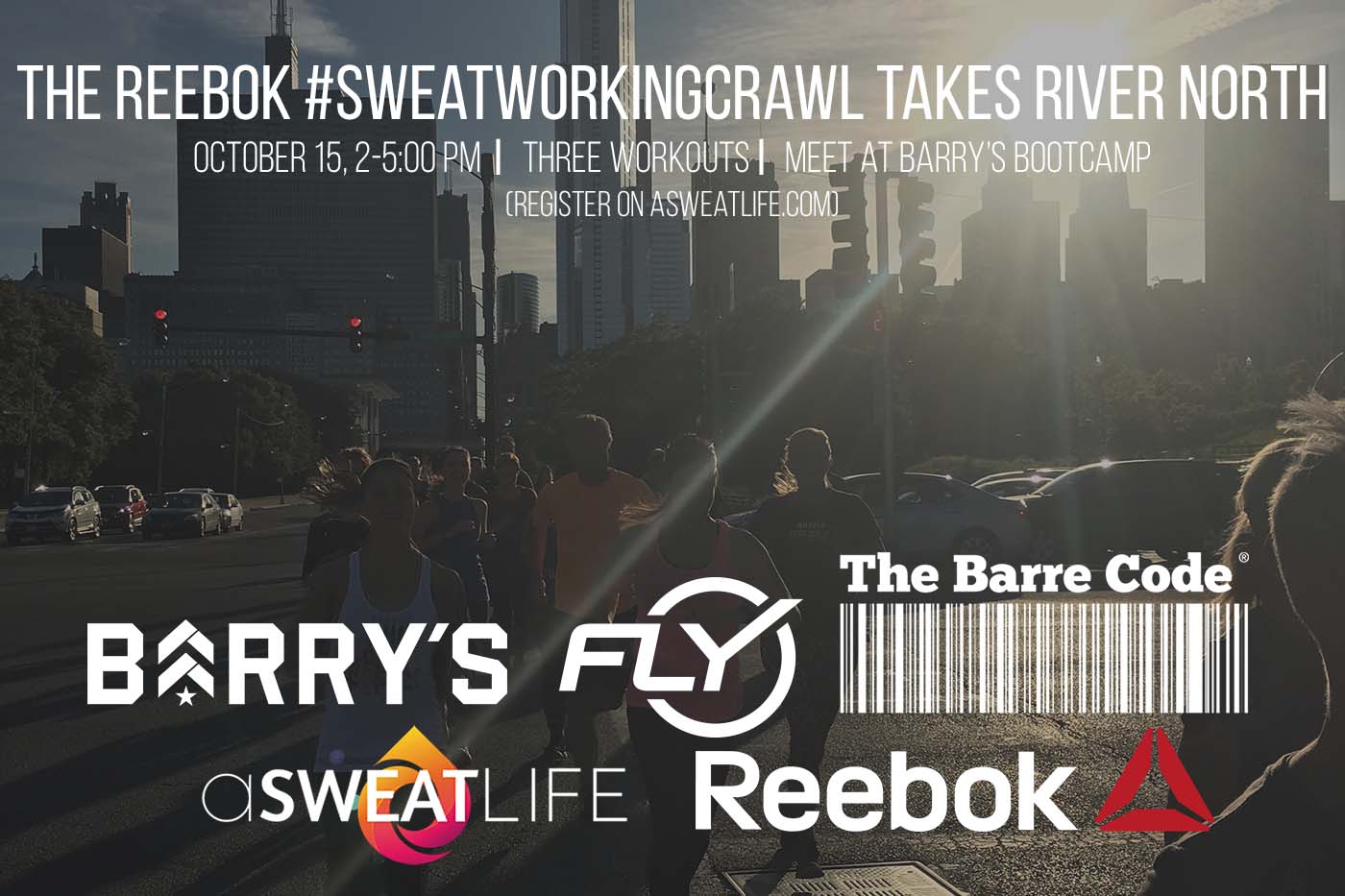 Sunday, October 15 we're joining forces with River North studios for an afternoon packed with a taste of three workouts for 30 minutes each. Which workouts are we taking on for this, the fourth #SweatworkingCrawl with Reebok Chicago?
Barry's Bootcamp will get your heart rate soaring with running intervals on Woodway treadmills, then set your muscles on fire with heavy lifts on the floor.
Flywheel will give riders a 30-minute dose of its 45-minute class, which will include its signature ride, packed with sprints, hills and all the ride data your heart could desire. 
The Barre Code will build strength using slow and controlled movements that will show you why those who live by the barre code talk about "making it through the leg series."
To get it started, we'll all meet at Barry's Bootcamp in River North. There, you'll be divided into teams that you'll stick with for the entire crawl. You and your crew will walk or jog to your starting location and it will be non-stop action from there.
Along the way, there will be opportunities to participate in a social media challenge that will have one individual winner – but our favorite part of the social media challenge is that the winner's entire team will also take home extra goodies! During the crawl, you'll follow @aSweatLife and @ReebokChicago on Instagram and post along the way.
At the end of the crawl, we'll gather one more time for snacks, goody bags and great company before the winners of our social media competition are announced. If you're new to this, don't fear the #SweatworkingCrawl. In between each 30-minute workout you'll have plenty of time to walk or jog in between studios and to snap photos.
How do I sign up? Right here, thanks for asking.
What is this? This fun event is fueled by camaraderie and will have you working your tail off while you sweat in new ways and in familiar ways. It's a killer combo you won't want to miss.
Where is this? We'll all start together at Barry's Bootcamp in River North at 11 W Erie Street
When is this? October 15, we'll start the crawl at 2 pm! We ask that participants arrive between 1:30 and 1:45 pm to get put into teams and sign waivers.