aSweatLife Creates a Bucktown Sweatworking Crawl With Reebok Chicago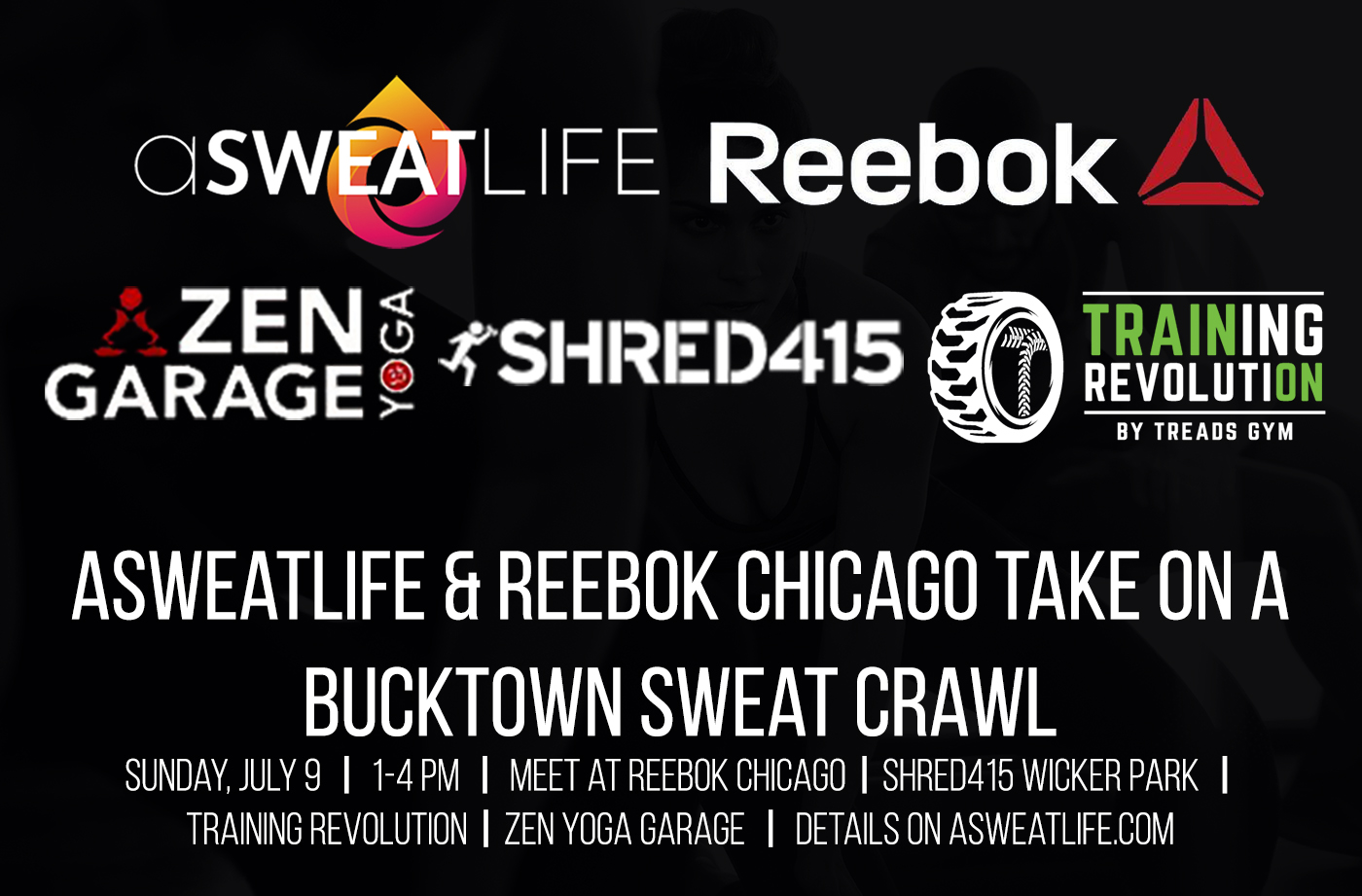 (Grab your tickets for the Sweat Crawl here.)
Here at aSweatLife, when we have an idea, we like to say "Yes!" and then figure it out – no matter how crazy it may sound. When we decided we wanted to join forces with a few studios to create a relay of workouts all at once, we thought, what better way to bring a community together than through the opening of a new fitness brand's hub in one of our favorite neighborhoods, Bucktown? And just like that, the Bucktown #Sweatworking Crawl was born.
Reebok Chicago and aSweatLife are teaming up with Shred415, Training Revolution and Zen Yoga Garage to create the Bucktown #Sweatworking Crawl on Sunday, July 9. This is designed to be a challenge, with about 90 minutes of designated class time and light jogs between, but we know you're up for it. Plus, you'll get some serious mobility with Hyperice products when you're at the Reebok station of the Sweat Crawl.
To start the #Sweatworking Crawl, we'll meet at Reebok Chicago's new location, 1702 North Damen Ave, where we'll kick it off together. You'll stick with a group with the help of team leads from aSweatLife will lead each group from studio to studio.
At Shred415, you'll get a taste of their signature full-body workout class, mixing treadmills and weights. You'll get to practice your sprints and hills here so the jogs in between class will feel like a breeze.
At Training Revolution, you'll experience all that this boutique studio has to offer. From sled pushes to TRX's to more traditional strength work, this mini workout is going to be fun and different from your regular gym routine.
At Zen Yoga Garage, you'll get a 30-minute dose of yoga as you practice in the studio space filled with the breeze from ZYG's opening garage doors.
At Reebok Chicago, Team aSweatLife will lead you through 30 minutes of much needed mobility with the help of our favorite mobility tools, the Hyperice Vypers and Spheres.
Now let's talk the run portion of the workout! We'll all meet at the same time at Reebok Chicago and then split up into groups to take on each workout and jog in between each studio. And don't worry, we'll have water ready for you right as you enter each studio. You'll stay with your group the entire time so we get through the run and the workouts as one. Then we'll all meet back at Reebok Chicago when the last workout is finished to celebrate and gather goodies.
Grab a buddy, a group or come solo, and let's turn this Sunday afternoon into the sweatiest Funday yet. We can't wait to see you there!
Here are the details of the Bucktown #Sweatworking Crawl:
What: We'll take on a mini-workout at four different locations as a group altogether, running as a group in between each studio.
Where: Kickstart the Bucktown #Sweatworking Crawl at Reebok Chicago, 1702 N. Damen Ave.
When: July 9, 1-4:30 pm
Where do I buy tickets? Right here!
Wondering about the crawl? The distance is attainable!
Let us know!
Did this post help you get closer to achieving one of your goals?