May #TrainersConnect: Yoga Six Hosts for Deep Stretch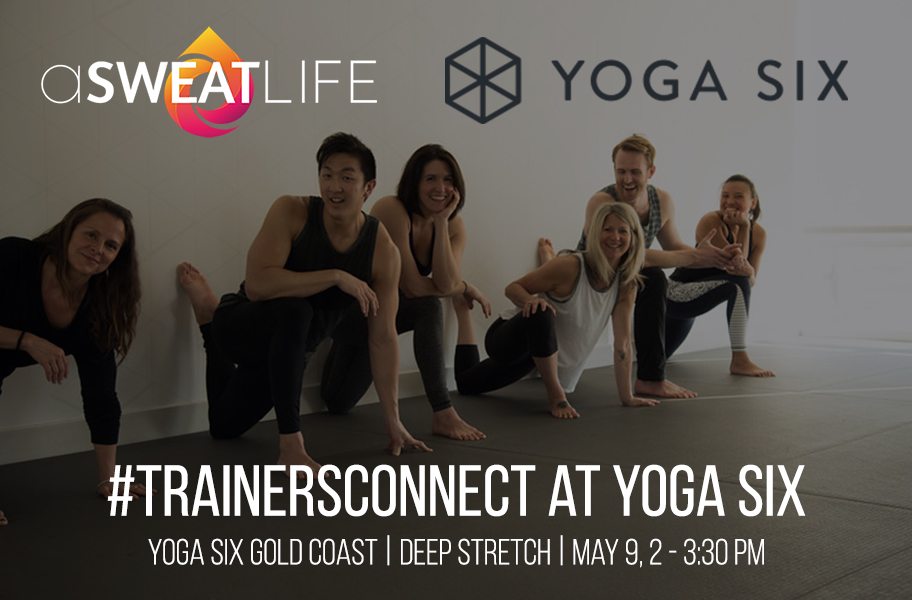 At aSweatLife, we make it our mission to connect people through fitness. For all of you who are trainers, instructors and coaches at gyms, studios or on your own, we know how long your days can be, and how on certain days you don't have any time for you at all.
That's why we organize #TrainersConnect, a monthly event hosted by a different studio each month – in the middle of the week in the middle of the day to fit your schedule – so you can get a workout in alongside fellow instructors. We want you to have this hour all to yourself, and we also want you to meet others in the same industry, because when we all get on board supporting each other, the training community only gets stronger.
In May, we'll head to Yoga Six Gold Coast. Tuesday, May 9 at 2 pm, meet for a Deep Stretch class and meet other trainers and instructors in Chicago. Yoga Six will lead through through this 60-minute restorative class. Even better news than this restorative class: there will be additional instructors in class offering hands-on assists and adjustments.
Deep Stretch is an active stretching class that targets primary muscle groups surrounding the hips, hamstrings and upper back. Living in a forward facing, seated world, these areas tend to be tight for everyone. Tight muscles can cause imbalance and pull the body out of alignment. This class begins with warm-up movements to build heat and prepare the muscles to for stretching. Most poses are done on the floor and held for one to two minutes. Holding poses for longer periods of time and focusing on breath gives the body time to fully relax and open.
Class will cost just $5 with all ticket sales benefit the Greater Chicago Food depository.
This is open to instructors from all studios and it changes locations every month. And if you thought to yourself, "Hey! My studio/gym should host this next time!" Let's talk about it! Email [email protected]
So how do you sign up? Right here. Thanks for asking!