Kick Off Summer With #Sweatworking at Zen Yoga Garage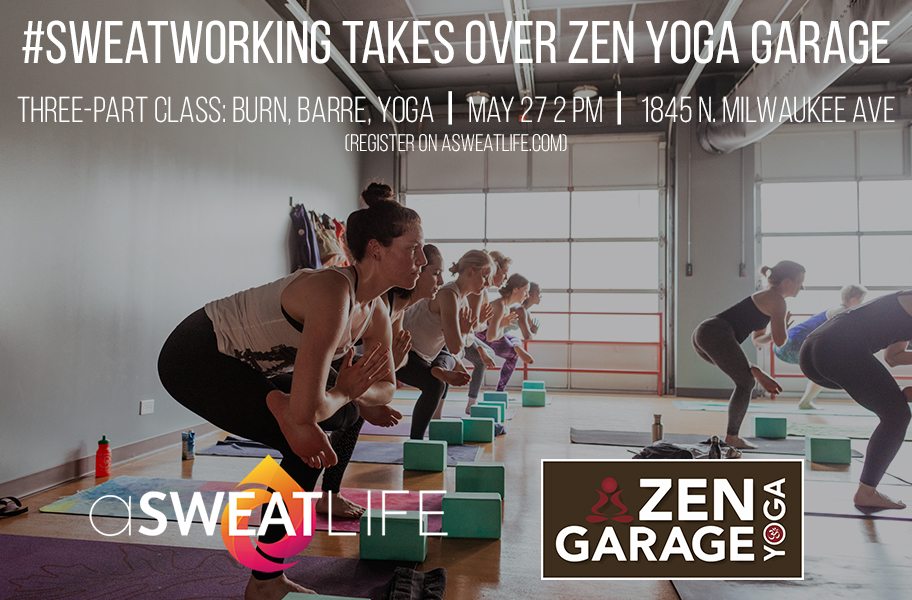 On Memorial Day weekend – the official marker of patio weather and Summer Fridays – we're celebrating together, and heating things up inside just as much as the weather is (hopefully) heating up outside.
Join us on May 27 at 2 pm at Zen Yoga Garage for a fusion of three popular formats – Burn, Barre and Yoga. You'll get a 30-minute blast of all three, sending you into the long weekend ready for all the relaxation and patio-sitting you can possibly handle.
What exactly is this 90-minute fusion class, you ask?
We'll kick things off with Buddha Burn, a high intensity yoga-based workout that incorporates weights. Get ready to work muscle groups large and small with compound exercises for an efficient, total body workout to get you sweating.
Then we'll move into a sample of Buddha Barre, which mixes a yoga flow and lighter weights, the barre and other props.
We'll end class together with a Vinyasa flow on our mats, matching breath to movement and winding things down all the way into sweet, sweet savasana.
After class we'll hang out, hydrate (especially if you're heading straight into Memorial Day festivities post-workout!) and get on with our long weekend. We can't wait to see you there!
What's happening on May 27? #Sweatworking, of course
When is it? 2-3:30 pm, Saturday May 27
Where is it? Zen Yoga Garage, 1845 N Milwaukee Ave
What do you need? A yoga mat and your buddies
Where do I sign up? Right here, thanks for asking!
Let us know!
Did this post help you get closer to achieving one of your goals?