#Sweatworking Heads to Equinox Lincoln Park with Options for Parents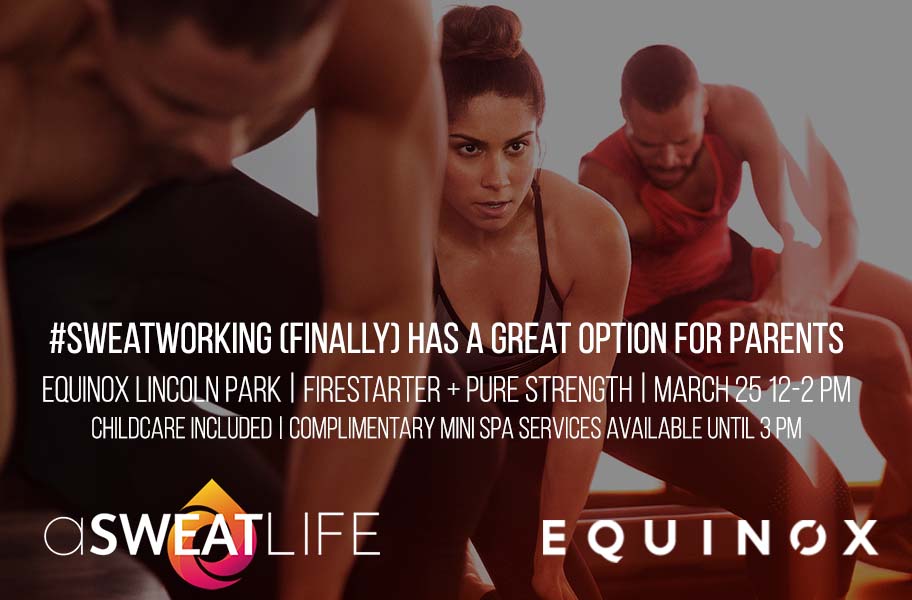 (Sign up here)
#Sweatworking is aSweatLife's signature event that mixes working out with meeting new people. A couple times each month, we partner with a gym or studio to take over an entire space, so you'll know that you're in good company with people who are DTMF (down to make friends).
March 25, we're working with Equinox Lincoln Park for an event that's going to make you sweat, make you feel strong and then pamper you before sending you on your way.
And the best part: we've heard time and time again that parents want to come to #Sweatworking, but either don't have childcare or want to bring their partners AND leave the kiddos cared for. At Equinox, you can bring your friends with kids and they can rest assured that their nuggets will be safely cared for in the club's childcare.
Once we're there, we'll get a taste of two classes: Firestarter and Pure Strength.
Here's what you can expect from Firestarter:
You're going to do more work than you thought possible in just 30 minutes. You'll use lightening fast intervals, benches and bodyweight and you'll be happy it's just 30 minutes. We tried it during #SweatworkingWeek and it was a seriously sweaty, good time.
Here's what you can expect from Pure Strength: 
You'll build strength, not bulk in a 45-minute team training that brings more weight into our fitness studio than ever before. Unleash greater power in an innovative circuit that alternates weight lifting with body resistance, mixing moves like pull-ups, planks, deadlifts and arm presses to keep you constantly challenged. Your squad drives you onward. Your coach tests your technique. Walk in fierce and walk out fearless. Last time we took this class, team aSweatLife walked away with more chin-ups under our belts than we thought possible.
Where: Equinox Lincoln Park, 1750 N Clark St.
When: March 25 at 12 pm.
Why: Because everything is better with friends and sometimes our friends need childcare.
How do I sign up? Right here! Thanks for asking!