#Sweatworking Takes on Tone House in NYC March 11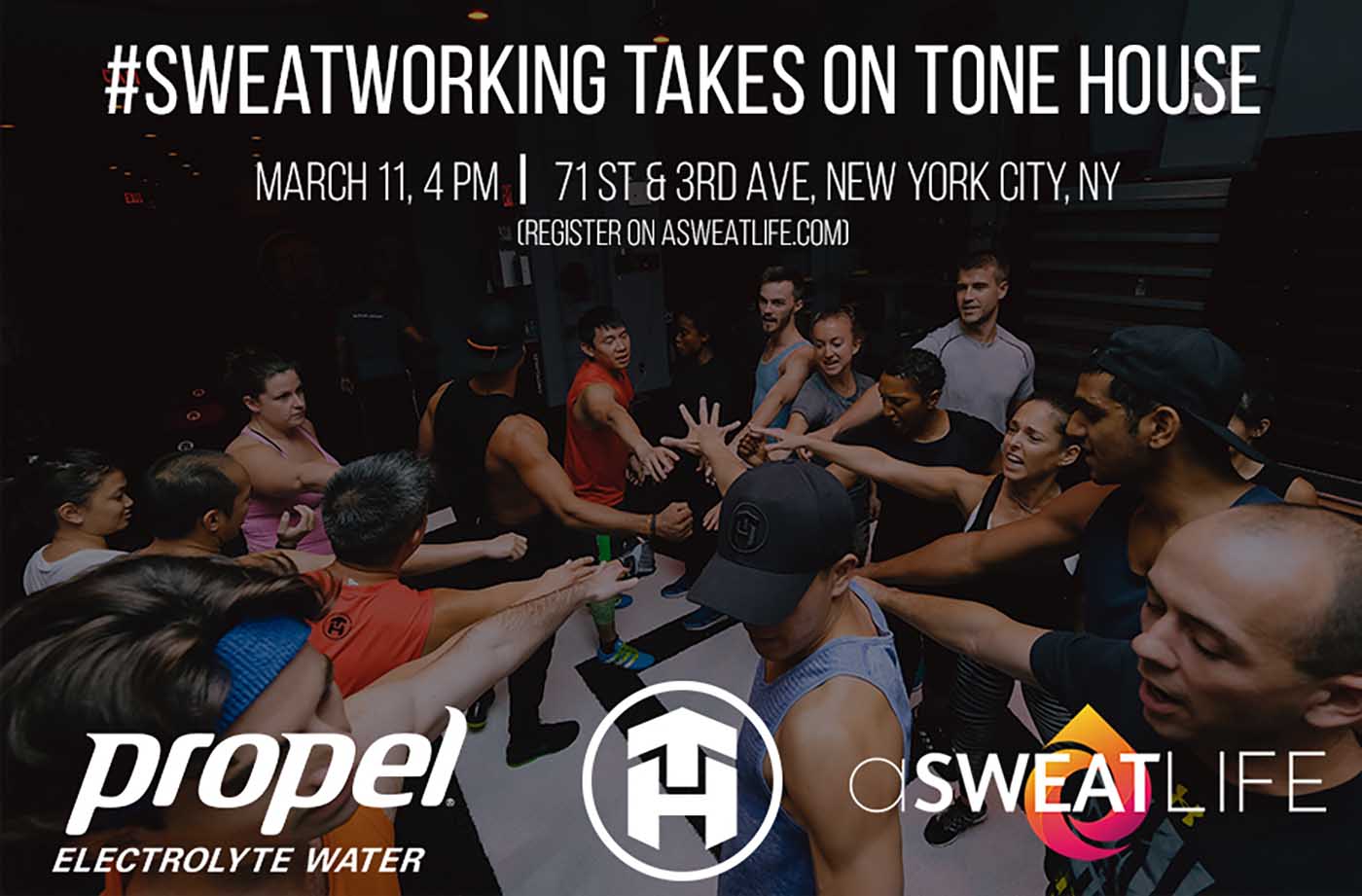 (Register for #Sweatworking at Tone House UES here)
With three years of #Sweatworking under our belts, when Tone House in New York City asked us to take our events that are a mix of trying new things and meeting new people to the gym's new Upper East Side location, there was only one way to answer the question: "Hell. Yes."
To make it happen, we called up the hydration experts at Propel who jumped on board to sponsor this sweat-fest. Let's face it, we're going to need all of the hydration we can get and everything is better with friends.
We'll be heading out of Chicago and to Tone House's new location March 11 where we'll take on this extreme, athletic-based group fitness experience aimed at unleashing the inner athlete in everyone.
Sessions are team-oriented, competitive, fun and reminiscent of sports practice. Expect to feel like your best, most athletic self, with a major throwback to when you were a coached athlete. Never played team sports? Just listen closely to your Tone House Coach and you'll get the hang of it in no time.
And just in case you thought about skipping meals, drinking the night before or wearing shorts, the Tone House team wants you to think again. Here's the team's advice:
Eat a small, nutritious snack before class, but don't eat heavily two hours prior to training
Wear longer pants to avoid turf burn
Be well hydrated before you come in (read: avoid hangovers like the plague)
Word on the street is that the only thing that can prepare you for Tone House is Tone House.  We can't wait to see you there.
Here's what you need to know:
When: March 11 at 4 pm
Where: Tone House UES, 71st and 3rd avenue
Why: Adventure is out there and this fitness challenge is surely an adventure.
How do I sign up? Sign up here!
Let us know!
Did this post help you get closer to achieving one of your goals?