Join us for #Sweatworking at Go Row March 18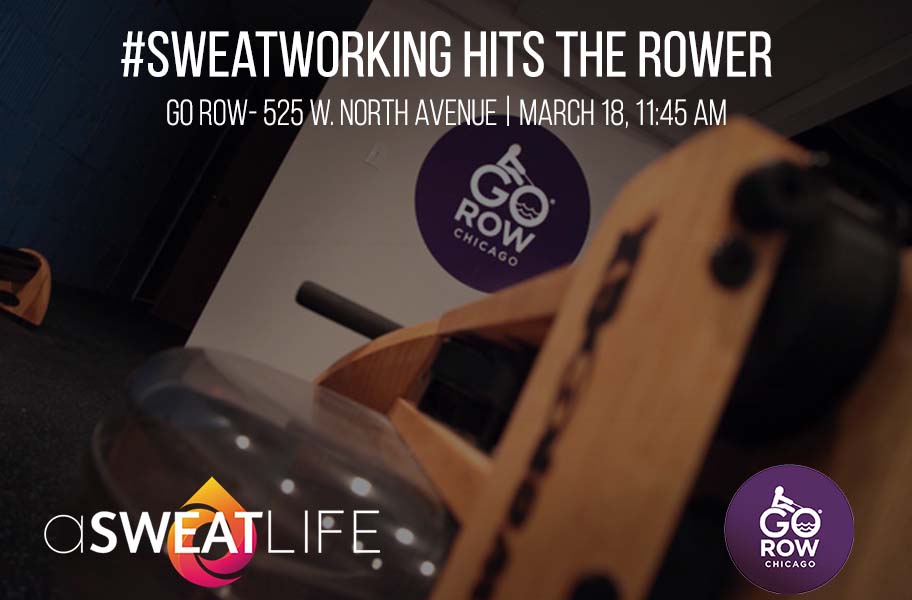 (Get your tickets here)
We're suckers for a good sweat, especially when that sweat allows us to embrace our guiding principle that everything is better with friends. #Sweatworking – the embodiment of that – is aSweatLife's signature event that mixes working out with meeting new people. We partner with a gym or studio to take over an entire space, so you'll know that you're in good company with people who are DTMF (down to make friends).
March 18, we're working with Go Row for a workout on a water rower that will test your limits and give you a sweat to remember. Emmy Rigali, owner of Go Fitness, which has both Go Cycle and Go Row under its belt, will teach the class herself. She's a pioneer in Chicago's studio fitness scene, and we're lucky to sweat in her presence.
We're not worthy!
Here's what you can expect from #Sweatworking at Go Row:
For this workout, Emmy told us that we'll spend half of our time on the water rower and half of our time working with different torture tools like weights, steps and bands. This high intensity, low impact workout promises to burn 600 calories in an hour and keep you smiling all throughout the process.
The water rower offers a smooth rowing ride that comes with the bonus of the soothing sound of water sloshing around in the rower's wheel. It's perfect to put you into an almost meditative state while you're walking the line of puke or rally. It's also perfect to help you plot world domination. Whatever.
When? March 18 at 11:45 am
Where? Meet at Go Row at 525 W. North Ave
Why? We're getting sweaty on the rower and you're invited
How do I sign up? Sign up right here, thanks for asking!
We can't wait to see you there!
Let us know!
Did this post help you get closer to achieving one of your goals?