We Got Goals: Jenny Finkel Looks Forward to a Year of Yoga Possibilities
When Maggie and I talked about how to celebrate accomplishing and setting goals, we thought that there was no better time than January to launch our series doing just that. With the posts represented in our series titled, "We Got Goals," – grammatically awful, but so, so hashtag worthy – we're telling the story of what it takes to accomplish goals through the people who inspire us.
They'll talk about what they've accomplished and what they're excited to accomplish in 2017.
One of those inspirational figures is Jenny Finkel, a genuine and supportive human who found her purpose on the mat. We met Jenny during a Live workout on aSweatLife's Facebook page in which she and her fellow Fitbit ambassador Jeremy Walton appeared. We walked away understanding why a brand would want to have both of them as representatives.
After Jenny came over with little explanation or coercion to help me cut the lock of my bike, I knew that this real friendship was just starting. Jenny is genuinely supportive of other instructors and her students and her respect and admiration for all humans in orbit with her is exactly what landed her on this list.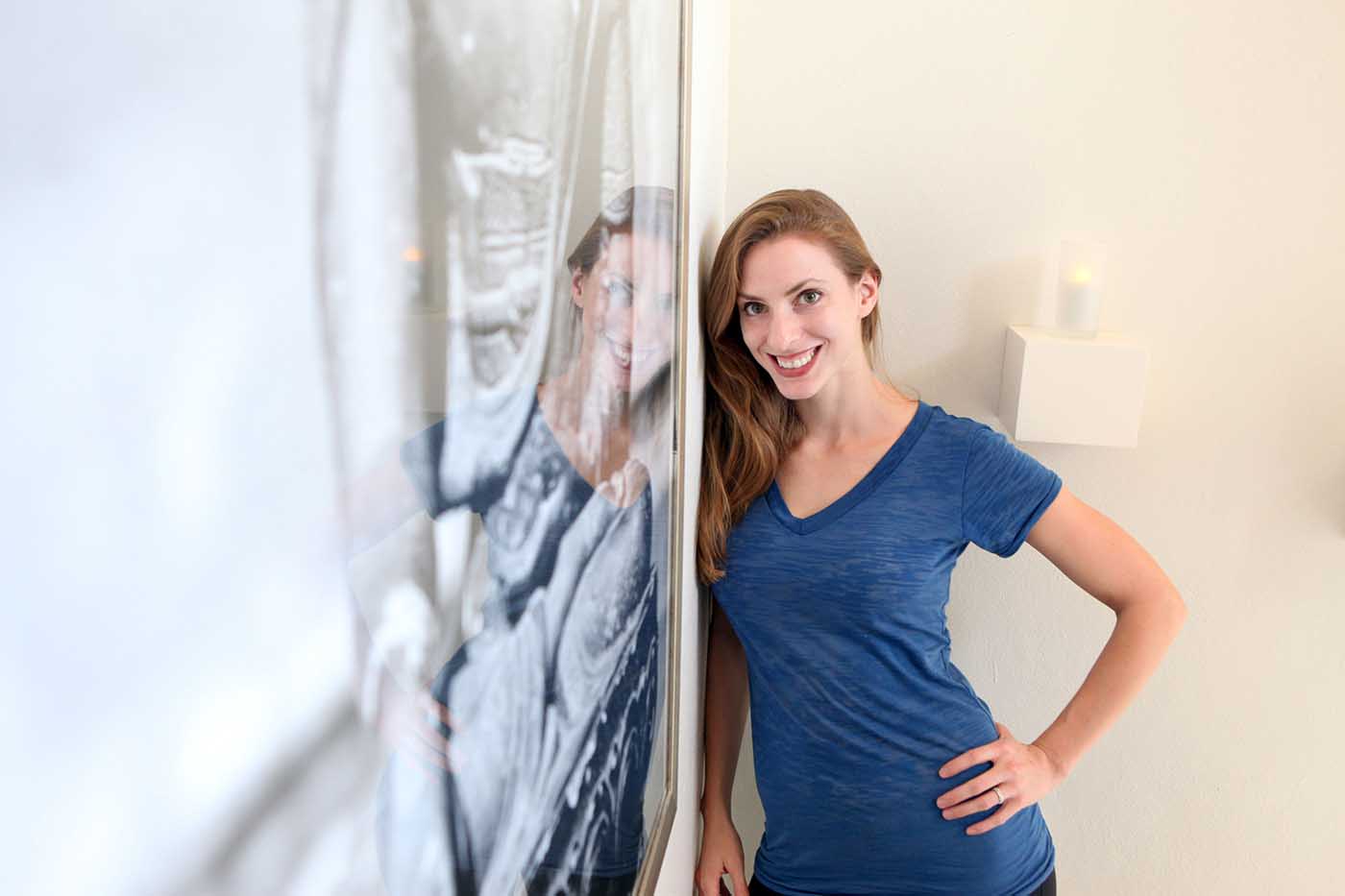 1. What's one goal you accomplished in 2016?
Looking back, 2016 was a pretty big year for me: I led two yoga retreats in the Caribbean, became a Fitbit ambassador, and built a whole new website. But by far my greatest accomplishment was obtaining my 500 hour yoga teaching designation with Zuna Yoga in Bali, Indonesia. I'd been wanting to finish my 500 hour for years, but I realized that I needed to do it in an intensive format rather than an extended program. It was important for me to carve out time to step away from my real life and completely immerse myself in the process of learning.
Finding the right program at the right time took a lot of research. It was over Thanksgiving 2015 that I settled on Zuna and submitted my application. I paid for the training with money I had in savings, and I asked my parents to help me out with the plane tickets. They were able to secure a great flight itinerary using their airline miles — about 27 hours of travel time, each way!
I was gone for about five weeks total during the fall. That's a long time to be away from my husband and dog, but it also meant I had to find five weeks worth of sub coverage for all my classes (not to mention five weeks worth of money not being earned!). It took a lot of planning and coordination, but I'm so grateful to my studios, bosses, managers and especially my fellow teachers for helping me out and taking great care of my students in my absence. Truly, I could not have done this without them!
The training was intense. It was no breezy yoga vacation in Bali -we were putting in 14-hour days for four weeks straight with only three days off. We also had four book reports due after the training conclusion. Those 27 hours in transit became my study hall, as I set the intention to have all my book reports done and submitted before I touched down in Chicago (and I almost did – I had half of one left to complete by the time I landed!) So it was no joke, but I believe there is truth to the adage that the toughest challenges bring the greatest rewards. Many buckets of blood, sweat, tears, dollar bills, bug spray and gecko poop later, I am officially a 500 hour Yoga Teacher!
2. What's one goal you're setting for 2017 and why are you aiming for it?
Looking ahead to 2017, the first big thing on the horizon is my yoga retreat in Costa Rica in February. This will be my fourth international yoga retreat, but the first time I've done one without a travel agency, and I'm also collaborating for the first time with another teacher, my bestie Jena Ertel. Planning a retreat without the support of a travel agent involves a lot of real-time lesson-learning, but we have put together a great package and are so excited to share it with our attendees!
Beyond that, my big goal for 2017 is to get some yoga and fitness content online. I laid the groundwork for this last spring when I overhauled my website, but then my plate got pretty full over the summer with Fitbit fun and Bali prep. I got far enough along in the process to realize that the major requirement for filming and uploading video content is discipline. But I'm motivated to fuel my entrepreneurial spirit!
Putting it in print here will help me stay accountable, so thank you for that!!