Fit Country Guide: Iceland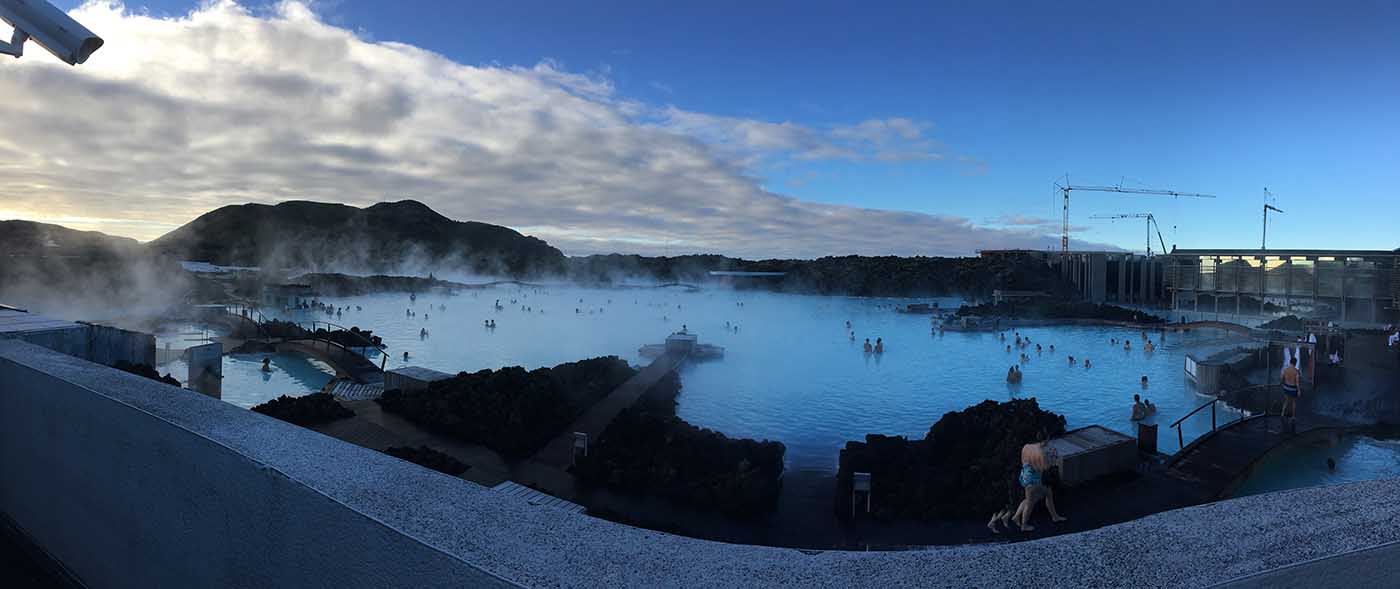 Over the last six months of so, I've known about a dozen people who have been to Iceland. The vast landscapes, the volcanic ash, the geothermal hot springs and ESPECIALLY the tiny fat Icelandic ponies all intrigued me. So when my boyfriend found a killer airline deal that would take us to Iceland and Denmark in one trip, it was an immediate yes on my end.
If you're like me and stalking Icelandair deals to plan your next trip to this tiny, otherworldly country, here's how to stay fit by taking some moderately challenging hikes, while simultaneously spending hours upon hours in the car (because unfortunately, while Iceland is tiny, there is pretty much only one highway and it takes hours of driving to get from one awe-inspiring landmark to the next).
Also, get ready to read tons of words you're not going to be able to pronounce. Icelandic is a tyrannical language.
Skaftafell National Park
Located on the southeast side of Iceland, this national park is situated among glaciers and mountains that offer several levels of hikes for a day trip. Short, beginner-friendly trails will take you to the Svartifoss waterfall or the Skaftafellsjökull glacier, while more experienced hikers can plan longer hikes to the Kristínartindar mountains. Want the ultimate challenge? You can start your hike to Iceland's highest mountain peak, Hvannadalshnjúkur, from this park.
If you're there in the summer, park rangers offer free guided walks around the park, and private companies on site give regular guided hikes every couple of hours. You can also choose your own adventure with trails here.
Glymur
If there's one thing Iceland has in spades (besides consonants), it's waterfalls. Most people will tell you that the one waterfall you HAVE to see is Gullfloss, which is kind of similar to Niagara Falls in its rushing water and broad expanse. While Gullfloss is an incredible sight, Kevin and I actually found our favorite waterfall, Glymur, at the end of a long day of driving, after I may or may not have gotten us seriously lost once, when we were both sick.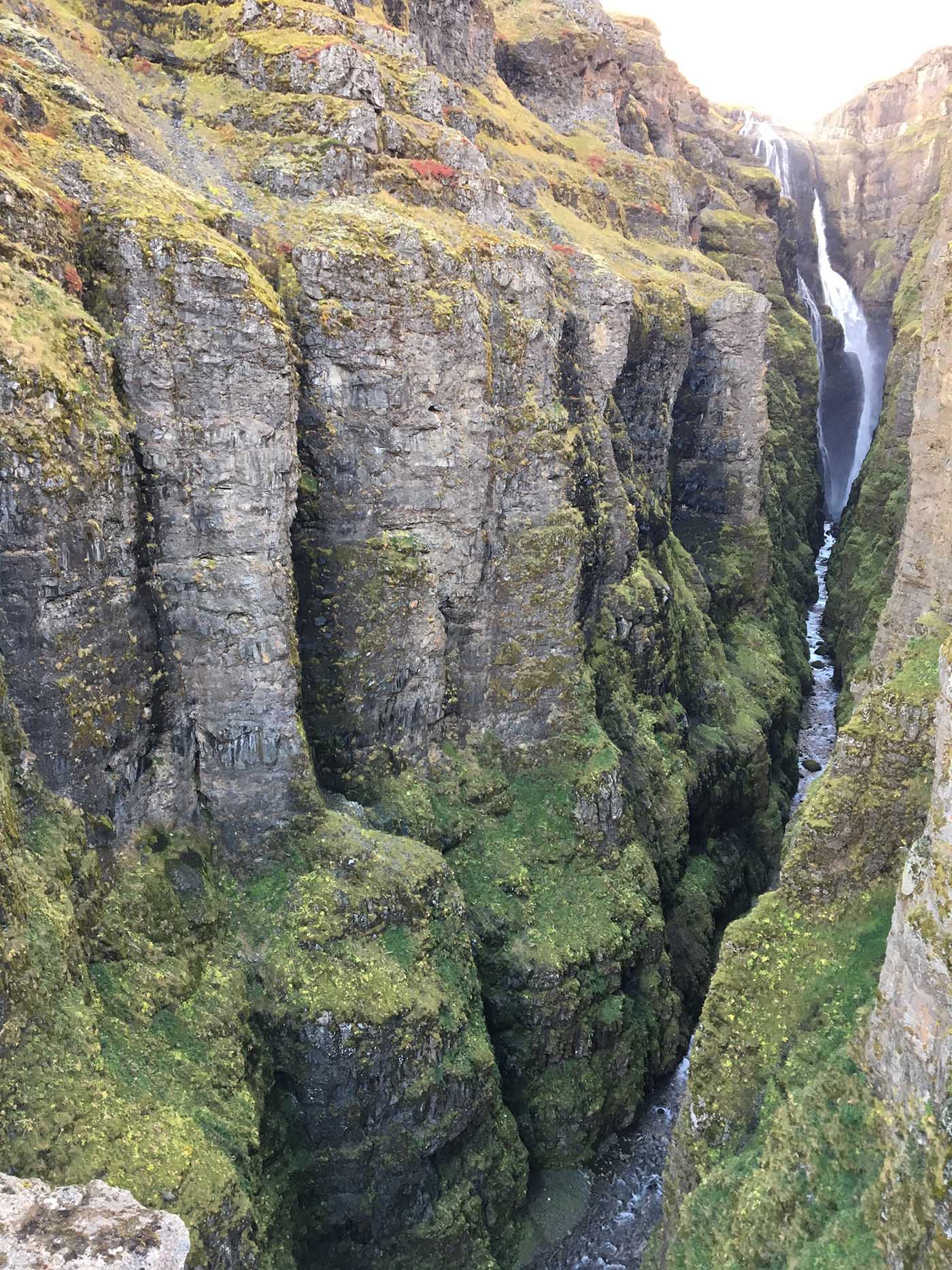 We found Glymur well off the beaten path (about an hour north of Reykjavik), without any of the tour busses that clogged up the road to Gullfloss. With a fall of 198m, Glymur was long regarded as the tallest waterfall in Iceland (it was recently bumped down after a waterfall in a glacier was found to have a drop of over 200m), but unlike most other sights in Iceland, it wasn't immediately visible from the bedraggled parking lot. We interpreted the dusty sign to mean we had about a 5km round-trip hike to see this waterfall, and we grumpily thought to ourselves, "Ugh, I hope this is worth eating dinner at 8 pm."
Ladies and gentlemen, it definitely was. The hike to Glymur starts out innocently enough with broad paths and normal views, but as you make your way up to the viewpoint, you crawl down a cave, cross a rushing river by balancing on a log, and use dozens of rope leads to secure your balance as you goat-step your way up and down valleys. The payoff for this technical, adventurous hike is more than spectacular.
Diving
One thing we didn't explore that I would look into for next time is diving and snorkeling in one of Iceland's amazing bodies of water. With some of the clearest water in the world, you can see for what feels like miles, whether you're exploring a geothermal river or an undersea ocean garden. The one I'd be most intrigued to try is the Silfa dive between continents in Thingvellier National Park, where you explore a fissure between the North American and Eurasian continental plates, enjoying visibility of over 100m.
Joe and the Juice
Refuel in Reykjavik with my new favorite juice shop in the entire world. We first encountered Joe and his juice at the airport at 5:30 am, and Kevin accurately described it as what a juice shop at a rave would look like. Kanye thumping, man buns galore, and smiling Nordic-looking workers all making juices, smoothies and sandwiches to order. Try the aptly named "Go Away Doc" paired with a ginger juice shot if, like us, the hiking in cold air with a sinus cold is making you feel less than stellar.
Blue Lagoon
One last tip for recovery (because after all, you're on vacation): stop at the Blue Lagoon either right before your flight home or right after you land. These geothermal hot springs are located about 20 minutes from the airport, making it the most convenient/least driving intensive thing you'll do all vacation. Yes, it feels weird packing a bathing suit for Iceland, but once you wade into the perfectly warm (98-104 degrees) water, you'll feel any stress of the flight or the trip melt right off you. Grab a smoothie (or, you know, champagne) at the swim-up bar, and take your time exploring the ice blue waters (colored that way thanks to the unique composition of silica, algae, and minerals) while slathering yourself in a complimentary silica mud mask. Need some extra unwinding? You can book an in-water massage. Yes, this is a big tourist site, but it's absolutely a must-do on your trip.
Sure, Iceland may only be the size of Kentucky, but there's more than enough to keep you outdoors and active during a week-long visit. Go during the summer to take advantage of the 20 hours of daylight, and take me with you – I'm already ready to go back.