Workout to Work: What's In My Makeup Case
To wake-up and workout before work, or not to wake-up and workout before work? That's always the question because with any sweat session before work, comes the challenge of showering at the gym, changing and putting on makeup while you're still sweating from class.
As an instructor, since picking up my weekly Tuesday morning HiDef class at Studio Three, which is a heated yoga class with weights, profusely sweating is always an issue. I've had no choice but to master my post-workout-to-work makeup routine. Through trial and error of a variety of products, I've strategically fine-tuned my makeup case to include the best of the best products to freshen up post-class that are gentle on the skin, apply quickly, combat sweat and allow you to walk out of the gym with a natural, healthy glow.
I'm so pumped about the products it would be a shame not to share them with aSweatLife readers. As a sweat-certified, everyday exerciser who works a 9-5 job, here's what's in my makeup bag to freshen up my look in the locker room: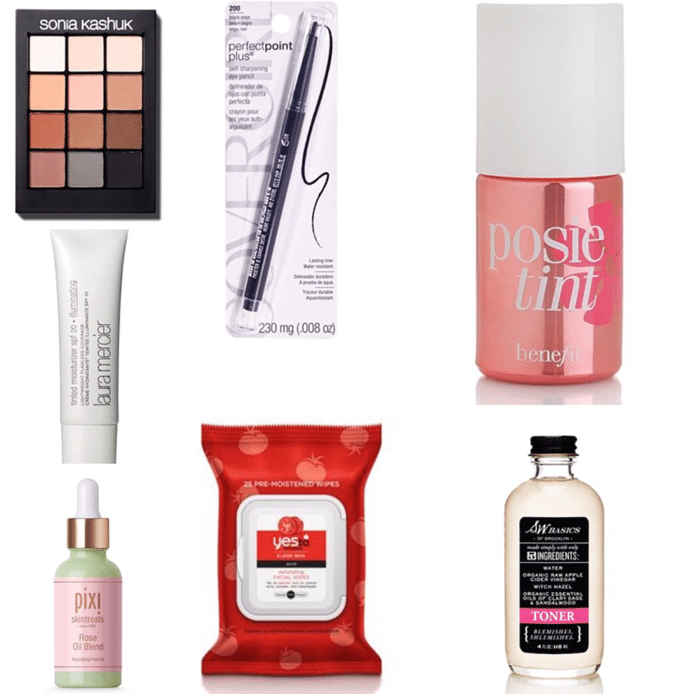 Yes To Tomatoes Cleansing Wipes: Cleaning your skin post-class is essential to avoid breakouts. These cleansing wipes remove makeup, but are gentle enough that they don't dry out or irritate skin day after day. You can find them at most drugstores, Target, Ulta and Amazon.
S.W. Basics Toner: I love this toner because it features organic, raw apple cider vinegar and witch hazel, both renowned natural pH balancers. They help even complexion and neutralize the skin's acid mantle so that if you're too oily, you get less oily, and if you're too dry, you get less dry. Available at Target and Amazon.
Pixi By Petra Rose Oil Blend: I love this moisturizer for post-workout! The oil penetrates your skin and doesn't sweat out like most lotion moisturizers do when you're still sweating. Sweet almond, rosehip, jojoba, pomegranate seed, and rose geranium oils nourish the complexion, leaving it comforted & smooth to the touch. Available at Target and Amazon.
Laura Mercier Tinted Moisturizer SPF: Lightweight products are important for applying post sweat-session. This tinted moisturizer provides a one-stop application for light coverage plus sunscreen. The illuminating product provides a radiant glow and no-makeup look. Available at Sephora or Nordstrom.
Benefit Lip and Cheek Stain: No powder needed! This cheek stain comes in three colors and gives cheeks a sheer layer of color for all complexions. Available at Ulta, Benefit or Amazon.
Cover Girl Perfect Point Eyeliner: No sharpening necessary – enough said! It goes on smooth, is smudge free and the pencil never goes dull. Grab on Amazon.
Sonia Kashuk Eye Couture Neutral Eyeshadow Palette: Brighten your eyes with a simple, neutral swipe of eyeshadow to finish off the look. Lighter shades are perfect for work, while the darker shades take you to happy hour. Shop at Target or on Amazon to get this palette.
Apply a quick swipe of your favorite mascara and voila. You're out the door and ready to tackle the day with confidence. Make a gym-specific makeup bag full of these products that you keep with you at all times. This helps to keep your routine as simple as possible when packing in the morning.
Let us know!
Did this post help you get closer to achieving one of your goals?