SWEAT it out on the Rooftop at Joy District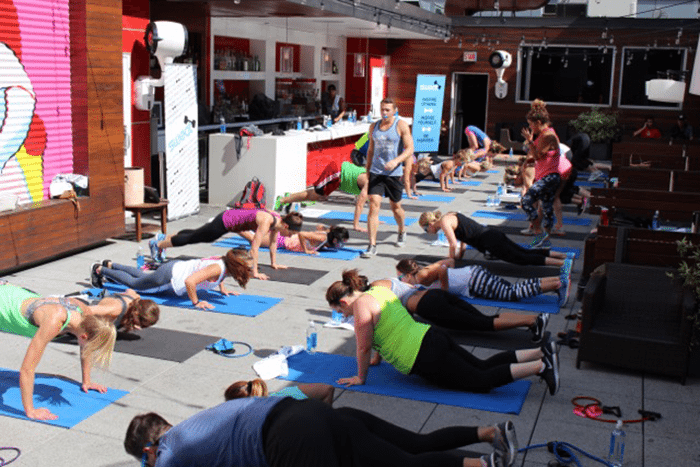 I am a firm believer that when the sun is shining, you should be outside as much as possible. When I heard that one of my very favorite gyms – SWEAT Chicago – was hosting a summer workout series on one of the most gorgeous rooftops in Chicago, the top floor of Joy District, I jumped at the chance to give it a try. 
Bonus: Saturday mornings are a perfect time to work out at Joy District, as the surrounding buildings provide shade for most of the class – helping you survive even the warmest of summertime Chi days.
I've been taking classes at SWEAT since rockstar trainer and all around amazing human being, Paul Michael Rahn, took it over in 2014 and have never been disappointed. I have learned so many things from their amazing trainers (like to stop overextending in my kettlebell swings) and burned so many calories there (throw a rower and a tread at me with heavy weights in between? I can go anywhere for dinner now!), and I've always been appreciative of their thoughtful workouts. Not to mention my girl crush, Andrea Hassberger, is their director of training (can I please have legs like hers?).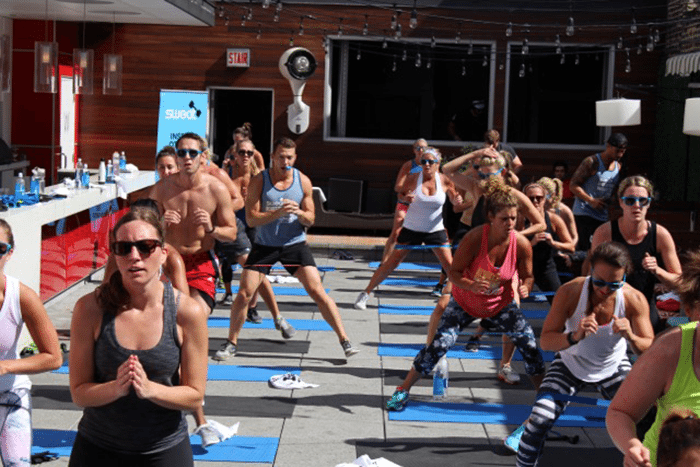 I was interested to see how their format – usually heavily equipment-focused – would translate to a rooftop without any equipment at all. My concerns quickly dissipated when I saw that, Matheu, one of SWEAT's best trainers with unreal biceps, brought resistance bands and loop bands to give us more than just a bodyweight workout. And SWEAT provides the mats, so your hands are free to head to brunch after class.
That said, we did not miss the equipment at all – when they say SWEAT, they mean it.
We started our workout full-force, with a round of various exercises, performed in four or eight counts, with two burpees in between each movement. Whether the movement was switch lunges or tuck jumps, my heart rate was quickly pumping and it didn't take me long to realize that this was going to be a serious workout. Or for my shirt to be literally drenched in sweat!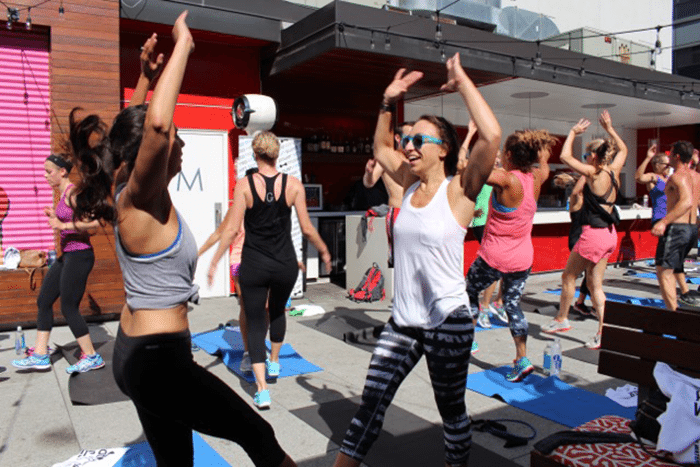 The workout continued with various circuits, both alone and with a partner. It's no secret that I take every fitness class as an opportunity to make new friends (#sweatworking for life), and getting to pair up with someone for partner exercises was a great way to meet someone new! My partner also pushed me through some brutal movements (high five burpees right into high five squat jumps? Sweat was DRIPPING down my face) and that extra support made me really feel like I could do anything.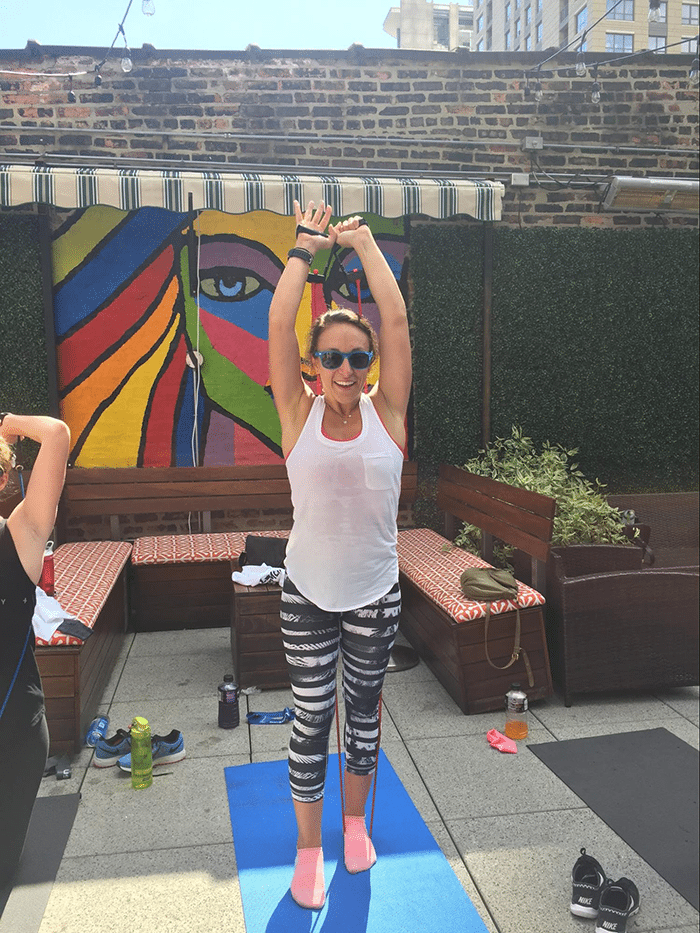 The work with the resistance band was a great way to add a little bit of strength to the workout beyond traditional bodyweight moves like push-ups. We did a full arm section with bicep curls, delt flies and tricep extensions in a circuit that I definitely need to repeat next time I'm traveling. The loop band was great for lateral movements like side squat walks and fire hydrants (I love the name of that one).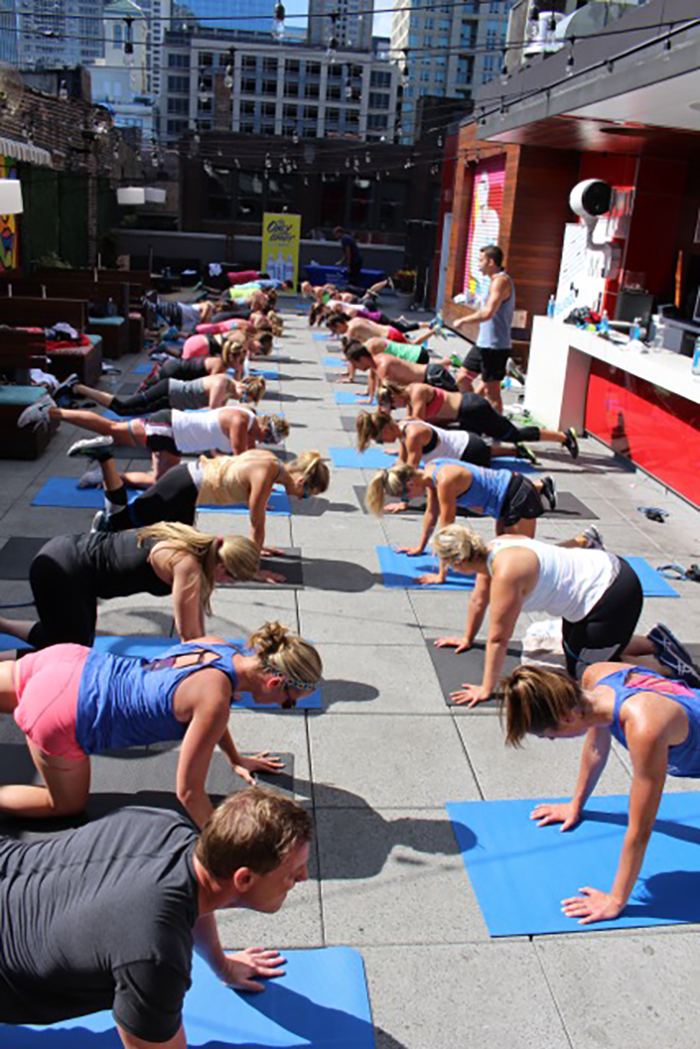 Another participant told me the day before was her birthday, but she'd stayed in so she could make it to this class in the morning. The live DJ, Matheu's energy, the beautiful surroundings and the amazing people made me think she made the right choice!
While this series was originally scheduled to end when June came to a close, Propel Water joined as a sponsor and SWEAT extended the series through the end of September! There are so many more Saturday mornings to get sweaty with Paul and Matheu left! Propel also provided free water, sunglasses and towels to help us stay hydrated and wipe away our sweat.
Participants get 15 percent off brunch at Hubbard Inn after class, which my husband and I took full advantage of (I highly recommend their fried chicken and biscuits).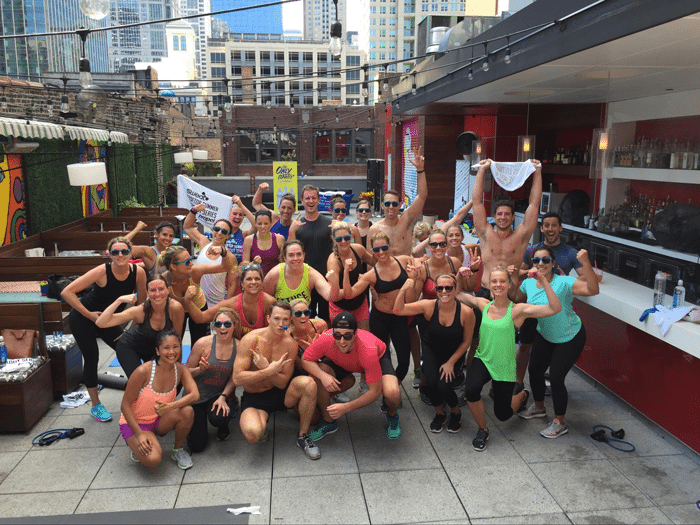 Want in? Sign-ups are available on the SWEAT website. Classes are included in their regular memberships, are available to ClassPass users or you can buy a drop-in.