Flowing at Home With YogaGlo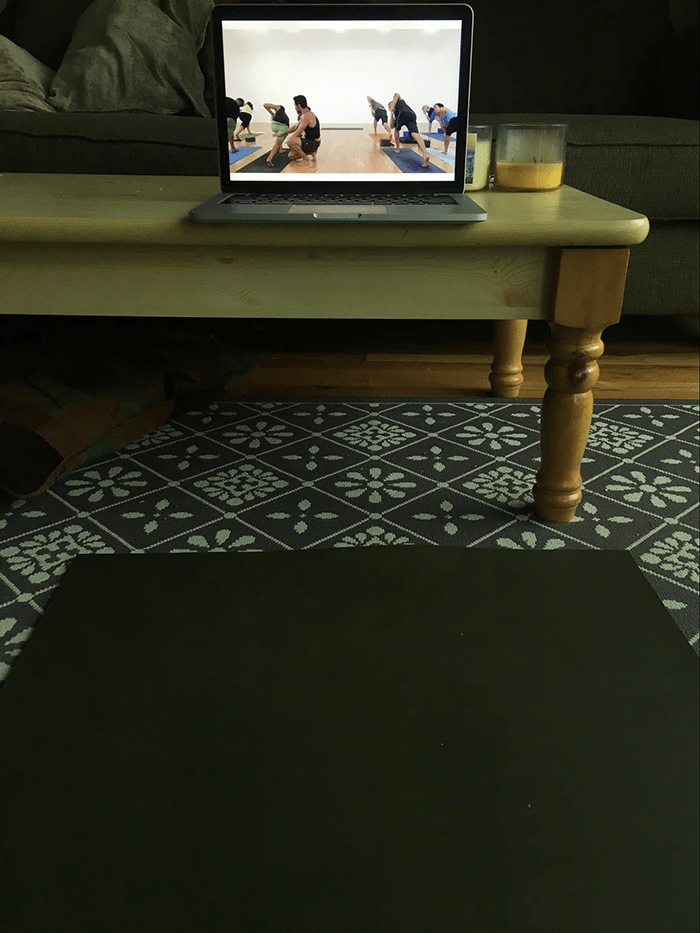 At-home video workouts aren't really my thing. A hot class in a studio with lots of other people is a better experience to me, but this past winter my warm bed was far superior than trudging through snow to make it to that hot class. And the weather had my body craving more stretching.
I gave the two-week trial for YogaGlo – an at-home yoga classes for subscribers – a shot. I actually ended up forgetting which day the trial ended and inadvertently auto-registered for the monthly subscription, but I didn't care because these online yoga classes taught by well known instructors from around the world were a game-changer.
Whether I had 90 minutes to try out an arm balances workshop or 10 minutes to fit in on a busy day, the classes helped me strengthen my practice. This $18 monthly subscription challenged me in my yoga practice, and it could even help kickstart a be-your-own-yoga-teacher habit. Here's why:
There are tons of teachers to choose from. You get unlimited access to teachers who only travel to teach and lead workshops.
You can select from a class as short as 10 minutes to as long as 90.
Classes range in styles from Hatha, Vinyasa, Kundalini and Ashtanga, to name a few.
User experience is spot on; you can sort by style, length, or instructor, and save the classes that interest you in your queue for later. It also marks the classes you've completed on the videos themselves so you can keep track.
Additionally (my favorite aspect of how they sort classes), you can look for a class based on the type of yoga you're looking for: Mind, Heart, or Body.
If you're looking for a meditation component to your practice, you can pair a guided meditation with a flow, mixing and matching to create your perfect class. Meditations can be as short as 5 minutes long. 
Some of my favorite classes are led by Tiffany Cruikshank and Dice Iida Klein. On some mornings when I don't have time to squeeze in a workout before work, their classes will kick my butt in 45 minutes or less, and I never have to leave my room. When I use YogaGlo, I think about what I'm going to need for the day, whether it's energy and confidence or focus and determination, and I use that as my guide to selecting a class theme. There are themes that fit practically any specific need. Wrist issues? They've got a queue of classes to help strengthen them. Want a class that helps you feel like it's springtime (especially when it's so not still in Chicago)? They've got a few.
For me, it isn't a substitute for going to class, it's a great way to mix up my routine and open up my practice to some styles of yoga I've never done before. And now, if I see some of these instructors leading workshops for a much bigger chunk of change, I'll have a better idea of what I'd be getting into.
Have you ever used YogaGlo or another at-home yoga guide to keep your practice strong or make it stronger? We would love to hear!