The Scary Truth About Rhabdo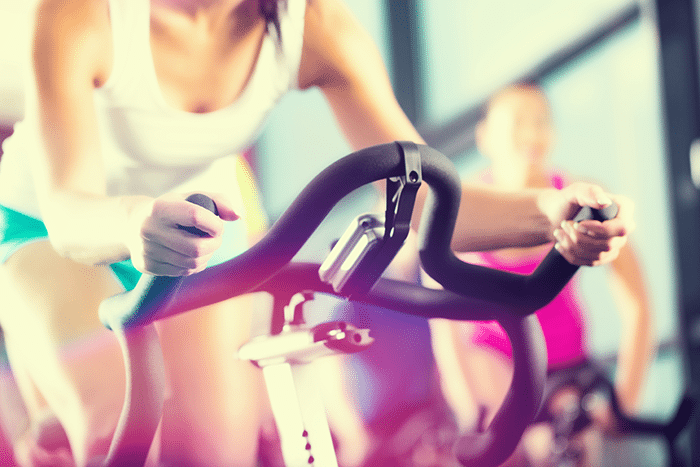 Consider this a public service announcement. A spinning class sent my friend to the hospital. She wasn't the first – and she won't be the last. Google "spinning" and "rhabdomyolysis" and you'll get dozens of hits. If you're thinking "rhabdo- what?", you're not alone. Read on to learn more about Melissa's story.
"People like to joke, 'oh, that workout killed me,'" Melissa says. "But in my case, it nearly did." Earlier this year, one of Melissa's friends invited her to a spin class. Her friend is a proud member of the studio, and Melissa has heard me rave about spinning for years, so she decided to give it a shot. An employee helped her set up the bike and clip in, and Melissa was ready to rock. Right away, however, she knew something wasn't right.
"I felt overwhelmed during class," Melissa remembers. "I was watching everyone else in the mirror and quickly realized I couldn't keep up with them." In her uncertainty, she never once touched her resistance knob. No one had shown her how to adjust it, so she just rode at the level it was set to when she got on the bike. Meanwhile, she gave up trying to match the beat of the other riders. "The music and the lights – there was just so much going on," she says.
The next day, Melissa told me she liked the class but felt fairly sore, which we agreed was a good sign – she'd obviously done a tough workout. I assured her that muscle fatigue was normal, especially for a first-time rider. But she woke up repeatedly that night from pain in her legs, and she could barely move by the time morning came around. "I was walking like a scarecrow," she says. "I couldn't really bend my legs because of the intensity of the pain."
Though Melissa didn't know it yet, a rapid breakdown of her muscle fibers had released a harmful protein into her bloodstream. This protein, myoglobin, can cause renal failure and, in rare cases, death. Thankfully, Melissa sought the advice of a doctor right away, and he admitted her to the hospital due to her high creatine phosphokinase (CPK or CK) levels. Normal CPK levels range from 0 to 200, but Melissa's levels were nearly 69,000. The doctor actually said her levels were a record for him.
Melissa entered the hospital on a Saturday and didn't leave until Wednesday. At the hospital, they pumped her full of fluids, and she passed the time watching "SVU" and reading about rhabdomyolysis. She soon realized that her condition wasn't as rare as she'd first thought.
This article isn't meant to be a diatribe against spinning classes. In fact, spinning is my favorite form of exercise, and I could sing its praises all day long. But something terrible happened to Melissa — and it's happened to a lot of other novice riders, too –and I'm writing this article because I don't want you to be next.
If it's your first time in a spinning class or you haven't worked out in a while, ask the instructor to help you get situated correctly on the bike. Make sure the instructor also shows you how to adjust the gears. This is really critical because you never want to pedal at a high speed with low gear, especially if you're standing – that's a sure-fire way to ruin your knees, among other problems. Similarly, you don't want to crank up the gear so high that you can't keep a smooth pedal stroke, even when you're climbing up a hill.
In many spinning studios, gears are subjective, so you'll have to learn what your body considers a flat road (a light, easy gear), what your body considers a level "7," what your body considers a "10" (likely a difficult hill climb) and so on. Ask the instructor to provide feedback as you test different levels and practice the various seating/standing positions. As a beginner rider, take it easy! No one expects a novice to curl 20-pound dumbbells the first time, and the same holds true for indoor cycling classes. It isn't necessary to push yourself to your breaking point to get a good workout.
Listen to your body after class. According to WebMD, possible warning signs of rhabdo include muscle pain or weakness, difficulty moving your limbs, abdominal pain, nausea or vomiting, fever, rapid heart rate, confusion, dehydration, dark red or brown urine, or no urine at all. If you are experiencing some or all of those symptoms, seek medical attention immediately.
Spinning isn't the only rhabdo culprit. This condition also affects weight lifters, cross-fitters and other athletes. Bottom line: If you think you may have exercise-induced rhabdo, do not wait for the pain to pass on its own. Get yourself to a doctor STAT!
Looking back on her experience leaves Melissa wary. While she laughs that now she has a medical reason not to work out, she turns serious when she thinks of the damage the disease could have done. "Part of me wants to spin again to prove that I can do it right," she says. "But the other part of me doesn't even want to take the chance."