April 9 #Sweatworking at Chicago Athletic Association is presented by Mudderella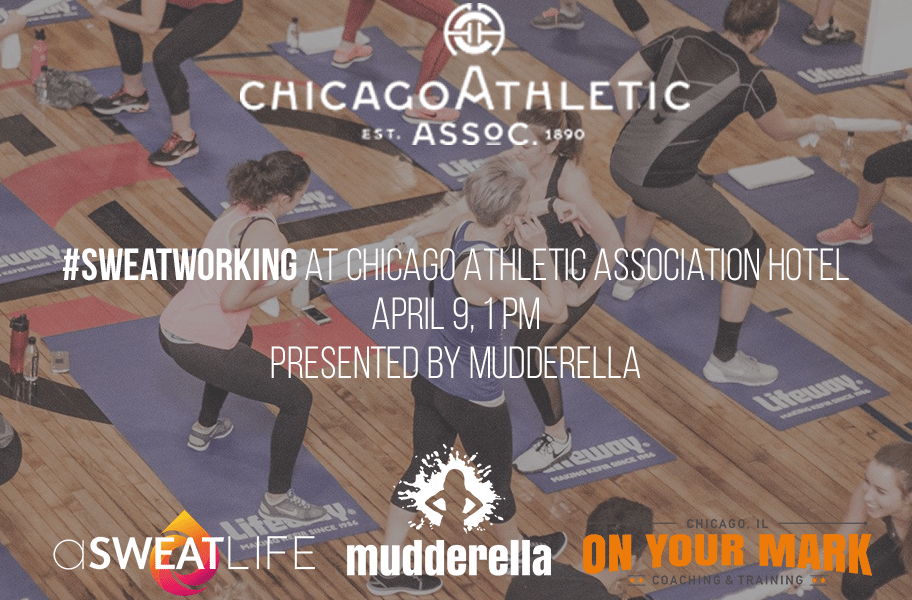 Every month, we get excited to tell you just where #Sweatworking will take us and over more than two years, this event took us across Chicago and helped introduce hundreds of Chicagoans to new workouts and to each other. By now, you know that you can expect one event each month to take us to our #Sweatworking home at the Chicago Athletic Association Hotel. Once a month, we gather for a workout by Nike Master Trainer and owner of On Your Mark Coaching and Training Emily Hutchins set to music by some of the city's top DJs.
You and Me on WCIU chatted with us about why we love #Sweatworking and what you can expect from the events at Chicago Athletic Association Hotel.
)
April 9 at 1 pm, we'll gather on Stagg Court at the CAA Hotel for a workout. You can expect casual networking, a friendly environment and a workout to get your weekend rolling. The workout will be NTC, a sport-inspired, full-body workout designed for all fitness levels.
April's workout is presented by Mudderella, the premier five-mile obstacle mud run created for women, by women, which will come to the Chicago area June 4. Mudderella will be at the workout to provide a special experience for us. Early birds who arrive at the event first will receive a special Mudderella goody bag.
We'll bring the best music from the night scene onto the refinished floors of Chicago Athletic Association's big, beautiful gymnasium. You bring your enthusiasm, a friend and a yoga mat. No, the workout isn't yoga, but sometimes it's nice to have a yoga mat under your hands and forearms for planks. Emily loves planks.
What: #Sweatworking – the workout that fuses fitness with building community – is heading back to it's monthly home at Chicago Athletic Association Hotel.
Where: Chicago Athletic Association Hotel – 12 S Michigan Ave.
When: Join us Saturday April 9 at 1 pm
How do I register: Sign up here
Let us know!
Did this post help you get closer to achieving one of your goals?