Unrivaled Fitness in Lakeview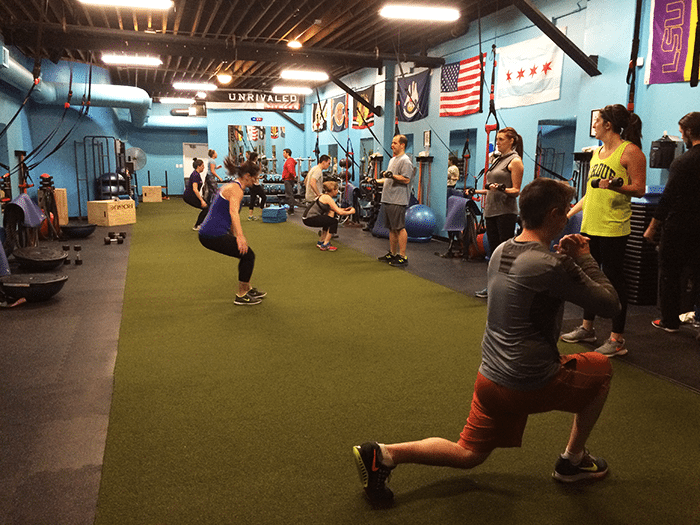 While boutique fitness studios are popping up everywhere, a slightly different take on the concept – small group training facilities – are slowly emerging, especially up in quieter neighborhoods like Lakeview. On a recent weeknight, I text messaged one of my newest gym buddies to meet me for an evening class at one such studio – Unrivaled Fitness – located just a few blocks from the Belmont red/brown/purple line CTA station.
When owners Marty Chuick and Matt Durdin at Unrivaled talk about small group fitness, they mean it. The classes at Unrivaled are all capped at 10 people. "A lot of people in the industry advised us not to put a cap on our classes," said Chuick. "We weren't ok with that." While it looked like the 6 pm class had reached the 10 person cutoff, the 7 pm class we attended only had four people. The small class size really allows the trainers to focus on everyone in class, making sure your form is perfect and offering modifications for any injuries. It's a great balance between expensive personal training and group fitness classes without much personal attention.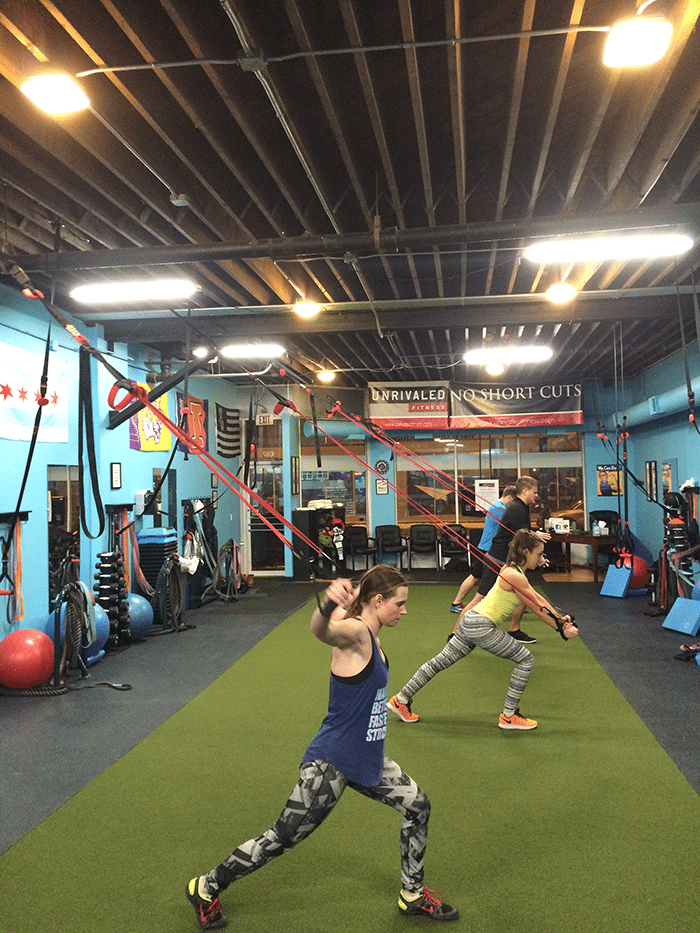 When you get to class, each person has their own station, set up with a shelf for your water bottle, a Jungle Gym XT, a BOSU, a step, a stability ball and a bike rack with a range of resistance bands attached. The class style is circuit training. In past classes, we had three movements in each circuit, which we did for 30 to 60 seconds. This time, we had "power circuits," which meant each circuit had two movements instead of three. In both cases, we repeated the rounds three times.
The movements are typically very strength-based, and they make great use of the various resistance bands set up at each station. On this particular evening, some of the exercises were weighted split squats, resistance band flyes, dumbell front raises and wood choppers using a resistance band attached to a Jungle Gym XT. While most of the movements were completed at a slower pace, with heavy weight and a strong focus on form, there were some cardio bursts built in to increase the heart rate, like forward/backward hops and modified BOSU burpees.
Chuick and Durdin teach all of the classes at Unrivaled. They opened the studio when they were tired of working for a big box gym and wanted to create their own workouts in a format that gives their clients the attention they deserve. While they definitely have unique styles, they are both very laid back. Durdin is a true Southern boy (made obvious by the various Louisiana flags around the gym) and Chuick is easy to talk to, with a perfect beard and hair. If you like the idea of circuit training, but don't want to be yelled at like a traditional bootcamp, this is a great option for you as they're both great about coming over to give you modifications without calling you out in front of the whole class. They're more worried about making sure everyone has their form perfect than encouraging you to rush through the movements.
Overall, Unrivaled is a gym I'll keep coming back to for its fun workouts, super nice trainers, and easy-to-access location.
Gym: Unrivaled Fitness, 1057 W Belmont (Belmont Red/Brown/Purple CTA station)
Class focus: Circuit training with lots of resistance band work.
Cost per class: $25
Money saving offers: