Innovations from Sweat Inc.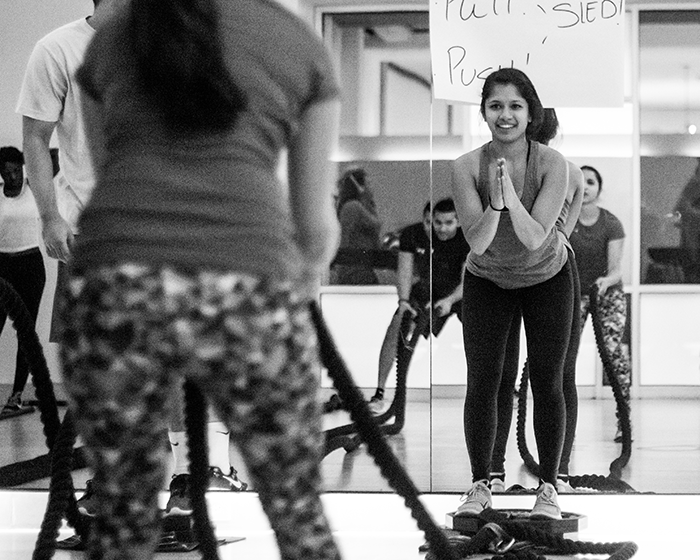 (Photo by Christiana Basso)
A few months ago, I was watching TV on a Southwest flight (the only time you'll ever catch me watching commercials) and I caught the logo of Epic Hybrid Training – a gym I love to visit in NYC and Miami – in the ad for a new reality show. Intrigued, I set my TiVo for the premiere of Sweat Inc. on Spike and a few weeks later I tuned in. I was hooked!
The show is a Shark Tank-esque competition in which members of the fitness industry can prove why they have the best tool to help you get fit. For most, this was in the form of a workout program or boutique fitness studio concept, though a few also invented innovative products that could be used in a variety of gym settings. Each week, three people competed in three stages. The first was the initial first impression, during which Jillian, along with her co-hosts, Fitness Expert Obi Obadike and TRX-founder Randy Hetrick, would hear an initial pitch and test the concept for about 10 minutes. They'd pass two concepts on to the next round. Contestants would then get a human control subject who'd they train for a month and receive advice from Jillian, Obi and Randy along the way.
Halfway through, they had an open gym concept. I wish I could have been a participant! The participants got to try a 30-minute sample class of each concept and at the end, stand by the person they thought had the best concept. At the end of the month, they revealed the weight and body fat loss of the control subjects, let the participants make a final pitch, and then chose a winner. Throughout the series, they demonstrated 27 concepts. Although there were many exercise routines that I found to be interesting – and some that were downright silly – there were three new pieces of gym equipment that were demonstrated through the show that I hope to see show up in Chicago gyms soon.
Although the inventor received a lot of flack on Sweat Inc. for his lack of a strong business plan, from the very beginning, everyone loved the concept of the Omniball, and I agreed. The Omniball is a small roller device weighing two or four pounds. It can be held in the palm of your hand to essentially turn your hand into a wheel. I've never been a big fan of the existing ab rollers, but this concept was totally different. Because of its size, you can have one omniball in each hand and move them unilaterally. This product would be amazing for core work, and because of its small size and weight, it would be easy to take on the road.
The initial pitch for this product hooked me. The inventor was a strength coach tired of the traditional bench that could only be used flat in one direction, so he invented a new type of bench that could be positioned at any angle, and the top could be changed out from the traditional flat surface to a number of different things from a BOSU ball to a hook-up for battle ropes. It had so much potential!
Immediately my mind jumped to how annoying it is to do chest press on a Bosu on the floor, and how much this raised surface would help. Or to the many times that battle ropes have to be set up in a certain part of the gym or attached to a kettlebell that would move. I think every gym could find endless uses for the MCore and I hope to see it appear in some of my favorite spots soon.
This device is unlike any I've ever seen. The innovative design creates an unstable platform that can be used with or without a handrail for a wide variety of exercises. It requires a very strong core to prevent the platform from slipping out beneath you as it slips not just from side to side but in all different directions. I can only imagine how challenging it would be to do planks and move your hands in 360 degree circles, or to keep your balance when doing reverse lunges. By adding instability to a move traditionally done on stable ground, like mountain climbers, I can see this product adding a whole new level of intensity to some of my favorite group fitness classes.
Did you watch Sweat Inc.? Did anything catch your eye as a fitness innovation you would like to try? If you didn't catch Sweat Inc., you can catch all of the episodes on Spike.com or Hulu.
(Disclosure: On occasion, we'll include affiliate links to products we love. If you click on that link and make a purchase, we'll make a couple of cents. Blogging isn't free, guys)
Let us know!
Did this post help you get closer to achieving one of your goals?