The Perfect Pairing: Coffee and a Workout in Chicago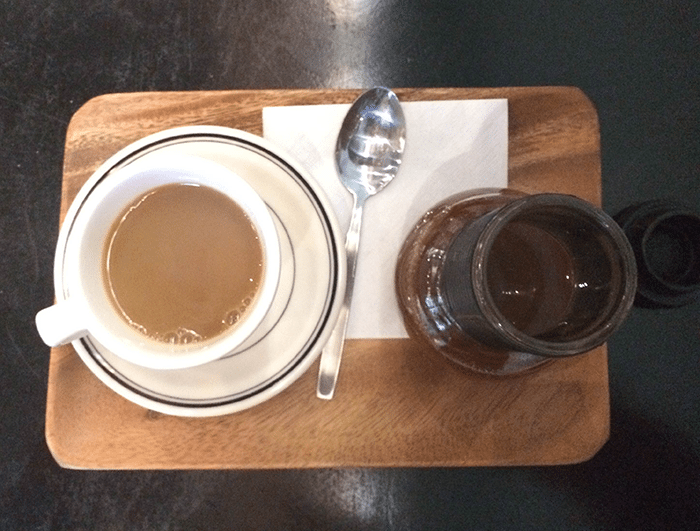 For those of us who love our morning cup-of-joe, there is good news! According to recent research, that coffee could be saving your life! People who drank one cup of coffee a day had a six percent reduction in risk of death over those who didn't have coffee. And, those results magnified as you drank more coffee. The highest reduction of risk (15 percent) was in people who drank three to five cups a day! The researchers found that there was no significant difference between drinking caffeinated and non-caffeinated coffee, so there's no reason not to be taking advantage of all of the amazing coffee shops in Chicago, no matter what time of day it is. If you're excited about reducing heart disease with coffee, why not double down on the fight by combining your coffee with a fun workout? Here are some of my favorite pairings for a heart-pumping workout and a truly spectacular cup of coffee in Chicago.
La Colombe (955 West Randolph Street) & Crosstown Fitness West Loop (1031 West Madison St.)
La Colombe first caught my eye when watching its co-founder and CEO, Todd Carmichael, on Dangerous Grounds. If you've ever seen the show, Todd takes his coffee VERY seriously. This guy is not afraid to risk his life to uncover the perfect bean in the most deserted parts of Tanzania. So, you know you can expect a great cup of coffee at La Colombe.
Although the trainers at Crosstown Fitness aren't usually risking their life, they're pretty serious about a great workout as well. While the workouts are some of the most challenging and fun in Chicago, my favorite thing about it is the dedication of their members. While they're pushing you to work your hardest, you can use anticipation of that amazing coffee as motivation to get you through!
Bow Truss (2934 N Broadway St.) & Iron & Oar (2933 N Halsted St.)
If the Portland-hipster rule of length of time waiting equating to the best cup of coffee, Bow Truss just might have the best coffee in Chicago. The last time I went to Bow Truss, I ordered a Chemex and lost a good fifteen minutes of my day. But let me tell you, it was worth it. They make some of the smoothest and enjoyable cups of coffee I've ever had. I love the eclectic, almost warehouse-like atmosphere, and the refurbished canoe they use to display the beans they have for sale. I'm also a big fan of their pastries. Last time I was there, they had a sugar plum muffin that I wish I hadn't agreed to share with my fiancé.
And while the coffee might be good for your heart, you know those muffins aren't! So before you head over for a relaxing cup, spend an hour around the corner at Iron & Oar. The owner, Dan, developed the concept after hiring a trainer who was a former collegiate rower at the University of Minnesota. Not only will these guys help you earn that muffin alongside your coffee, but they'll make sure you're keeping your form strong to prevent injury. You'll work hard enough to want that extra time waiting for your Chemex to brew to relax and recover!
Wormhole Coffee (1462 N Milwaukee Ave.) & Shred415 Wicker Park (1444 N Milwaukee Ave.)
Wormhole Coffee might not roast their own beans, but they work magic with them. In the summer, I'm not afraid to make an early morning trip to Wormhole for their cold brew on nitrous tap. I love that they don't offer free WIFI because they want people in their coffee shop to talk to each other. Their back-in-time environment is a perfect counter balance to the ultra-modern Shred415, where you will sprint on top-of-the-line Woodway treadmills and work out with some of the hottest trainers in Chicago!
Goddess and the Baker (33 S. Wabash Ave.) & Brick (55 East Monroe St.)
If I'm looking for a great cup of coffee before heading to my job in the Loop, I always turn to Goddess and the Baker. They always have a rotating selection of drip coffee, single origin pour overs, and cold brew on tap from local Chicago roasters and some of the top coffees outside of Chicago. They've even featured one of my favorite Chicago coffees, Metropolis' La Cordillera, as their house blend the last few times I visited.
Since I can't resist their avocado toast for breakfast, I have to make a trip to Brick before I head over there. Brick holds a special place in my heart because I visited one of their NYC locations just before I got engaged. Even though it's a CrossFit gym, they also offer a B|X class, which looks more like a circuit training class with lots of teamwork and is great for those of us who love to work hard but don't want to do Olympic lifting. You might just work hard enough to upgrade your post-workout coffee to a s'more frappe!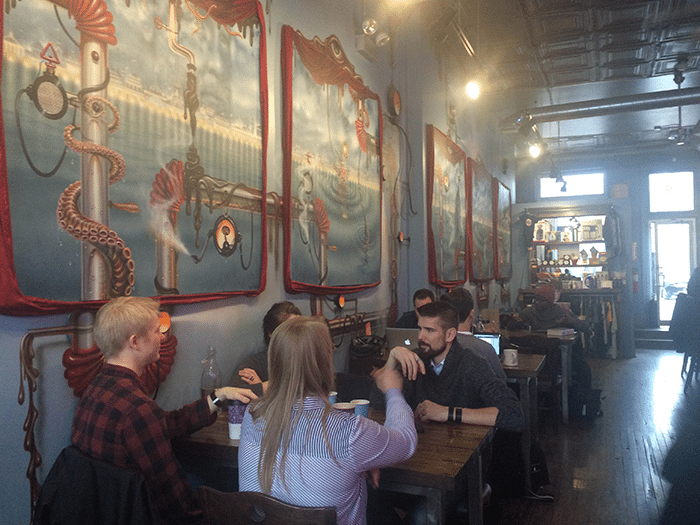 Dark Matter Osmium Coffee Bar (1117 W Belmont Ave.) & Unrivaled Fitness (1057 W Belmont Ave.)
One of my favorite weekend morning workouts is Unrivaled Fitness. When I'm working out pre-coffee, it's easy to want to slip into the background of a big class and work below your max. At Unrivaled, the smaller groups allow owners and trainers Matt and Marty to get to know you and make sure you're working your hardest so that you take full advantage of your hour.
Of course, afterwards I need a strong cup of coffee to keep my energy going for the day, and less than a block away is Dark Matter's Osmium Coffee Bar. Dark Matter is one of the top roasters in Chicago and their beans are no joke. Unicorn Blood is one of my fiancé's favorite coffees, and I know I'm sure to get a smile if I bring a cup home for him. They are also running a special series of barrel-aged coffees and if you're lucky, they might be brewing them in house when you stop by. Be sure to ask for a loyalty punch card so you can track your cups (and your workouts!) and earn a free drink of your choice after you buy ten. Plus, if you buy a bag of beans to bring home, you'll get a free drink on the spot!
What are your favorite ways to pair coffee and a workout?