5 Days of Throwback Fitness Videos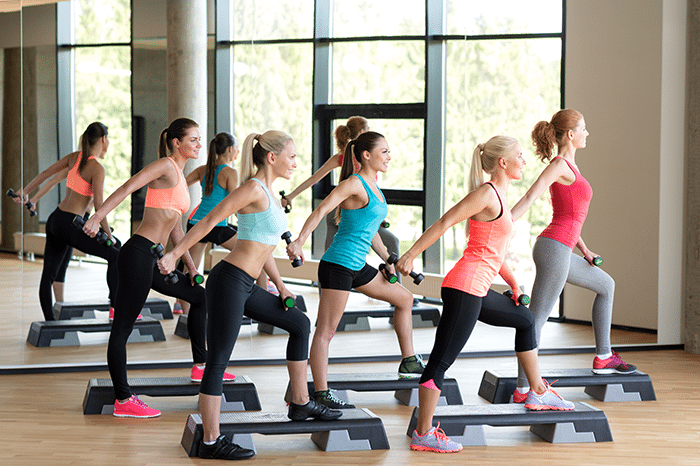 Workout resolutions be damned, when it's below a certain temperature, you'd be hard-pressed to persuade me to leave the comfort of my apartment to sweat elsewhere. Luckily, technology affords us the luxury of finding great workouts online that you can do in your living room. Try these bodyweight workouts, if you're looking to one.
Though my Physique57 DVD is a great alternative to a actual barre class, anytime I pop it in I can't help but think back to the Richard Simon's Sweatin' to the Oldies VHS tapes I found at my grandma's house, and I feel slightly ridiculous. Sure trainers like Jillian Michaels are tough, but how far have we really come since the celebrity workout videos of yesteryear?
So I spent a few weeknights in January test-driving a few old celebrity workout videos to see how they held up. Why celeb specific? Because why trust a professional when I can instead take fitness advice from people who are paid to essentially lie for a living? So I closed my blinds, locked all the doors, and went to work(out).
Day 1: Jane Fonda's Workout Challenge.
Jane is the OG of the celebrity fitness video; the broad who started it all. Her videos were epic at the time because there weren't spaces for women at gyms to do group fitness classes like there are now. So this experiment had to give credit where credit was due. Also, have you seen her recently? She's 78 and looks phenom. I wouldn't mind looking like her at 25, let alone when I hit my 70s.
Post-workout thoughts: An hour and a half long workout with intervals of medium intensity and cooling down. It wasn't the most challenging workout I've ever done, but I actually really enjoyed the 10 minutes of straight jumping/kicking in the middle—a few steps in that section were almost the exact moves in a dance I did in my preteen years to Wham!'s "Wake Me Up"—did my teacher steal Jane's moves?
Overall Impression: Good low-impact cardio sesh.

Day 2: Kim K's Fit in Your Jeans By Friday
Obviously not this 'celeb''s most notable direct-to-DVD credit. Still, the title intrigued me. Did I want to fit in my jeans in four days? Um, always.
Post-workout thoughts: I have to commend her for bringing in an actual professional to dispense fitness wisdom, and it was probably because it was the most recently made, but this was a pretty good workout. She seemed less than enthused during some portions, but that's how I probably look in some classes, so dare I say Kim K. was the most relatable?
Overall Impression: I don't want to say I liked it; but I liked it.

Day 3: Alyssa Milano's Teen Steam
Teenage Alyssa Milano is the boss in this video. In looking for videos for this post, the moment I saw her name I was sold. Plus, who doesn't want to go back to how they looked when they were 18?
Post-workout thoughts: In the immortal words of Stefon, This video has everything: working out because you're stressed about having to babysit, rapping about heel and calf raises, walking through mirrors for a five minute dance break featuring moves we're never taught and an original theme song sung by Alyssa, written by her father. Oh, but as far as an actual workout? Yeah no, it was pretty ineffective.  
Overall Impression: Subpar ab workout (due to laughter)

Day 4: Dance! With Barbie!
Was there a bigger celebrity in my life in 1997? Nope. And who better to impart wisdom on impressionable young girls than a plastic doll with unrealistic body expectations—Maybe I TOO can have Barb's figure while holding down a hot boyfriend and like, 143 jobs.  
Post-workout thoughts: This workout, though not intense in the slightest, might have been my favorite and moves like the 'jammin' jogger' and 'the sidewalk strut' will now be in heavy rotation on my nights out. Plus, B herself — or what appeared to be a stop motion B — popped in there to check in on you every so often: "How are you doing? You should be just fine if you're able to say. "I'm okay!" Aw thanks Barb, you're the best.
Overall Impression: Zumba-lite

Day 5: Cher Fitness: New Attitude
Going into this week, I had no clue Cher had done a workout tape, but of course she did, and obviously I couldn't leave her out. Like Jane, she was another lady with decades of looking decent under her [studded exercise] belt.
Post-workout thoughts: You know what gets me revved up for a workout? A completely monotone pep talk that lasts more than 3 minutes from the diva herself at the top of the video. But after the lackluster intro, it actually wasn't that bad. I had to improv the step portion with a household step ladder (I only stumbled a few times), but I liked the ab section — I've stolen some moves since watching. Though again Cher, a little enthusiasm would be appreciated, and you weren't actually sweating at all.
Overall Impression: Like if a goth depressive was your personal trainer: not ideal, but not that bad.  
Overall it seems we have, in fact, come a long way since the days of Jane, Cher and Estelle Getty (yes, Sophie from the Golden Girls had a seniors workout tape called Young At Heart), but as long as you're doing something, you should be feeling good about yourself.