Active City Guide: Bay Area Edition
I don't know if anyone uses the term "body by Bay Area," but after three days in and around San Francisco, Oakland and Tiburon, I'm convinced it should be added to our fitness lexicon. That recommended daily goal of 10,000 steps? Let's just say it acquires new meaning with a few of San Francisco's famously steep hills thrown into the mix. Holy glutes!
My visit to the Bay Area gave my friends a chance to show off their adopted hometown's fabulously fit vibe. We walked by countless boutique fitness studios, spotted dozens of spandex-clad cyclists and debated the merits of various fresh-pressed juice options. I tried (unsuccessfully) to curb my feelings of envy as they mentioned hiking in the redwood forests and snowboarding in Tahoe. One friend fits in weekly surf sessions while another is focused on summiting each of San Francisco's numerous peaks. Is there anything this city doesn't offer?
There was no denying it: Bay Area residents live in one giant fitness playground. Thankfully, that playground is a welcoming one, which means you can make it your next fitcation destination too. Check out how I spent my recent fitcation and let us know your own favorite activities in the Bay Area!
Workouts
Take It to the Top
San Francisco's refreshingly mild weather means fitness fanatics can take their workouts outside year-round. The Lyon Street Steps are one of the most popular outdoor exercise destinations, and it's easy to see why.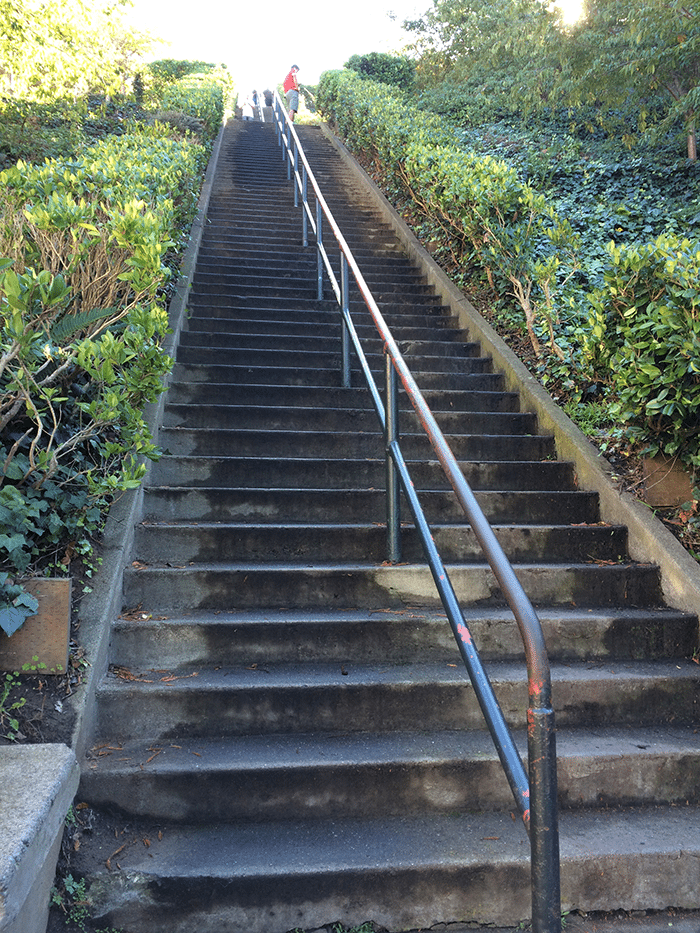 Running stairs isn't half bad when you're treated to sweeping views of the Bay and the Palace of Fine Arts from the top.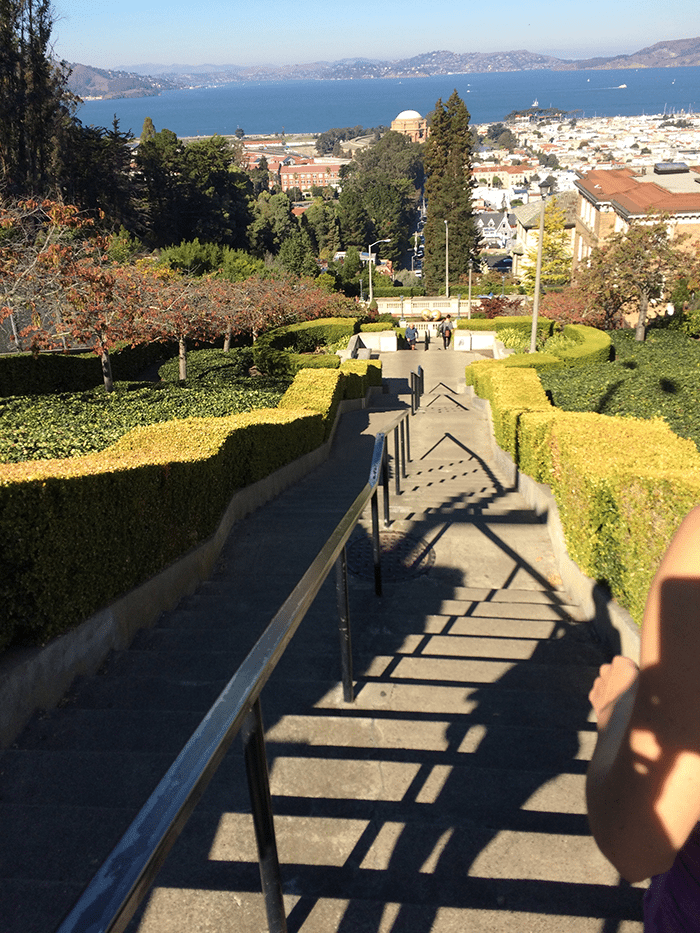 Our warm-up walk to the Lyon Street Steps was capped with a hard sprint straight up the stairs. Then we jogged down to the middle level for a series of bench push-ups and triceps dips. From there, we got our hamstrings burning with side lunges up the steps, followed by another round of push-ups and dips. Squat jumps back up to the top completed our circuit.
In addition to the fresh air and stunning vistas, this workout was appealing for the camaraderie we felt along the way. People of all ages were running the steps, lifting weights on the plateaus and wrapping resistance bands around parking poles. I wanted to dole out a couple of high fives each time I passed a group going up while I was going down, and vice versa. Next time!
Down Dog
Later that afternoon, we decided to give our sore muscles some special treatment in a yoga class. There's no shortage of yoga options in the Bay Area (Yoga Tree, Yoga to the People, Red Dragon Yoga, Yoga Flow SF), but we went with YogaWorks in Mill Valley, partly because they offer a free week for new students.

(Photo Courtesy of Yoga Works)
We signed up for the 60-minute level-two flow class with Hillary, who gently reminded us to use our breath as we moved from pose to pose. It wasn't a hot yoga class, but the room was slightly warm, so I was definitely feeling it by my third chaturanga. Hillary played calming music throughout, and it was peaceful to gaze out the windows onto the bike path beyond.
My friends and I agreed that the best part of the class was also the most unexpected. Since we took the 4:30 pm class, the sun was slowly setting as we downward dogged and sun salutationed. By the time we sank to our mats for shavasana, the room had darkened almost completely. There was something poetic about this transition to evening that definitely complimented our practice that day.
Hill Climb
The next day, we hopped on a 15-minute ferry from Tiburon to Angel Island for a hiking excursion. This state park is the largest natural island in the San Francisco Bay and previously served as a military camp and an immigration entry port. Visitors can still check out the U.S. Immigration Station Barracks Museum.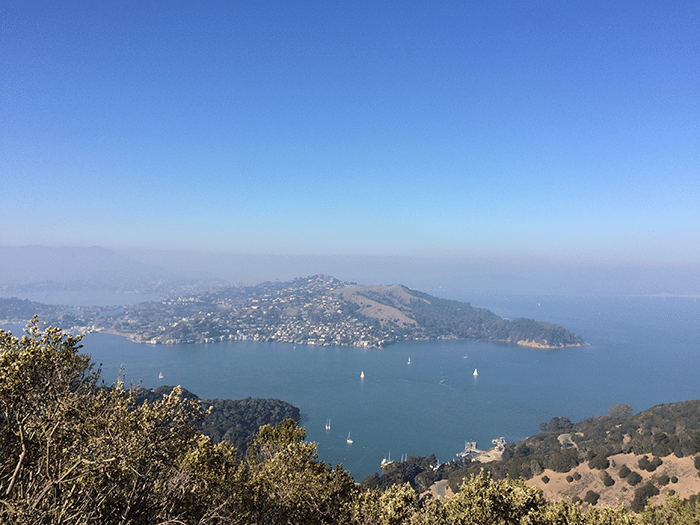 Many fellow ferry-riders brought their bikes to the island, but we set out on foot. We took one of several dirt trails that led to the peak of Mt. Livermore, which tops out at 788 feet. The gradual climb took us through sun-dappled forests and open scrubland where we were treated to (foggy) views of the Golden Gate Bridge.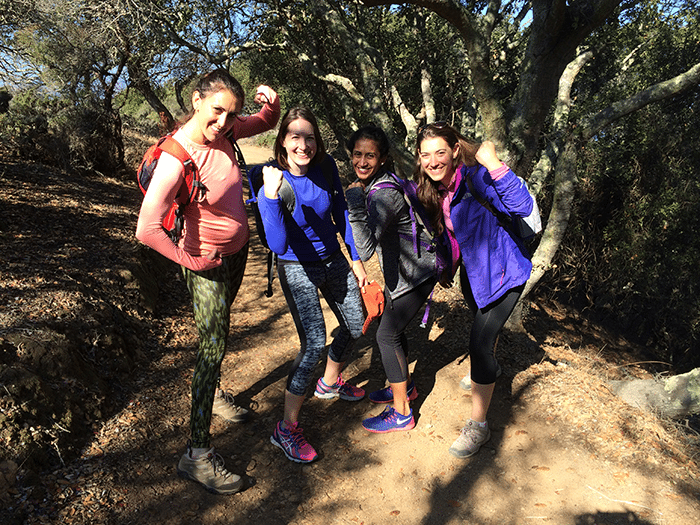 On the way back down, two of my friends decided to turn the hike into a trail run, so they reached the bottom fairly quickly. My other friend and I ended up running the last stretch as well — only because we realized we had five minutes left until the ferry departed!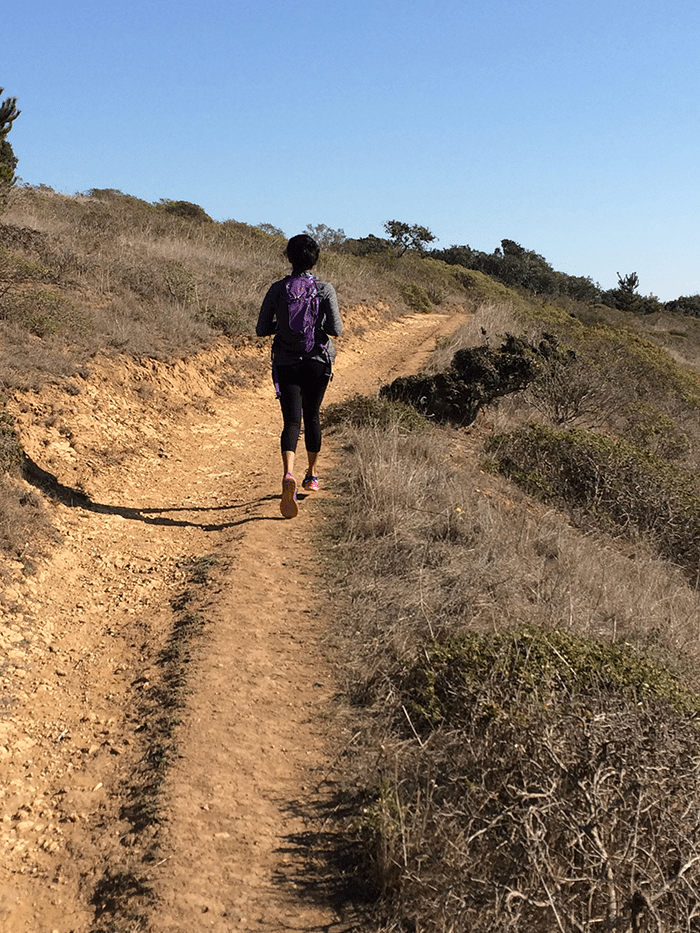 Feel the Burn
Confession: I didn't make it to Burn SF this time around, but I went on an earlier trip, so I'm including it in this recap. I remember strolling into Burn SF's studio thinking, "This should be a piece of cake." The free weights were light, and I didn't think there would be room to do much cardio in the smallish studio. Each participant lined up on a mat next to a vertical Pilates jump board, so I pictured some intense core work but nothing too sweat-inducing.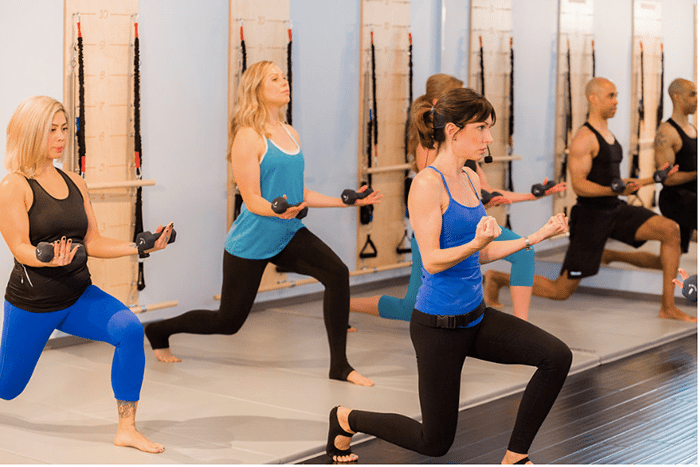 (Photo courtesy of Burn SF)
Boy, was I wrong! Fast forward 55 minutes and my legs were shaking, my arms felt like jelly and I was gulping from my water bottle like nobody's business. Our instructor managed to get us jumping, lunging, running against resistance bands, lifting and basically moving nonstop for the entire session. I guess there's a reason it's called "Burn SF"!
Snack Time
I couldn't finish out this article without raving about Basik Café, which has elevated acai to new heights. The red-purple acai berry packs an incredible antioxidant punch—even more so than raspberries, blackberries, strawberries, blueberries or cranberries. According to Basik, acai "contains all of the essential amino acids and nutrients required by the human body." Oh and by the way, it also tastes delicious.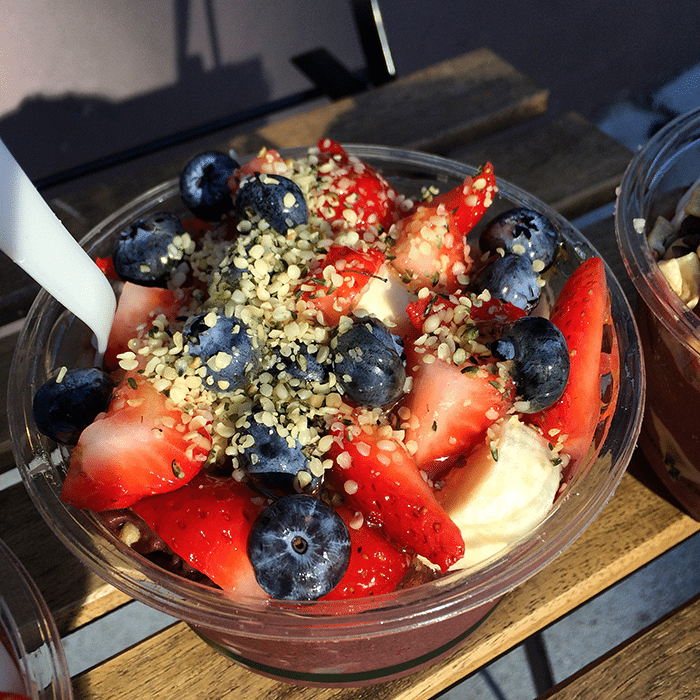 While every acai bowl and smoothie on the menu was tempting, I ultimately opted for the puna, which featured acai blended with spirulina and hemp milk until it reached a consistency resembling fro-yo. Granola, bananas, strawberries, blueberries, hemp hearts, honey and bee pollen were piled on top. Just look at that goodness. Are your taste buds tingling yet?
Postscript: We passed the TRX Training Center on the way to Basik, and the front desk employee was kind enough to let me snap a photo. Founded by Navy SEAL commando Randy Hetrick, aka the inventor of TRX suspension training, the center is still home base for the TRX movement. I didn't get to try a class this time, but you know what that means — Bay Area, I'll be back!