Studio Lagree in Lincoln Park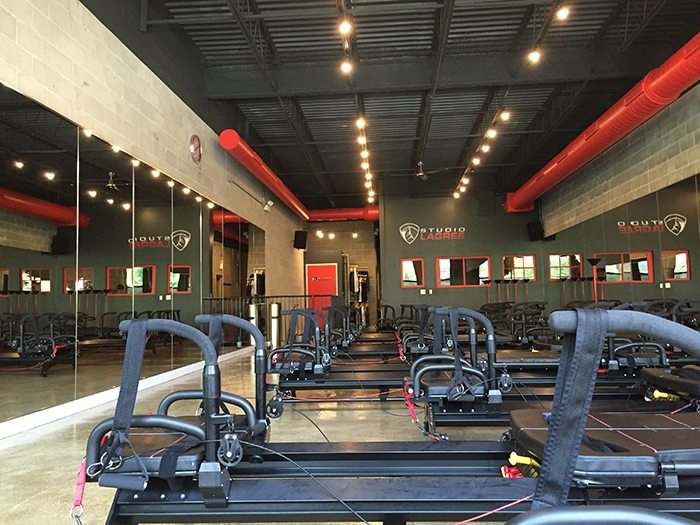 Walking into Studio Lagree in Lincoln Park at 1123 West Armitage, I immediately recognized my instructor Laura – it was one those, I-know-you-but-I-don't-know-how moments, which happens to me at fitness studios pretty much constantly after three years of sustained fitness-wanderlust.
But as she donned her mic and turned on her playlist, it hit me, I'd met her three years before at what was then Barre Bee Fit and is now The Barre Code. She struck up a conversation in a 6 am class, which is pretty much unheard of, telling me that she loved working out there because, "they had the best music."
I never forget a face, especially not a friendly one.
All of those warm fuzzies passed as Laura threw us into the warmup on the Megaformer, Studio Lagree's chosen reformer. We planked for a considerable amount of time, adding movement to planks on our forearms to make them more challenging and sliding out from a kneeling position to a kneeling plank, a movement that was akin what you'd feel on an ab-wheel. After what felt like forever, but was probably more like three minutes, we came out of the plank.
"Thank goodness," I thought.
But before we'd transition into an arm set on the floor, we would do one more full plank to pike. Ring the alarm. Five minutes in and my core was already engulfed in flames.
It's important to note that there were props stashed on shelves and the floor including weights and the traditional pilates rings. For this class, though, our only prop was the Megaformer and Laura really went for it.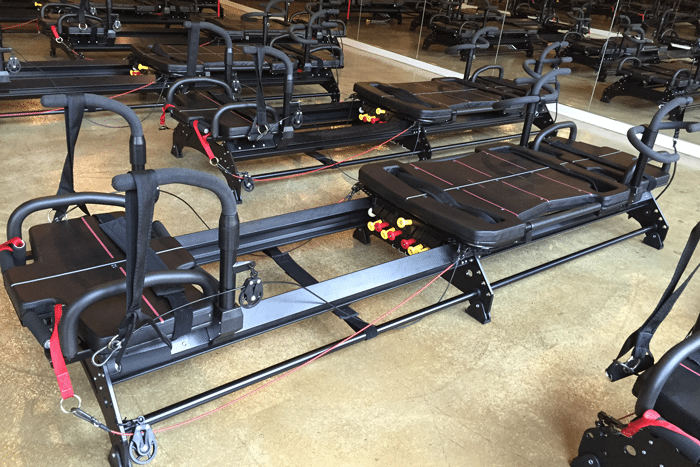 The Megaformer has all of the bells and whistles of your favorite reformer, with springs to add resistance, straps to engage muscles from head-to-toe and well-placed lines, handles and bars to keep your body in perfect alignment.
On the carriage – or the large piece of the reformer that glides forward and back – there are lines that help the instructor to efficiently guide class. Instead of saying, "place your foot under your knee … no under your knee. UNDER YOUR KNEE!" they can simply say, "Place the heel of your left foot on line six." With all of that easy instruction, our transitions were quick, but the movements were precise and meticulous.
On the floor, we did an arm series that used the straps and the resistance of the carriage to burn out the entire arm, front and back. Before hopping back on the reformer, we finished with pushups and mountain climbers.
Back on the carriage, we spent most of the remainder of class, about 30 minutes, working the lower body. Several exercises would also include an upper body blast, but that didn't fool me. I knew my legs were in for it.
We did several variations of the lunge, some that focused on small movements and some used our full range of motion.
But the core would have the final five minutes of class. In a burst of movement, we worked our mid-section while laying face-up on the carriage, using the straps to make every crunch, sit-up or leg lift more challenging.
By the time we stepped off the carriage, I couldn't believe 50 minutes had already passed, but muscles could.
Gym: Studio Lagree, 1123 W Armitage Ave
Class focus: Using the Megaformer, Studio Lagree combines core, endurance, cardio, balance, strength and flexibility training in every move.
Cost per class: $35
Money saving offers: