How to Enjoy Halloween With Dietary Restrictions
Boo! Halloween is right around the corner — and whether you're hosting a fright fest, a ghoulish get-together, or a spooky soiree with ghosts, goblins, and monsters, you may want to consider guests with dietary restrictions or food allergies.
Halloween dietary restrictions don't have to ruin the Halloween holiday — instead, incorporate these dietitian-approved tips on how you can still celebrate Halloween even with dietary restrictions and food allergies to things like peanuts.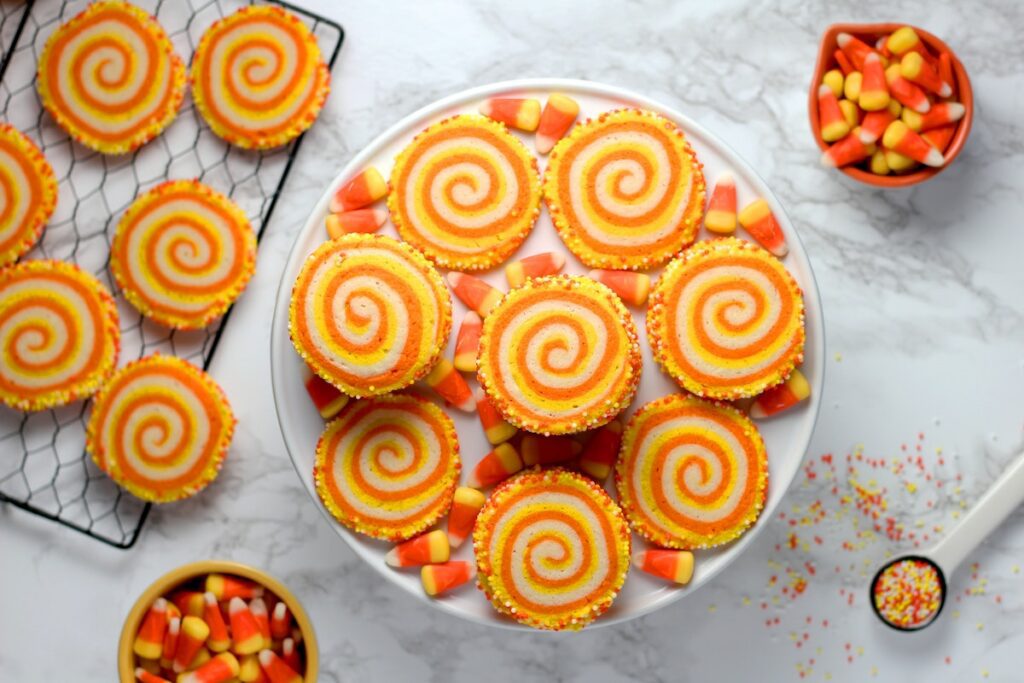 Tips for Halloween dietary restrictions and food allergies
1. Bake up your own Halloween treats
Although Halloween is all about candy and themed sweet treats, those with Halloween dietary restrictions and food allergies will want to check and read labels carefully. A far less stressful option would be to host a Halloween allergy-free baked goods party.
Johna Burdeos, RDN, says to do some recipe research and look up dairy-free and gluten-free versions of your own Halloween treats and then make it into a fun costume party. Pop in a Halloween movie, maybe set up a pumpkin carving station, and then get your allergy-free baking on. Need some baking inspiration?
Try these Gluten-Free Pumpkin Bars, Gluten-Free Pumpkin Bread, or these Gluten-Free Pumpkin Cookies. How about these Halloween Cookies, PB & Chocolate Pumpkin Fudge, or these adorable Pumpkin Mummy Pops?
When baking up Halloween sweets and treats, pair them with favorite fall beverages, like a warm mug of coffee, fall-inspired tea, spiced apple cider, or spooky pumpkin spiced latte.
Skip that overpriced Starbucks order and try Copper Cow instead. This sustainably-obsessed Vietnamese pour-over coffee allows you to become your very own at-home barista for you and all of your favorite Halloween ghosts and ghouls.
*Always remember to review all recipe ingredients to avoid any allergens or make necessary ingredient swaps when needed.
2. Be careful with candy
Let's be real — even if your trick-or-treating days are long gone, Halloween is still all about the candy. If you care to indulge in a handful or two of your favorites, be sure to look for brands that are allergy-free.
Ashlee Welter, RDN, recommends opting for allergy-free treats like SkinnyPop. "It is a great alternative for those with food allergies, comes in individually wrapped packages, and is dairy-free, gluten-free, and peanut-free," she says.
If you want to pass out an allergen-free candy, consider YumEarth. This candy is free of the top nine allergens as well as artificial dyes, corn syrup, and high fructose corn syrup. Instead, it includes ingredients like blackcurrant, carrots, radishes, and sweet potatoes (without making them taste like veggies, of course).
Not sure which candy to buy for ghosts and goblins? Opt for their Halloween Variety Bag filled with an assortment of 50 pieces of organic candy — fruit snacks (shaped like bats and fangs), giggles (rainbow fruit chews), and lollipops.
Another allergen-free Halloween candy option is oomph! Sweets. These candies were formulated by a Michelin Star Chef and contain functional ingredients with no artificial sweeteners. They're also allergen-friendly with no gluten, rice, soy, or wheat — but they're processed in a facility that contains nuts, so fair warning if you have a nut allergy!
Or, consider skipping the candy entirely this year and instead, pass out non-food treats like glow sticks, pencils, play-doh, silly putty, or a set of plastic vampire teeth.
If you feel like making your own handcrafted and homemade Halloween candy for your very own Halloween monster mash, check out a few of these DIY candy recipes:
*Always be sure to read through all of the ingredients first to make sure they're conducive to any dietary restrictions or food allergies you or your guests may have.
3. Stick to fresh fruits
If you're taking into consideration Halloween dietary restrictions and things like peanut allergies, Melanie Marcus, RDN, recommends sticking to fresh produce. "The good news is that fruits and vegetables are naturally free of common allergens and gluten, making them a foolproof choice," she says.
If you're attending a Halloween party, offer to bring a festive treat. Marcus suggests something simple like clementines decorated with food-safe markers to look like pumpkins.
"You could also cleverly decorate clear plastic cups to look like Frankenstein before filling them with a green allergy-friendly and gluten-free smoothie of your choice," she shares.
You can even halve bananas, place them on a stick, and add a face with allergen-free candies to create a banana ghost. Boo! If you have leftover apples from the local apple orchard, transform them into a homemade batch of Peanut Butter Apple Monster Bites. Who said fruit gets to have all of the fun? Try whipping up a tray of these Jack-O-Lantern Stuffed Peppers.
Another fun Halloween activity that's free of the top eight allergens (eggs, fish, milk, peanuts, shellfish, soy, tree nuts, and wheat) is carving up and eating pineapple jack-o'-lanterns. Marcus says they're both beautiful and edible all at the same time.
The bottom line: Halloween doesn't have to be the death of your food fun. (See what we did there?) Instead, use these dietitian-approved tips on how you can still celebrate Halloween even with dietary restrictions and food allergies. Happy Halloween, everyone!