[solidcore] Founder Anne Mahlum Raises $5 million for New Concept, Ambition
Make sure subscribe to #WeGotGoals wherever you get your podcasts including Apple Podcasts and Spotify.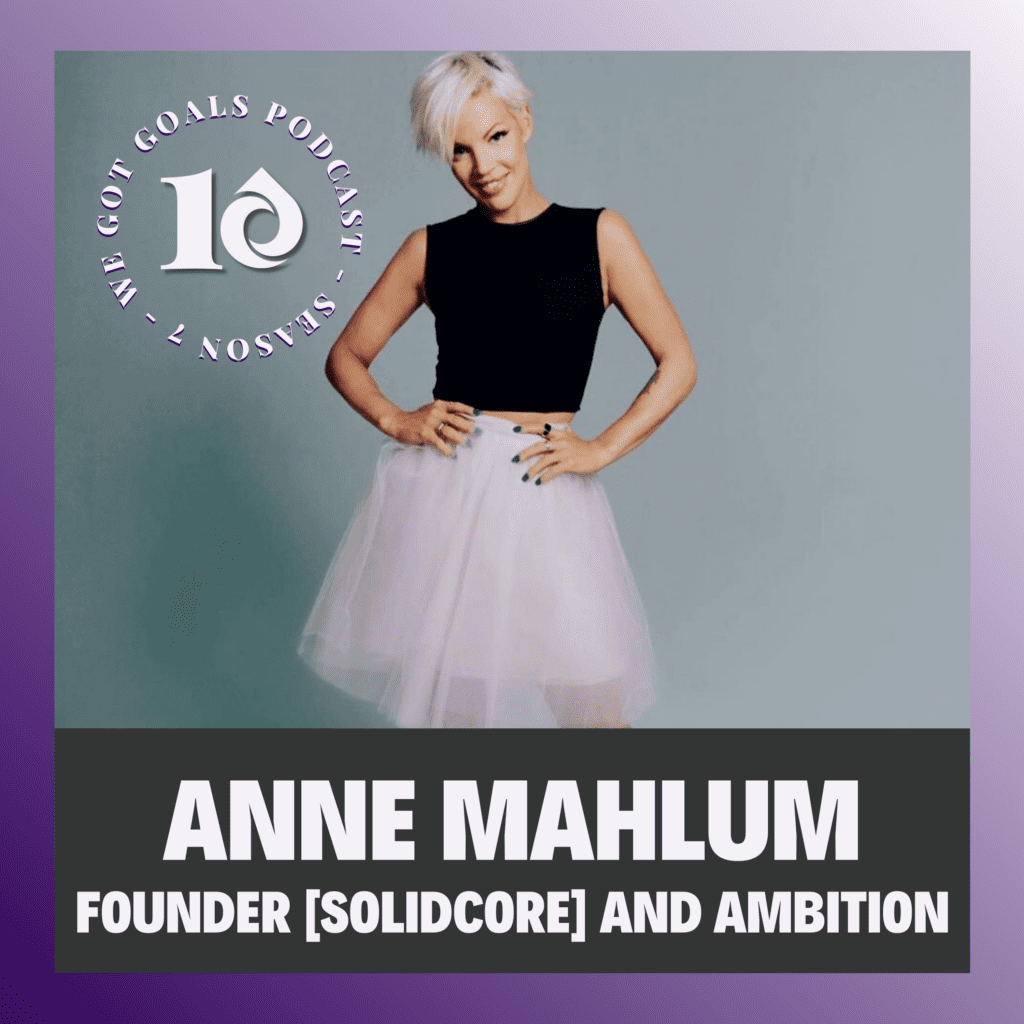 This week on #WeGotGoals, I'm speaking with the woman behind [solidcore], Anne Mahlum. And before that, she started the not-for-profit Back on My Feet, and soon to come, she's heading up her new venture in the fitness space: Ambition. 
One thing I noticed the first time I met Anne Mahlum on a lobby bench at the opening of Chicago's first [solidcore] is this: She fills up a room with her presence – and the name of that presence is the same name of her coming in 2023 concept: ambition.
Ambition. A word that is often spat out of the mouths of those speaking about women along with competitive or loud.
In a Harvard Business Review article that featured the findings from interviews with high achieving women, "ambition" was, for these women, associated with egotism, selfishness, self-aggrandizement, or the manipulative use of others for one's own ends. For men? Ambition was considered a necessary and desirable part of their lives.
Anne Mahlum is not shy about her ambition, that is one indisputable truth about her. She is not shy about her goals, either. She shared here on this very podcast a few years ago her goal to have 100 [solidcore] locations open by the end of 2020. We all know what 2020 did to business goals, but if you google her, you'll find that same goal listed in a litany of publications.
I get the sense from her that she's growing and learning every day, personally and professionally.
She's had challenges as she seeks out her big goals – she shares pretty openly about all of it – from disordered eating that followed her family's split. She was injured severely in a 2019 jet ski accident that led to several surgeries that you'll hear about this week. 
She was sued by Sabastian Lagree, the founder of the Lagree method and that lawsuit (and the countersuit by [solidcore]) was settled privately. She was sued by an ex-boyfriend who claimed to be co-owner of [solidcore]. That was also settled.
In our interview this week, Anne also mentions what she calls a "hit piece" by buzzfeed, which shared interviews from 25 current and former [solidore] employees.
Through all of it, I get the sense that her ambition is more her blessing than her burden. So why not name your business that: Ambition.
With all of that said, I know one thing for sure, she's a human with a singular focus. She has her sights set on a goal probably two or three goals ahead of what she tells me in this interview, and she absolutely believes in her ability to achieve it.
Resources: