Why Citizen Yoga Makes Suicide Prevention Its Mission
Content warning: In this episode of the podcast, we mention the concept of suicide in the context of prevention and raising awareness. If you're listening with young ears or if you're just not in a place to hear that today, skip this episode and come back
Want to try Citizen Yoga for yourself? Get 1 month free of the on-demand platform with promo code "asweatlife" and 5 classes for $25 in-studio at the Bloomfield, Mi, Detroit, MI, Royal Oak, MI or live online with the same code.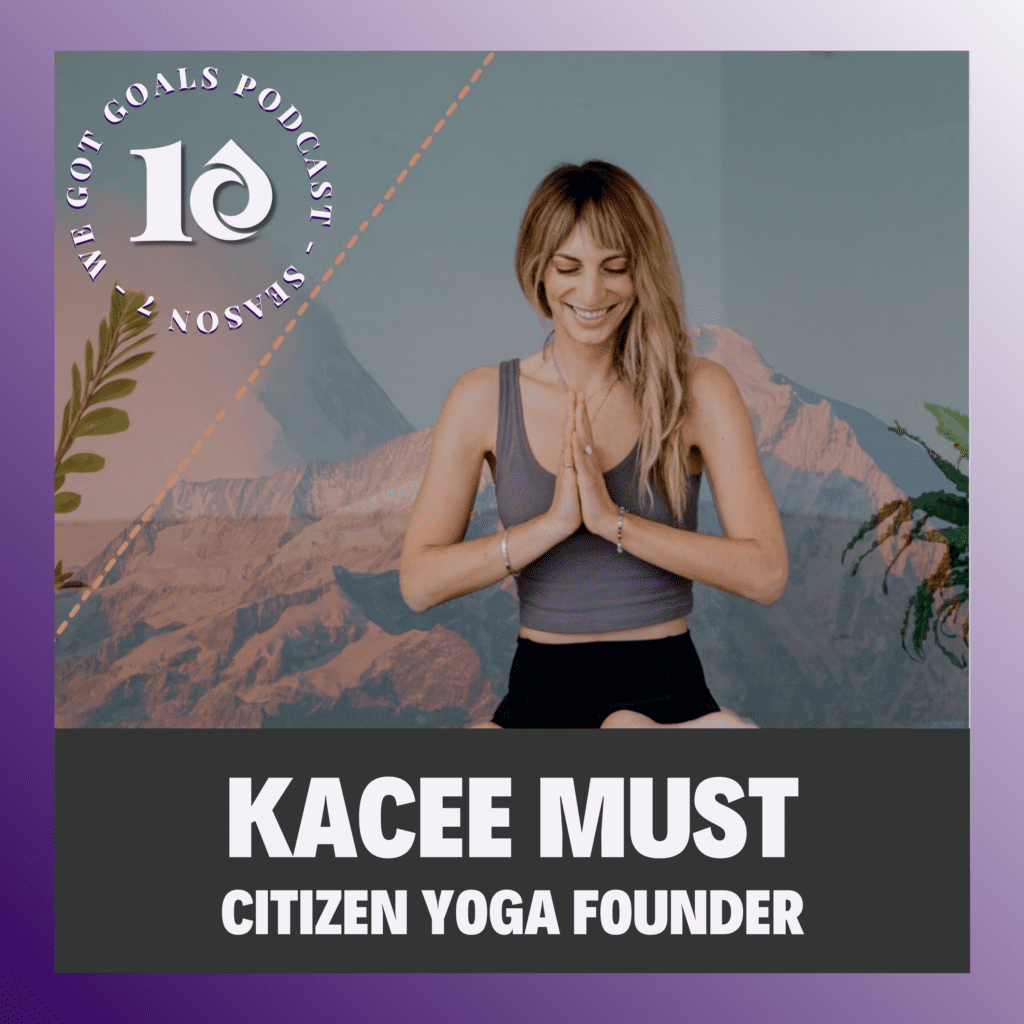 I've never met Kacee Must, founder of Citizen Yoga in real life. We met during the pandemic and have zoomed through our relationship. We talked in February of 2021 when she'd been teaching yoga online for almost a year. We talked in April, when I was on her podcast and both of us were sitting in makeshift offices – me in my parents' basement, and Kacee somewhere warm. We talked shortly after she gave birth to her daughter this spring and again just recently to record this week's episode of #WeGotGoals.
Kacee Must is the kind of person who shares openly about the good, the bad, and how she sees the world. And it's that kind of open sharing that led to me feeling like I understand who Kacee is as a person even though the two of us have only talked on Zoom a total of four times.
Like, I don't know how tall she is, but I would consider her a friend, if you get what I'm saying.
That's because one of the ways to fast-track human connection is to share something you've been through and to listen intently to the things being shared by the person you're speaking to. For Kacee, every time she speaks about her business and why it came to be, she has to open up about one of the worst things that happened to her family – and often that leads to a "I've been through that too" moment.
Because the loss of her sister Miya to suicide was the impetus to creating Citizen Yoga. And today, she exists to create community and connection for people to prevent anyone else from living that.
That's because loneliness has been found to be linked to an increased risk of suicide and self harm, studies that I've linked to in the show notes have shown. And, conversely, researchers from Brown and George Mason University found that social support is associated with decreased likelihood of a suicide.
Kacee and her team live that mission – most businesses start with what they do online, but Citizen starts with why. And that kind of commitment has led to serious community support. Each year, they pack The University of Michigan's Big House – what the college football stadium is known as – with a thousand people who are there to talk about and give money to suicide prevention.
And on today's episode, you'll hear that Kacee is currently working on solving another crisis of community she saw in her own life – she felt a disconnect and loneliness as she went through postpartum recovery. She envisions a place where birthing parents can heal, connect and learn from each other. Honestly, the way she described her project she's creating with two other co-founders, makes me – someone very much riding the fence about parenthood – a little less hesitant.
That's the kind of effect Kacee wants to have on the world – she exists to make hard things less so and bring into the light the moments of our lives that were often relegated to the shadows.
Resources: