Box Union Co-Founders Explain mid-pandemic Title Boxing Club Acquisition
The 7th season of our podcast is a HUGE celebration of fitness – its creators, innovators and everything in between. We made sure to include goodies from the studios and brand we're chatting with for you, so make sure to listen, share with a friend and try something new. And also, make sure you don't miss a single episode by subscribing wherever you get your podcasts including Apple Podcasts and Spotify.
And listening to this week's episode featuring Todd Wadler and Felicia Alexander gets you a totally free month of membership to Title Boxing Club OnDemand here. Use code aSweatLife to get 30 days for free, after that, the membership rate goes up to $19.99 monthly.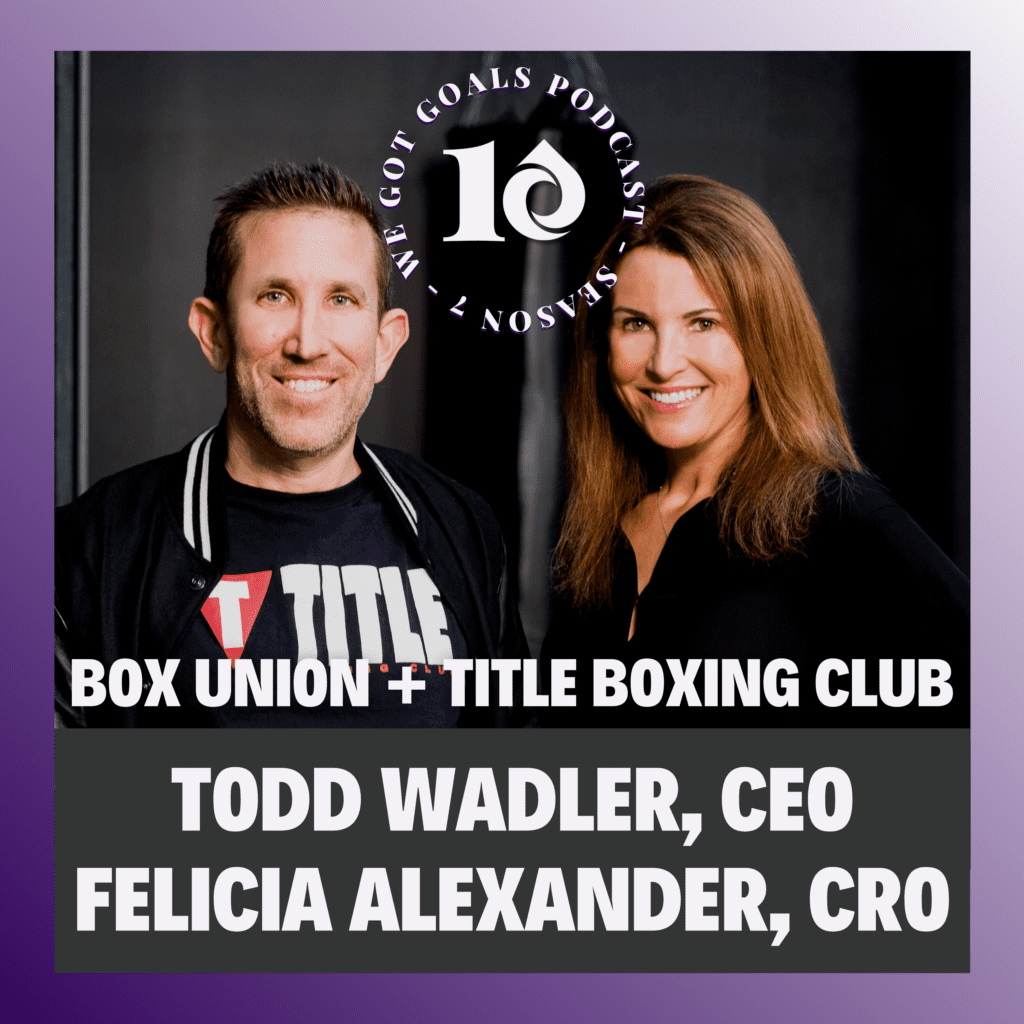 This week I interviewed Todd Wadler, CEO of Box Union and Title Boxing Club, and Felicia Alexander CRO of Box Union and Title Boxing Club, and it was clear that their partnership plays on both of their strengths. This pair is bold and thoughtful, which you'll hear throughout the episode. 
And if you're wondering how you missed that Box Union, which had three locations before the pandemic, acquired Title Boxing Club, you'll hear all about it in the episode. Luckily, or because Todd had the foresight that Box Union needed to raise as much money as possible, Box Union was extremely well capitalized before the pandemic.
So, when opportunity came knocking, they were ready to acquire it. And overnight, they were the largest boxing brand in the United States. More on that from Club Industry here.
There's a saying in boxing that the punch you don't see coming is the one that knocks you out – I think we can safely say no one saw that gigantic move coming.
They also give incredible guidance for leading a team that I took notes on during our interview, because I never want to forget it. So, if you hear a little clickity clack when they're explaining their playbook on culture that's why. You'll hear more on this later, but be ready to open the notes app on your phone to write down "Freedom within a framework," having a "Growth mindset" and the idea of "we not me."
We also spend some time talking about an organization that is close to my family's heart: Rock Steady Boxing, a boxing program that was created to provide a uniquely effective form of physical exercise to people who are living with Parkinson's Disease. My father-in-law was diagnosed with Parkinson's disease in the past few years, and he found his way to Rock Steady Boxing, which helps him in innumerable ways.
One tangible way Rock Steady Boxing helps folks with Parkinson's, according to The New York Times is this: "Boxing's varied and high-intensity workouts offer a blend of strength and cardiovascular conditioning that improves agility, coordination and balance, and which may be especially beneficial for people with neurological disorders such as Parkinson's disease."
Felicia recently joined the board at Rock Steady Boxing and is helping to bring the organization to even more locations.
Resources: