How One Very Determined Doctor Helped Rise Nation Expand to Chicago
The 7th season of our podcast is a HUGE celebration of fitness – its creators, innovators and everything in between. We made sure to include goodies from the studios and brand we're chatting with for you, so make sure to listen, share with a friend and try something new. And also, make sure you don't miss a single episode by subscribing wherever you get your podcasts including Apple Podcasts and Spotify.
And listening to this week's episode featuring Meg Flynn gets you a code 'freeclass' to get a free first class at rise-nation.com.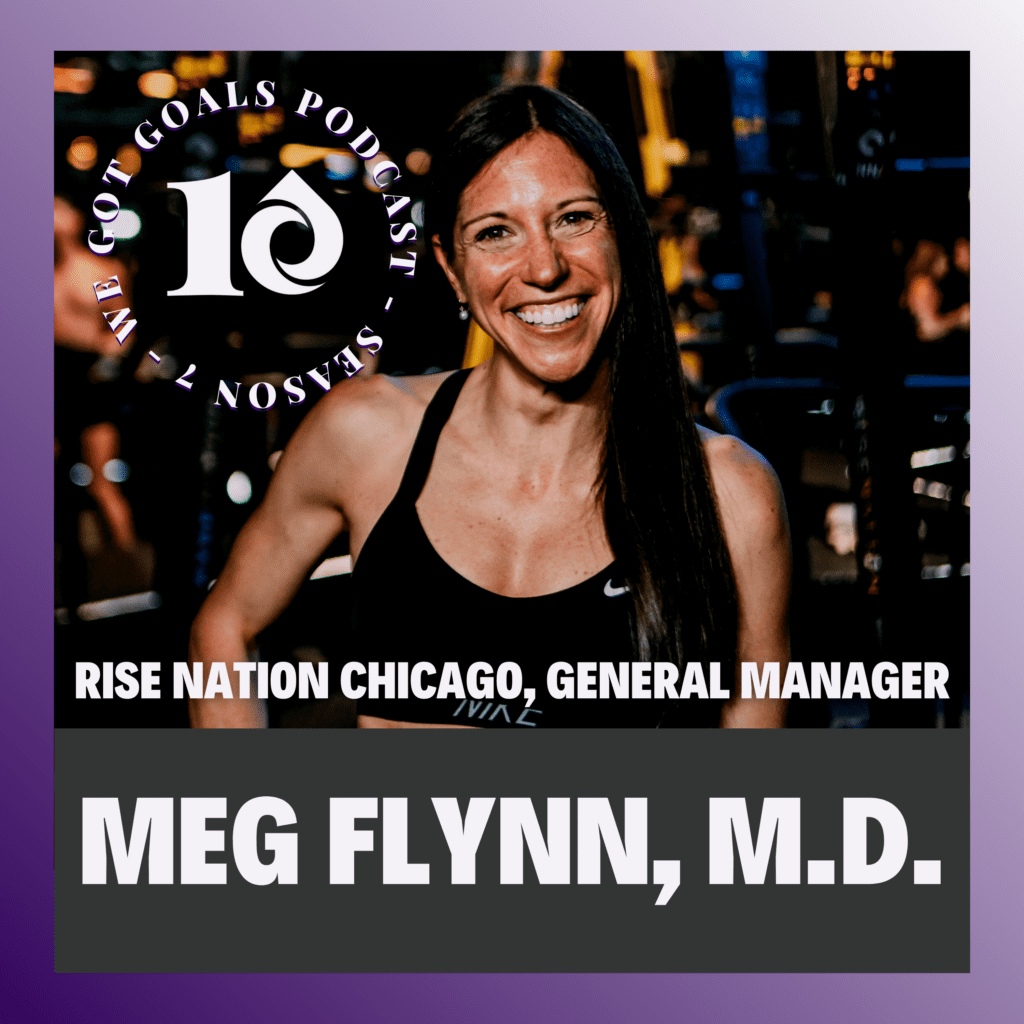 Ask anyone who's been on a Versa Climber what they think of the machine and the first reaction will be a look that you'll recognize quickly as a combo of fear and respect. It's a machine that earns the title of love/hate. You might love how much you can get done so quickly, but you might hate how much you have to do so quickly. You know what I'm saying.
Today, on #WeGotGoals, we'll be spending a lot of time talking about the Versa Climber, a machine that's featured prominently at the center of Rise Nation's studios' 30-minute classes. 
Jason Walsh, the founder of Rise Nation, brought the Versa Climber to his clients after seeing them get injured on more traditional cardio equipment. The Versa Climber had been a fixture in weight rooms, but it hadn't yet hit the celebrity-trainer and everyday-athlete circuits. Seeing success in his one-on-one sessions with celebrity clients, Jason brought it to a room full of people – enter Rise Nation Los Angeles. And now Rise Nation – with locations in New York City, Cleveland, Chicago, Los Angeles, and Dallas –  counts itself as one of Mark Cuban's investments.
But before there was a Rise Nation, someone had to create the Versa Climber. Before developing the Versa Climber, Dick Charnitski, patented the technology to track your heart rate in a wrist watch. Investors were like, "Nah. Pass. We don't think anyone will care." Rejected, but not deterred, Charnitski went back to the garage to create something else. 
Enter the Versa Climber. 
That brings us about up to speed as we meet Meg Flynn, who has been a part of the Rise Nation family since it expanded from its first studio to Cleveland. Meg, whether by luck or cosmic force, lived above that Rise Nation studio as she pursued a career as an orthopedic surgeon. Yes, DOCTOR Meg operates the Chicago Rise Nation studio as well as practicing as an orthopedic surgeon. 
Dr. Meg, Like Jason Walsh, Like Dick Charnitski, is never satisfied with the status quo. So you'll hear from her what it was like to find this machine, this method, and this community. And she'll also explain why it was so important for her to bring Rise Nation to Chicago.
She shares the effort it took to open the studio through the pandemic and how this method taps into the athlete in her.
Resources: