Vegetarian Grilling for a Plant-Based Diet
Summer is the quintessential season for spending time in the great outdoors. One of the most delicious ways to celebrate the summer season is by hosting a backyard BBQ or cookout with family, friends, and neighbors.
Most people think summer grilling includes fan favorites like hamburgers, hot dogs, and even some other meat alternatives, which all make great grilling options. However, if you are vegan, vegetarian, or practice a plant-based lifestyle, try grilling up these awesome vegetarian grilling ideas.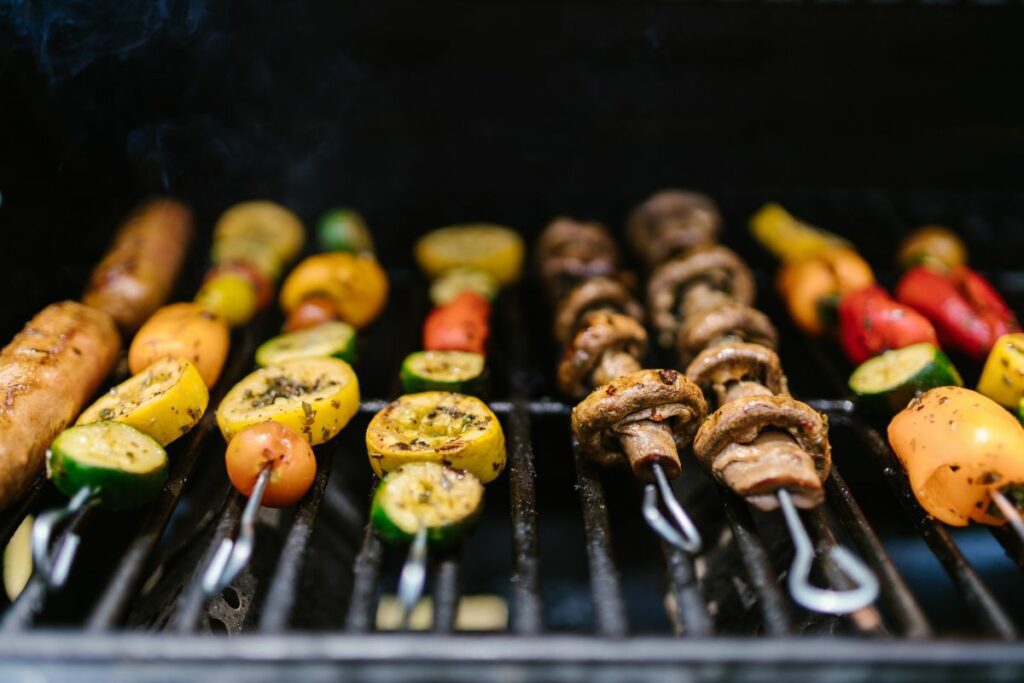 Vegetarian BBQ ideas
Dana Ellis Hunnes, Ph.D., MPH, RD, says these foods are great vegetarian BBQ ideas because they all grill well, deepening their flavors. Grilling these foods often makes them sweeter and can give them a very surprising sumptuous taste that you do not get with other cooking methods. 
Here are some of the most delicious vegetarian BBQ ideas for your next summer cookout.
Asparagus
Grilled asparagus has a slightly sweet flavor that pairs perfectly with grilled meats. Simply coat the asparagus spears in a cooking oil like algae oil or avocado oil, then lightly season with pepper and salt. Grill until the asparagus tips are slightly charred, which should take about five minutes per side.
Bell peppers
If you think bell peppers are boring, then you probably haven't grilled them before. Great for vegetarian grilling, bell peppers should be grilled until they are slightly charred on all sides, usually about 15 minutes. Dice and slice then add to homemade salads, soups, or tacos.
Corn
Don't you just love grilled corn on the cob ears at the state fair and all of those summer street festivals? They are even easier to make than you think and are just as delicious. 
Simply strip the first few husks off of the corn ear, then place them on the grill until you have reached your desired level of charredness.
Eggplant
Eggplant is an incredibly meaty vegetable making it perfect for vegetarian grilling. Add some olive oil and a sprinkle of Italian herbs and spices for a vegetarian BBQ side dish. Pro tip: Salt the eggplant and let it sit for about one hour to remove any moisture before tossing it on the grill.
Mango
Mango is a fruit that is great for grilling. Just make sure it's not overripe, which will make it soft and a little challenging to grill at your next summer soiree. 
Mushrooms
Mushrooms are great for vegetarian grilling. The bigger they are, the easier they are to grill, which is why portabella mushrooms are a favorite to grill for many people. Skewer them for a plant-based veggie kabob, or grill them whole for a portabella mushroom burger. 
Onions
Onion rings are delicious when fried because let's be real here folks, who doesn't like onion rings? That said, have you ever tried grilled onions? Add them to a kabob with those magnificent mushrooms or grill them on their own for a homemade hamburger or hot dog topping. Yum!
Pineapple
Fresh fruit may not be the first thing you think to grill, but fruits like pineapple when grilled bring out an added layer of a complex smoky flavor and subtle sweetness. Simply cut the pineapple into long thick slices or rings then grill.
Pair them with a flatbread appetizer or top them with vanilla ice cream for a summer sundae.
Other fruits that are grill worthy include peaches, pears, and watermelon, shares Bill Glaser CEO of Outstanding Foods.
Romaine lettuce
Lettuce is definitely not a food you may think to grill, but grilled Romaine lettuce leaves? Grilling whole Romaine lettuce leaves is a low-lift way to level up your summer salad game. I'll bite. (Literally).
Zucchini
Grilled zucchini has a mild flavor that pairs well with many different marinades and seasonings. Try grilling zucchini rounds or slices for an easy side dish or snack that is great for vegetarian grilling.
This summer, whip up these vegetarian BBQ ideas, perfect for vegetarian grilling. Happy summer grilling everyone!