5 Awesome Things to Grill That Aren't Meat
Summertime is all about the grill—cooking outdoors, hosting barbecues with friends, and working some magic for ribs, burgers, dogs, and more. Yet, while we often think of grilling as being something you do only with meat. Sure, there's always a place for meat on the grill, but you can also serve up some deliciously grilled vegetables (and fruits!), as well.
Here are a few simple ways to use that grill all summer along for delicious veggie-based recipes, all recommended by Shane Graybeal, Executive Chef of the West Loop's newest restaurant, Bandit (841 West Randolph Street), which is part of DineAmic Group.
Try these ideas for a "Meatless Monday" or for easy sides to go along with meat. (You don't need to say goodbye to meat, don't worry!) And a tip? Make sure you're using the highest heat possible for all these vegetables.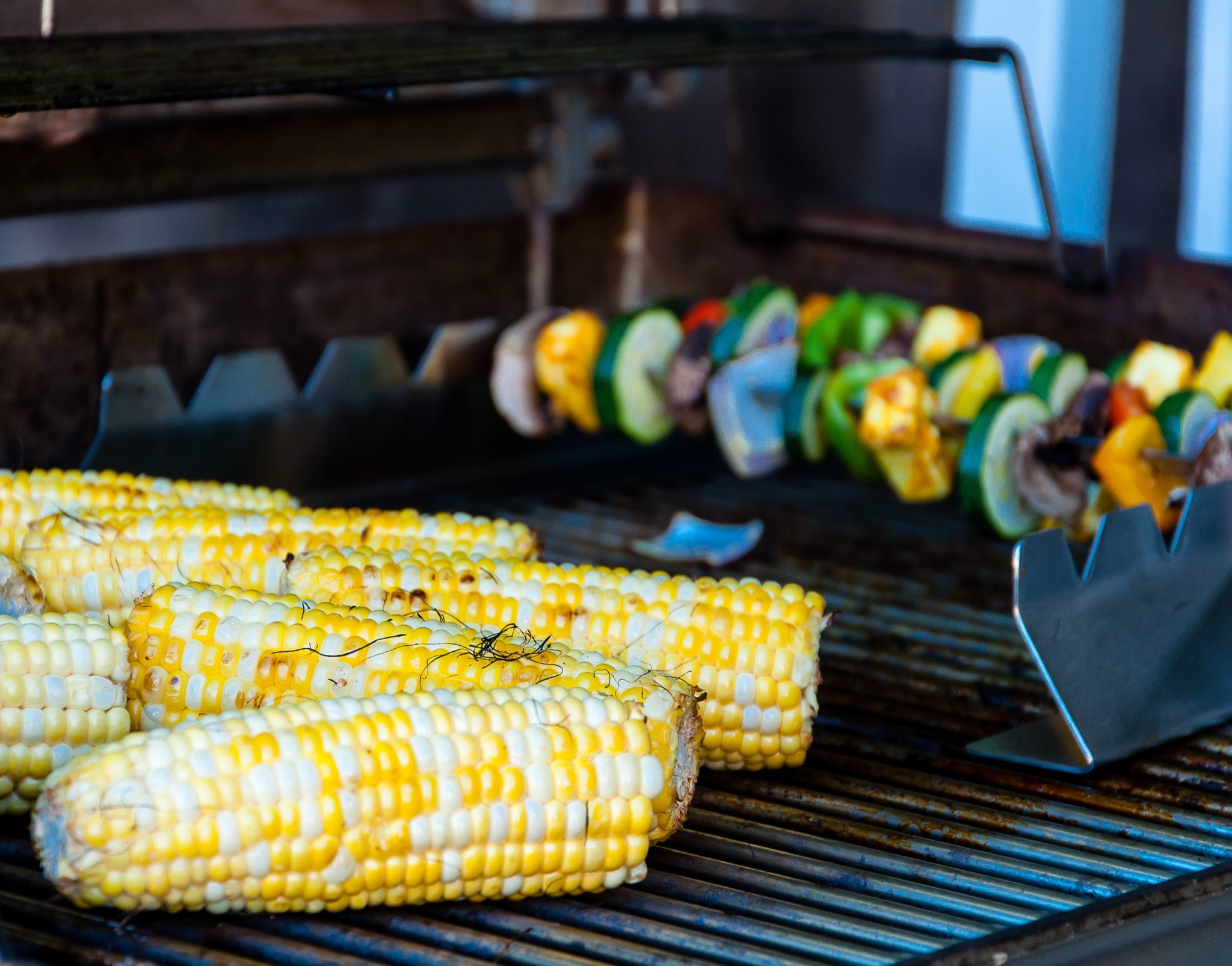 Cauliflower
Chef Graybeal suggests first cutting the head of the cauliflower floret in half. Then, stand the cauliflower up and trim off everything, but the stem.
"Since cauliflower has a faintly bitter flavor profile, seasoning the vegetable is key," he says. Season with a favorite spice rub (his favorite is a Montreal steak seasoning) and then add to the grill and glaze with a barbeque sauce while it is still on the grill.
Keep the cauliflower on the grill until there is a nice char to it or around three to four minutes, and then top it with a vinegar-based coleslaw for a flavorful vegan steak.
Carrots
This one is actually the way Chef Garybeal prepares and serves his Charred Spiced Carrots at Bandit (which I've tried, FYI, and they are fantastic!).
"First, when grilling carrots, remove the green stems and then cut them to a preferred size. Then blanch them. In order to do this, boil the carrots for about 30 seconds, then immediately put on ice to cool down," he says.
Before adding the carrots to the grill, season with a Middle-Eastern spice, such as za'atar. Then, add the carrots to the grill for about 5-6 minutes until they have a nice char. If looking to make grilled carrots just as how they're done at Bandit, then top them off with creamy feta and salsa while sprinkling sunflower seeds on top. Healthy and tasty!
Butternut Squash
"Cut off the bulb of the butternut squash and focus on the upper 2/3 part of it," Chef Graybeal instructors. "Peel off the skin and cut it into square pieces, similar to mirror a wooden board. Then, throw on the grill for about 7-minutes, flipping frequently, and grilling it until it looks medium rare," he says.
Then, to cut the sweetness or honey flavor of the squash, glaze with either a verjus or a more common substitute, like red wine vinegar. Mix this grilled butternut squash with lentils and mushrooms for a complete and delicious side dish or a light main.
Kale
Of all vegetables to grill, kale is by far one of Chef Graybeal's favorite. To prepare it, clean the kale, then cut the leaves off the stems, and only grill the leaves.
"You will want to mist the kale leaves lightly with olive oil before grilling and then grill quickly. However, don't be afraid to burn the edges of the leaf, giving it more flavor," he says. Then, once grilled, squeeze lemon juice and toss with farro and Parmesan for the ultimate side, summer salad. 
Fruit
You can always grill up some fruit instead of veggies, or use together for a salad, such as a grilled peach salad with grilled asparagus and some burrata on top.
With peaches, cut them in half and remove the pit. Place the peaches cut side down on the grill and cook until they have grill marks and are caramelized. Move them to the cooler side of the grill to let them cook still and soften, but at a lesser heat.
With most fruit, look for those grill marks, then move them over to get a little more tender but to not destroy their delicate nature, and they'll be set! Have fun with others, like pineapple, watermelon, bananas, mango, nectarines, and more.