The Best Meat Alternatives to Grill at Your Summer BBQs
Chances are, you have a BBQ or two on your calendar this summer. While hamburgers and hot dogs reign supreme on the grill, more and more people are embracing plant-based diets these days. It makes sense: plant-based foods are good for you and good for the environment. 
If you decide to opt out of serving meat at your next BBQ—or you simply want to expand your culinary horizons—we've got you covered. We chatted with food experts and rounded up the best meat alternatives to grill all summer long. Trust us: You won't miss the beef!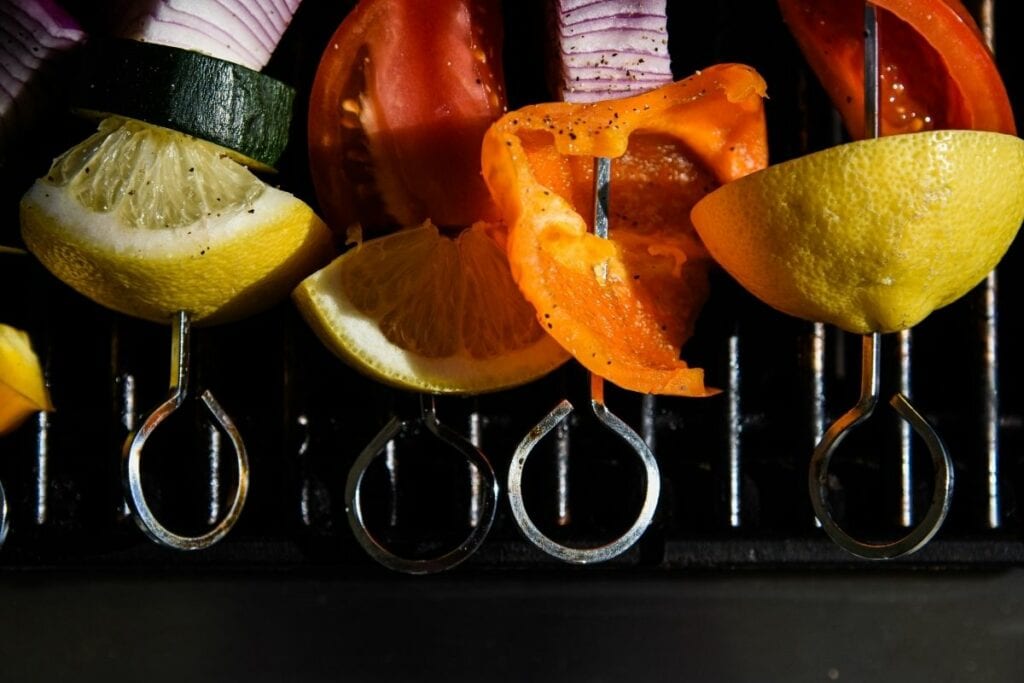 Impossible Burgers
If you crave the taste of beef but are looking to cut down on your meat consumption, then serve up an Impossible Burger at your next BBQ. 
"I'm a huge fan of the Impossible Burger," says Tehrene Firman, sustainability and plant-based food expert and director of content at Brightly, an app dedicated to eco-friendly living. "Its meaty taste and texture is nearly identical to the real thing." 
Firman notes that the Impossible Burger has also been shown to use 96% less land and 87% less water than a traditional beef burger. What's more, it generates 89% fewer greenhouse gas emissions.
While a grill works fine for an Impossible Burger (you'd cook it the same way you would a beef burger, at about four minutes per side), Firman says the absolute best way to prepare this meat alternative is on the skillet.
"The way you prepare your Impossible Burger can make or break how 'beefy' it turns out," she says. "Cooking it on a skillet gives it a drool-worthy crust." If you go the skillet route, cook it on medium-high heat for two minutes per side to avoid a dry patty.
Veggie burgers
If you don't like the taste of beef but you still want to eat a burger, there are also plenty of veggie burgers you can serve at your summer BBQ that are nutritious and delicious.
One standout veggie burger is the AKUA Kelp Burger, which is 100% plant-based, non-GMO, soy-free, and gluten-free. It's made from ocean-farmed kelp, crimini mushrooms, pea protein, black beans, quinoa, nutritional yeast, and crushed tomatoes. 
"The kelp and mushroom combo give this veggie burger an umami explosion of flavor, so you don't need to add much to the burger for a delicious meal," says Courtney Boyd Myers, AKUA's CEO and co-founder.
As with the Impossible Burger, you'll get the best result cooking a veggie burger in a pan. For the AKUA Kelp Burger, Boyd Myers recommends throwing a frozen patty in a pan with olive oil and serving it on a bun with avocado, homemade spicy mayo with gochujang sauce, pickles, and sprouts.
Tempeh
One of the most popular meat alternatives is tempeh, which is made from fermented soybeans and combined with several grains (usually these will have gluten in them) and beans and has loads of protein.
"It's great for people who are conscious about their diet but aren't ready to let go of their favorite meats," says Grace Woinicz, Ohio-based chef, health and wellness blogger, small restaurant owner, and CEO at The Brilliant Kitchen. "It can be grilled, fried, baked, or sautéed like any other meat." 
Throw it on skewers or serve it in a salad or sandwich—the options are endless. "I like it because it has a nutty texture and leaves a zesty aftertaste," says Woinicz.
Seitan
Made from wheat gluten, seitan is mainly used as the base for a lot of vegetarian products. "When cooked, it's the substitute that is the most similar to meat, in terms of taste and texture," says Woinicz. "It has a savory taste that's very close to chicken.
Woinicz says seitan can be cooked, pan-fried, or simmered with sauces. She enjoys it most when it's grilled, though. Grill it on an open fire and top it off with a dash of BBQ sauce.
Soy- and gluten-free plant protein
If you can't eat soy or gluten, Mee McCormick, chef and founder of Pinewood Kitchen in Nashville, has a meat alternative for you. 
She likes Hempé, a plant protein made with chickpeas and hemp seeds. "It is cultured like tempeh, so it supports a healthy microbiome, and it's rich in omega 3s, packed in protein, gives us the fiber we need, and is low in calories," she says.
Grilling is easy: Slice Hempé into the size pieces you want, cover with BBQ sauce as a marinate, and store it in the fridge for a couple of hours, suggests McCormick.
When you're ready to eat it, place it on the grill for 15 minutes, flipping it as needed. McCormick likes serving it with succotash and potato salad, as well as classic BBQ sauce and a vegan Alabama white sauce for dipping.
Portobello mushrooms
"Portobello mushrooms are the best option to replace that charred burger, as they're so meaty," says Heloise Blause, kitchen blogger at Home Kitchen Land and former professional chef. Plus, they're packed with protein and have lots of health benefits, she adds.
Blause recommends enhancing their flavor with a basic marinade. "I like to drizzle a bit of tamari and Worcestershire sauce on them and throw them right on the grill," she says.
Kelsey Riley, RN, founder of Planted in the Kitchen, advises grilling portobello caps on high heat for five minutes on each side once you're done marinating them for a few hours. "Eat your portobello mushroom burger-style between two buns, or eat it like a steak," she says. "With such a simple, healthy, and delicious food, it's hard to go wrong."
Corn on the cob
Let this side dish become the star of your next summer BBQ. Elliot Reimers, National Academy of Sports Medicine certified nutrition coach at Rave Reviews, points out that corn has many health benefits and is rich in fiber, vitamin B, zinc, magnesium, copper, and iron. 
To prepare, "just place the corn on a preheated grill and turn it often until it's charred all over," says Reimers.
Want to get fancy with your corn? Blause likes to prepare grilled corn with garlic butter. "This savory grilled corn is grilled in its own husk, which keeps the kernels moist," she says.
To make, press a garlic clove through a garlic press and mix it thoroughly with softened butter. Sprinkle with sea salt to combine. Peel the husks back on each ear of corn, but don't remove them. Do remove the corn silk.
Use a butter knife to spread the garlic butter on each ear of corn, then pull the husks back around the corn. Roast corn on the grill for about 20 minutes or until the kernels are juicy.
Asparagus
"Asparagus works very well on the grill too," says Blause. She suggests grilled asparagus as an appetizer or served alongside rice, potatoes, or pasta for a hearty main dish.
Here's her go-to grilled asparagus recipe: Use one large bunch of asparagus (make sure to rinse it first!). Combine 3 tablespoons olive oil, juice of half a lemon, a finely minced garlic clove, 2 tablespoons tarragon (or marjoram or thyme), and salt to taste in a small bowl. Place asparagus in a baking dish and drizzle in the marinade, letting sit for at least 30 minutes before grilling.
Over a medium-hot grill, use tongs to place asparagus over the heat, turning once. When they begin to get char marks, remove from the grill and drizzle with a squeeze of fresh lemon juice, serving right away.
Zucchini
"One food I can't get enough of on the grill is zucchini," says Taryn Solie, writer and recipe developer at Hot Pan Kitchen. "It's super-quick and easy to grill up, which is great for end of summer when there's an excess of it."
Solie recommends slicing a little off each end, then cutting the zucchini in half lengthwise and adding a little olive oil and salt to it. "I avoid cutting it in slices because they tend to fall through the grill grates that way and are easy to overcook since they're thinner," she explains.
Once you're done cutting the zucchini, time to put them on the grill. Cook them for two to three minutes per side max, since they cook quickly. "You can test for doneness by giving them a squeeze with some tongs—no give and they're not cooked enough, just a little bit of give and they're good, and too much give and they're overcooked," says Solie.
Eggplant
A member of the nightshade family, eggplant has a savory taste that can be seasoned similarly to meat, says Heather Yan, founder of My Kitchen Culture. And as Reimers notes, eggplant is rich in nutrients (protein, fiber, folate, and potassium, to name a few) and low in calories. 
"A good spice rub, BBQ sauce, or even a great marinade can all work to change the flavor of the eggplant," says Yan. Reimers recommends slicing the eggplant into strips and putting it on the grill so that it gets crispy on the outside but tender on the inside.
Broccoli and cauliflower florets
ChihYu Smith, creator of I Heart Umami, likes broccoli and cauliflower florets, prepared simply, as a meat alternative. Once grilled, she says they have a savory flavor that won't have you missing meat. 
Smith suggests tossing the florets in a large mixing bowl with olive oil, coarse sea salt, ground black pepper, and garlic powder. Then, use a grill pan and grill over medium-high heat for three to four minutes per side or until browned and tender.
Vegetable kabobs
Of course, you can opt to mix and match your favorite veggies on skewers as a filling alternative to a meat kabob.
"Bell peppers, squash, zucchini, onions, garlic, baby bella mushrooms, and cherry tomatoes are all excellent kabob vegetables," says Yan.
Firman, meanwhile, likes loading up skewers with vegetables and cubed tofu that's been seasoned like chicken. "Use a store-bought poultry seasoning for flavor," she says. Firman adds that you can even air-fry the tofu for five to 10 minutes before putting it on the skewers for extra crisp.
Firrman also suggests mixing in some cubed pineapple. "This gives everything a slightly sweet taste that's hard to beat," she says.
Halloumi cheese
Skip the meat, keep the cheese. I love grilling halloumi cheese," says Bri Bell, RD, founder of Frugal Minimalist Kitchen. "It has a high melting point so you can put it straight on the BBQ and flip it to get delicious grill marks on a flavorful protein source that's not highly processed."
Bell suggests slicing the halloumi at least a half-inch thick and grilling it like a steak. She says you can also add it to skewers with veggies.