How to Make Super Filling Salads
Some days, it is simply just too hot to turn on the oven to cook up a good meal for dinner. Some of us may resort to outdoor cooking methods like grilling, while others may want to stay cool with lighter fare like a summertime salad.
But maybe you're thinking that salads are way too light, leaving you and your stomach feeling less than satisfied. On the contrary, salads can be quite filling. Learn how to make a salad filling with these six foods. Plus, we'll include some healthy filling salad recipes to enjoy all summer long.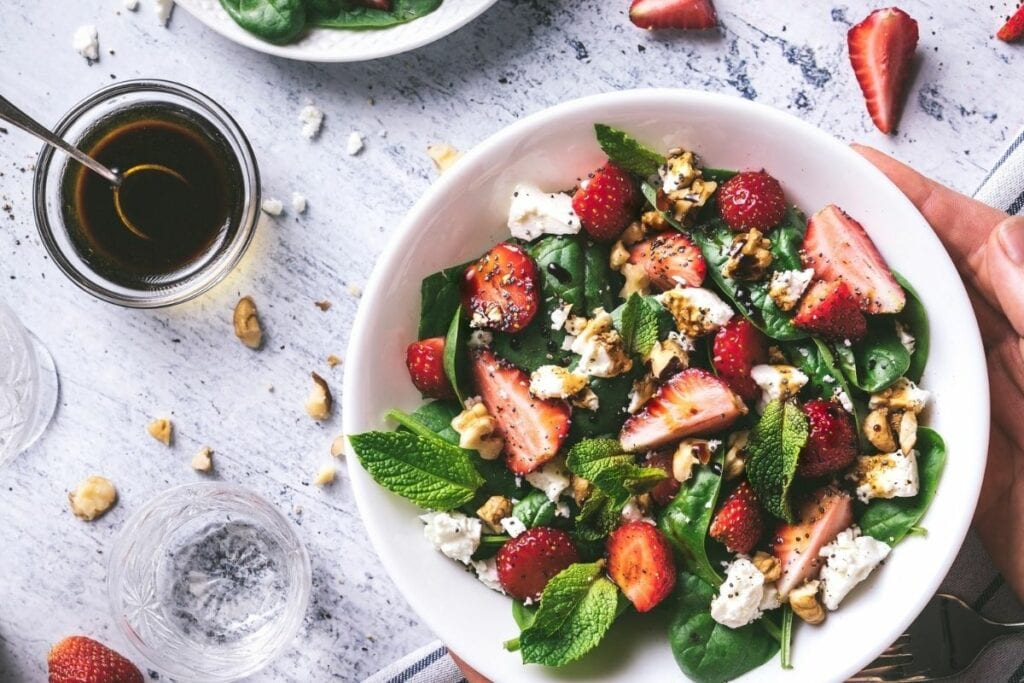 Why summer salads?
During the summer months, our bodies naturally tend to crave cooling foods to help us beat the summertime heat and humidity. One of the best foods to help us do this is water-based foods, like dark leafy greens.
Dark leafy greens, like collard greens, kale, Romaine lettuce, and spinach all have high water content. Having plenty of these dark leafy greens on your plate during the hot summer months will help you stay hydrated. Plus, they are some of the best bases for building a healthy filling salad.
How to make a filling salad
Add beans, chickpeas, or lentils
Although many of us may associate beans with burrito bowls, chilis, or tacos, beans are a low-lift way to help you make a healthy filling salad. Beans may sound pretty basic, but they are a budget-friendly, plant-based protein that are incredibly versatile. They also include an array of nutrients, depending on the kind of bean.
Laura Ali, Registered Dietitian Nutritionist and Certified Culinary Nutritionist, says, "A good way to add some bulk and make a salad more filling is to add fiber and protein. Beans, like cannellini beans, edamame, or garbanzo beans, will do this as will hearty vegetables like corn and peas."
Make homemade croutons
If you enjoy a healthy filling salad with a slice of bread, try a grain-free alternative or make a batch of homemade croutons. It's super simple! Take a few pieces of your favorite bread and let them dry out for a day or two. (Just make sure they do not get moldy!) Then, slice into cubes or squares. Toss in olive oil with a smattering of your favorite seasonings, then bake in the oven or sauté on the stovetop until croutons are crispy. That's it! (Oh, you so fancy).

If you don't want to make croutons, but still want a crunchy salad topper, Colleen Christensen, RD, says to try crackers. "Crushed-up crackers are one of my favorite forms of croutons and I always have them on hand!" You can also use roasted and seasoned chickpeas, which lend a savory layer of flavor that makes for a more mindful salad topper with an added crunch. Plus, they are packed with protein.
Include eggs
Like beans, eggs are easy and extremely versatile. Rich in antioxidants like lutein, which is good for eye health, eggs also include biotin, choline, and protein. Whether you enjoy a hard-boiled egg or a soft-boiled egg, eggs are an incredible ingredient that can help you create a healthy filling salad.
Add olives
Olives are quite filling as they are a high-quality fat, which means they are a great option when you are wondering how to make a salad filling. They also add a unique briny taste and give a subtly salty punch to healthy filling salads. If you are not over-the-moon about olives, look for other high-quality fats including:
Avocado slices
Crispy bacon
Feta
Goat cheese
Nuts
Seeds
Not only do these salad toppings taste delicious, but they will also help keep you satiated so you aren't reaching for a bowl of popcorn an hour after dinner.
Here's another tip. According to Ayurvedic tradition, sour foods may heat the body up. So if you are looking to cool off through food, use minimal dairy products (like cheese) when building your summer salad.
Top with tuna or another protein
When creating healthy filling salads, channel those under-the-sea vibes with some tuna. This no-cook pantry staple is quick, versatile, and loaded with protein. Other canned fish like anchovies or sardines also make for some super satiating salad ingredients.
Not into seafood? Try beef, chicken, or another quality protein.
Best salads that are actually filling
If you aren't sure where to start or how to make a salad filling, Marie Ruggles, M.S., R.D., C.N., C.D.E., author Optimize Your Immune System: Create Health & Resilience with a Kitchen Pharmacy, has some healthy filling salad combinations that are crave-worthy:
Almonds, golden raisins, and oranges
Chickpeas, red/yellow peppers, mango, and cilantro
Grilled shrimp, scallions, and sesame seeds
Sunflower seeds, beets, and goat cheese
Walnuts, dried cranberries, apples, and celery
You can also try some of these healthy filling salad recipes that are perfect for summer or any time of year.
Need some more salad inspiration? Try these five superb summer salads that will fit the bill all summer long.

Salads are a cooling food that are perfect for the hot and humid days of summer, but by incorporating a few healthy filling salad toppings, you now know how to make a salad filling. Bon appetit!