Revisiting the Goals That Got Allyson Felix to the Games in Tokyo

"If we have children, we risk pay cuts from our sponsors during pregnancy and afterward. It's one example of a sports industry where the rules are still mostly made for and by men." – Allyson Felix.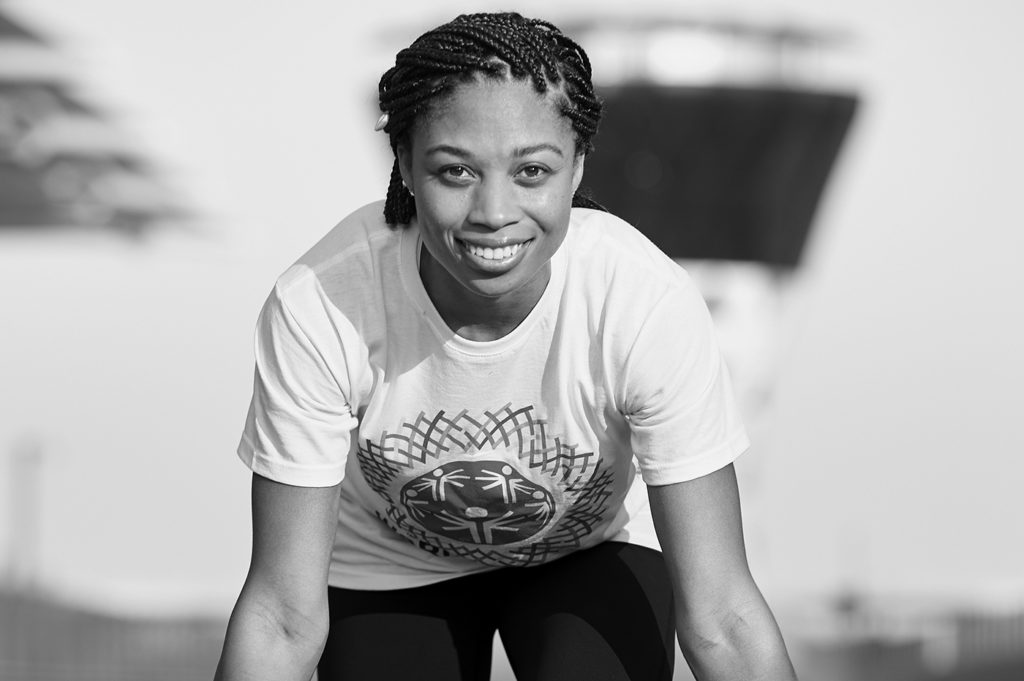 In the 250 episodes of our podcast, #WeGotGoals, we've had some really interesting goal-getters on the airwaves. We interview wellness entrepreneurs, athletes, and authors who fit into aSweatLife's view of wellness. We're focused on the things that add to your life and happiness, by the way, not the things that make you fixate on becoming less.
And among those high achievers that we've interviewed, Allyson Felix was our 33rd episode. The episode aired in December of 2017, which she later revealed in a New York Times opinion piece was the beginning of an incredibly tumultuous time for her career.
Her contract with Nike was up and she was in the process of negotiating a new contract.
She'd also decided to have a family – a challenging decision for any human being, let alone a working mom, let alone working mom in one of the careers that wasn't offering any financial or legal protections for women – a professional, sponsored athlete. And so, while she was in the midst of contract negotiations, she was pregnant, which put her at a disadvantage. As she put it, "Despite all my victories, Nike wanted to pay me 70 percent less than before."
Felix believed that her desire to have a family shouldn't be the end of her career as a professional athlete, so the negotiations stalled when she asked for specific guarantees around that. In case you missed it, Felix signed with Athleta as the brand's first sponsored athlete in July of 2019 and the contract included "full protection during maternity."
All of that is background as we think about this time capsule of what Felix told us in this episode: she wanted to get to the Tokyo Olympics in 2020. We now know that the games would be held in 2021 because of a global pandemic.
So if we stop to think about everything she had to overcome to get to the games and achieve her goal, it's staggering. Being without a sponsor for a year and a half, racing while hiding a pregnancy, recovering from pregnancy and a traumatic birthing experience that led her to stand up for all Black moms, who are at a greater risk of death during childbirth, and a global pandemic that pushed her age at the time of the Olympics from 34- to 35-years-old, which was a tie with the oldest female medalist in track, Evelyn Ashford.
Holy shit.
So as you listen to the episode, keep all of that in mind. She's casually stating her goals, while wave after wave of "no you can't" and "it's impossible" are coming for her. She simply does not possess an ounce of quit.
Oh and by the way, at the time of this interview, she had 9 Olympic medals and she left Tokyo with enough medals to bring her Olympic total up to 15. That'll show 'em.
And as a footnote, since Felix and a multitude of other brave female athletes spoke out, brands have changed their policies for female athletes in droves and smaller brands are presenting new opportunities for these athletes. Nike is among them.
So, we're really just re-running this to remind you that you can achieve your big goals against, big, big obstacles and to say thank you to Allyson Felix for her courage and strength.
If you love this episode as much as we do, subscribe to the #WeGotGoals podcast wherever you like to listen to podcasts, including on Apple and Spotify (and leave us a rating while you're at it, please).