:ratio Brings a Protein-Packed Snack to the Yogurt Aisle, Perfect for Back-to-the-Office
[This post was created in partnership with :ratio. As always, we only partner with the brands we truly love and talk about the products we actually enjoy.]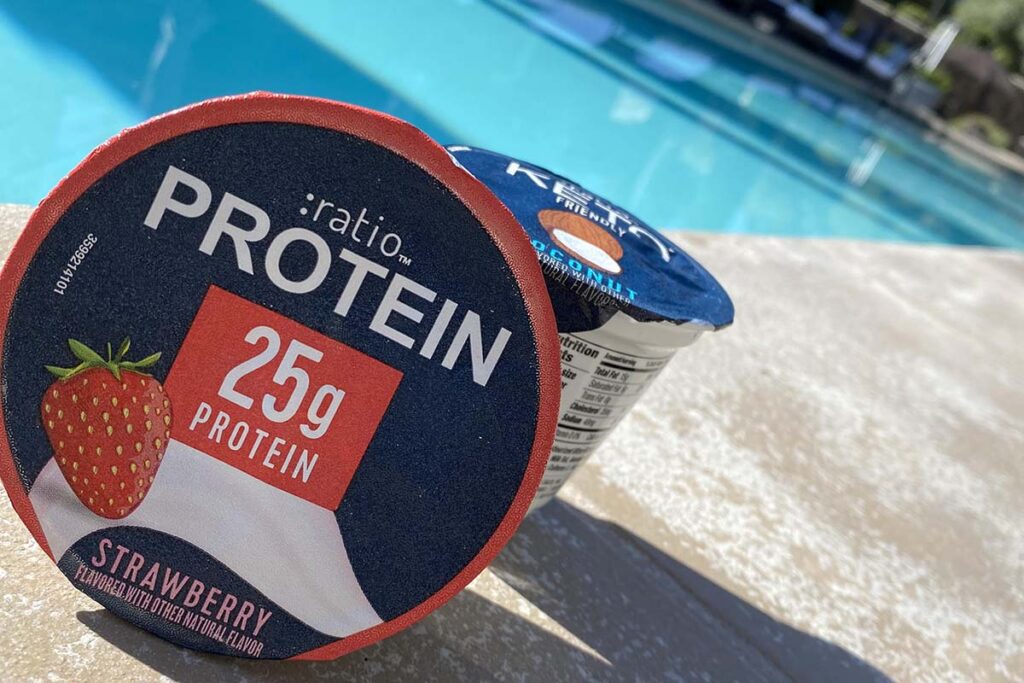 When I used to work in an office – not for my own company – I had the best of intentions every morning to pack a lunch and snacks for work. And it worked sometimes, especially if I made dinner with built-in leftovers for the next day. When there wasn't a glass lock container filled with dinner from the night before (never fish, by the way, that's the most offensive thing to do in an open floor plan) I would hastily cobble together a tote full of snacks.
Like all of you, I've cooked my way through several cookbooks (or recipe blogs or delivery services) over the past year and a half (ask me about Run Fast Eat Slow, I have favorites). And like many of you, I recently reached the limit of days I can cook food from scratch in a row.
The timing of the arrival of the protein-packed dairy snacks from :ratio couldn't have been better, because for the past two weeks, I've eaten an assortment of snacks, scrambled eggs and take-out. I cannot stress how much I needed a break from chopping, sauteing and baking.
The problem with eating like a hunter/gatherer is that when you're grazing on handfuls of almonds and dried fruit and whatever is in your fruit drawer, it's hard to feel full. And when I'm hungry, it's hard to think about anything else.
:ratio's dairy snacks come in two varieties: Protein and Keto* friendly. And while a ketogenic lifestyle isn't my thing (and if you're interested, reach out to your doctor), I do support walking away from your meals and snacks feeling satisfied.
That's where protein can help. Both snacks – Protein and Keto Friendly – are high in protein, 25G for Protein and 15G for Keto. And diets that are higher in protein can lead to greater satiety. It's science. That doesn't mean you should neglect the other important macronutrients – fat and carbs – it just means that a slight adjustment in the ratio of those macronutrients can help you walk away from your meals and snacks without that nagging, "MORE!" coming from your head, heart and stomach.
And that's where :ratio comes in both in the genius name (which JUST hit me) and in what they stand for. They've done the math for you, focusing on carefully selected ingredients to strike a unique combination of protein, net carbs, and sugar to keep you going.
But taste and texture are the other elements that make you walk away from a snack or meal satisfied. If you're craving a blueberry yogurt with granola on top, but you eat the toppings from cold pizza left in your office's shared kitchen (I've never …), you really didn't scratch your hunger's itch.
The same week that my tiny cooler of :ratio snacks came in the mail, a group of aSweatLife ambassadors also got the goods and here's what some of those movers and shakers had to say about the texture and flavor (so you don't have to take my word for it).
"I like the thickness of it," Sonya Robinson told us. And since she's a certified personal trainer and nutritionist, we can picture her stashing these cups of goodness in the gym's fridge for a quick snack.
Karen Juarez, who's training for an Ironman, shared that her :ratio snack hit the spot before her workout.
"I had a :ratio dairy snack for breakfast and it was just the flavor that I was wanting in the morning before a workout," she shared.
And for Anchisa Pipatpinyopong, it was all about the taste.
"The flavors were delicious," she said of the two Protein and two Keto friendly flavors she tried.
Ready to try them for yourself or pack these for return-to-office? Find a store that carries them in the yogurt aisle and stock up!