How to Overcome Gym Intimidation
You've researched gyms in the area—weighing the pros and cons of location, equipment, and price—and now, you're ready to start training. As you enter your new workout space, you see unfamiliar faces. You navigate your way through a weight room feeling like all eyes are on you. It's a busy time and you aren't sure where to drop your water bottle and claim your space before grabbing a kettlebell to begin your day's workout. You eventually decide it's not worth it and head over to the cardio section to jump on an empty treadmill feeling defeated by the first day at your new gym. Yup, you've got a case of gym intimidation.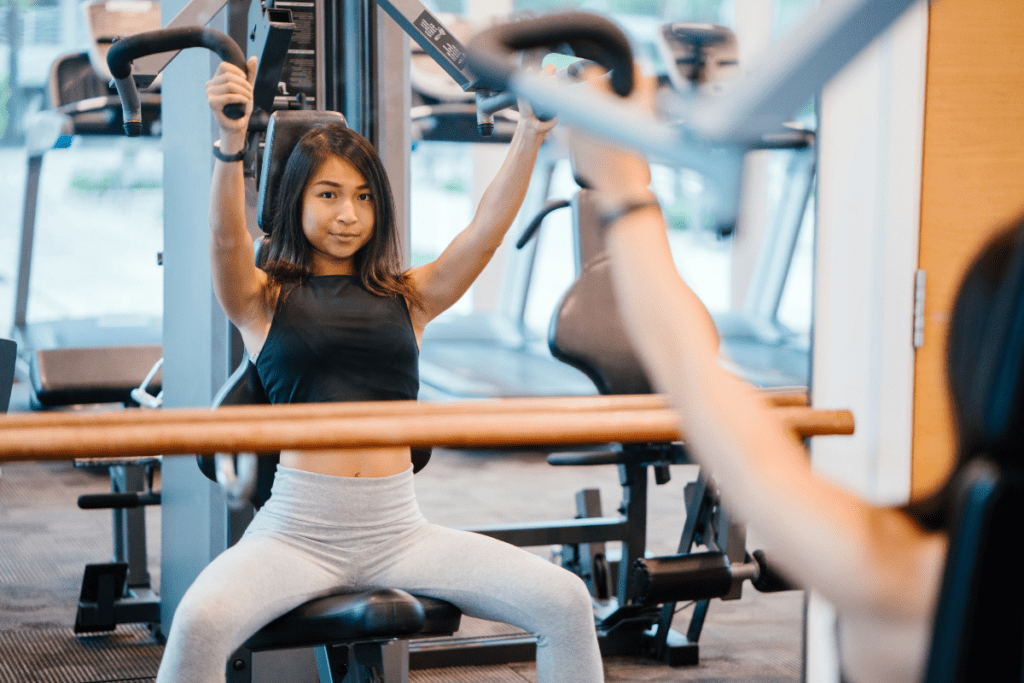 I know this tension between wanting to be in the weight room and not yet feeling comfortable there. Stepping out into the unknown will always be a little scary. If it's your first day at the gym or three years into your membership, you have as much right to the workout space as the person next to you. You're going to the gym to better yourself, and so is everyone around you. With that in mind, below are a few remedies to reduce those "first-day" jitters.
Before getting to the gym:
1. Have a plan
New gym or not, this one is important. A plan will give you the confidence of knowing what you're doing when you walk into the gym. It'll help you navigate the new space with courage, knowing what equipment you need to locate.
In addition to helping navigate a new space, having a plan will push you when you're feeling tired because it's easy to convince yourself to stop short of your potential without a plan. This push will help your consistency in the gym because you'll begin to see progress. Suddenly that scary new gym space transforms into the place you're excited to go to continue to see personal progress.
2. Pick out an outfit that you feel confident in.
You know those leggings that make you feel like a rockstar? Wear those on the first day at a new gym.
3. Queue up a hype playlist
Try my musical hype woman if you're not one for making playlists. Make sure you charge and pack your headphones. Nothing ruins a workout quite like your headphones dying after 10 minutes.
At the gym:
1. Introduce yourself to the front desk.
If you plan to work out around the same time every day, it's likely that this person will be working those hours. Having one face that's familiar will already feel more welcoming.
2. Don't be afraid to take up space.
You have as much right to the workout space as the person next to you. If you are a lady in the weight room, it's common to feel that you don't belong. I'm here to remind you, you belong. Claim your squat rack and take your time with your sets. 
In fact, it might help to prepare ahead of time for what you'll say if you feel rushed by that guy who asks only you how many reps you have left. Practice a response that's calm and non-confrontational, like "I should be done in about 10 minutes." Or, smile and point out that the guy beside you was there first.
3. Have a plan for what you'll do if you receive unsolicited advice in the weight room, or if you see someone harassing another gym-goer.
This might be keeping your headphones in and ignoring them, or reporting the offender to the front desk. Unfortunately, 56.37% of women experience harassment while working out, compared to 21% of males. Guys, if your friend is doing this or you hear it happening, don't shrug it off. Get used to ladies being in the weight room who don't want or need your advice. Women belong in the weight room just as much as men do.
4. If you're having trouble finding a piece of equipment, ask your friend at the front desk.
You don't have to sacrifice your workout due to a new-to-you floor plan. If you're following a program, you're going to need that same piece of equipment next week anyway.
At the end of the day, you deserve to use the weight room just as much as the person next to you. The more you go to the gym, the more comfortable in the space you'll get. Eventually, you will overcome your gym intimidation. I hope the list above cuts down some of those "first-day" jitters. 
Get your gym bag ready and jump into your new space!
Let us know!
Did this post help you get closer to achieving one of your goals?