The Best Snack Trends for 2021
Our team loves snacks, and we also love trends. Naturally, it would make sense for us to cover some of the best snacks and snacking trends for 2021 (and yes, we're aware that there are only five months left in the year—that's still enough time). Step aside popcorn, here are some of the best snacks for 2021.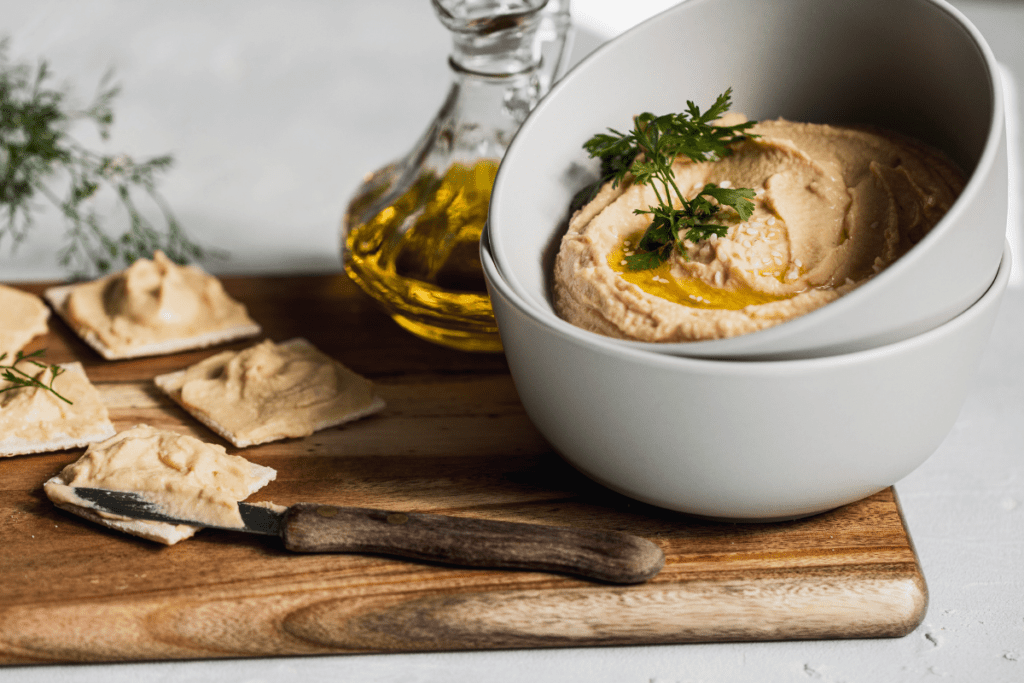 The best snacks and snacking trends 2021
Chickpea snacks

With the rise in plant-based lifestyles and protein-packed snacks, it's no wonder chickpeas are some of the best snacks this year. From chickpea-based chips and puffs to flavored chickpeas chickpeas are having a major moment right now. In fact, they're quickly becoming the new cauliflower, says Whole Foods.
Dr. Sandra El Hajj, a health professional specializing in Preventive and Global Health who is also a Naturopathic Medical Doctor and a therapeutic nutritionist agrees. "Roasted spicy chickpeas is one kind of high protein low fat snack that has been under the microscope lately. It is filling, tasty and offers you a whole bouquet of spices that help boost your immune system." This protein-packed legume is delicious and extremely versatile, making it a major snacking trend for 2021.
Fruit and vegetable jerky
Vegetarians and vegans can rejoice at the rise of fruit and veggie jerky, another best snack of 2021. Even if you're not a vegetarian or vegan, but just looking to make more plant-based swaps in your diet, snag a bag of fruit and vegetable jerky. Bonkers for bananas? Mad about mango? Want more mushrooms? Take the pick of your favorite fruits and vegetables because odds are, there is probably a jerky made from them.
Immunity boosting snacks
After last year's pandemic with masks, quarantine, and unexpected changes, it is no surprise immunity-boosting snacks are a major snacking trend in 2021. Think of things like adaptogens, bone broth, nootropics, probiotics, and superfoods, just to name a few. Basically, anything edible that can help boost immunity and support overall health is making an appearance in our post-pandemic pantry.
Jamie Hickey, Personal Trainer and Nutritionist at Truism Fitness, comments on adaptogens, "Some of the most common adaptogens include Schisandra for mental performance and memory, Ashwagandha for anxiety and stress, Reishi Mushrooms for sleep patterns and stress, Turmeric for inflammation and stress hormones and Nettle Leaf for stress and tension. CBD extract also offers non-psychoactive benefits of hemp for post- workout recovery."
Dr. Hajj agrees with Hickey. "Adaptogen snack boxes that have a variety of snacks including banana Maca bites, elderberry chews, and high protein ashwagandha brownies. All of these contain numerous spices that regulate your body's functions while reducing the negative effects of daily stress."
After the year we have all had, couldn't we use some stress busting snacks?
Low sugar or no sugar
Step away from the sugar, you're sweet enough already! All jokes aside, brands and companies are making an effort to decrease added sugar or eradicate it from their products entirely.
Carrie Gabriel MS, RDN says, "Lower sugar, no sugar or reduced sugar snacks seem to have taken the forefront. This gives chickpea snacks, ancient grain crackers and seaweed snacks a lead. However, many are working to create low and no sugar nutrition bars and beverages using ingredients like stevia and allulose as replacements for sugar." Speaking of seaweed…
Seaweed snacks
Okay, so officially, seaweed snacks did not make Whole Foods list of snack trends for 2021. But is it just me, or are plant-based seafood snacks popping up everywhere? Especially seaweed! From seaweed chips to seaweed popcorn, seaweed is sprouting up on store shelves like it is a snacking trend of 2021, and for good reason. Seaweed contains iodine, iron, and magnesium. So if you're looking for a simple snack that packs a nutritional punch, channel those under the sea vibes.
Upcycled snacks
We work hard to be more mindful of our lifestyle choices. We love a good compost pile and even consider our pup's carbon pawprint, but we could all afford to pay a little more attention to our food waste. Luckily for us, brands and companies are starting to focus more on food waste too. Some of the best snacks this year come from upcycled foods like fruit rinds and vegetable pulp. Upcycled snacks are a win for the environment and our taste buds, so it is not shocking it was one of Whole Foods top snacking trends of 2021.
Need some more snack ideas that never go out of style? Here are healthy convenience foods nutritionists cannot live without.